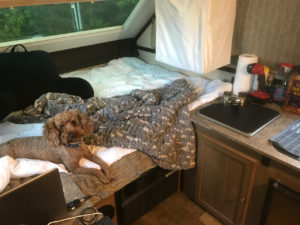 This is my Tech Blog.
A place where I experiment and document so that when I screw it up later I can reconstruct it.  If I help you along the way, then that makes me happy.
About me:
First of all I have a poodle. Sigh. There, I said it.. I am a man with a poodle. I never wanted a poodle but he fell into my lap and I'm keeping him.  Anyway you haven't lived until you have gone camping with a poodle. 
I also am blessed to have met the most wonderful woman ever. 100% Southern Woman with a most exotic name.  After moving to the US and floundering around, I found that the girl of my dreams lived right around the corner and we met while walking dogs.
I'm a 60 something from Evansville, Indiana who joined the Navy at age 19 in June of 1982.   After 6 years of active duty I went to work for the US Government and retired in July of 2021 with 38 years of credited service.   When I retired I was a GS-13 Team Leader in the Aircraft Visual Landing Aids program for the Naval Air Warfare Center in Lakehurst, NJ.
My job took me around the world and I did quite a few quick trips to Iraq, and Afghanistan in support of the "wars".
Now, that I'm retired I like to dabble with Tech and then blog about it.  You won't find any "open the box" videos here, nor will you find me posting specifications that you can see on the manufacturers website.
What you get from me is someone who uses the gear and who will tell you what works, and what doesn't.