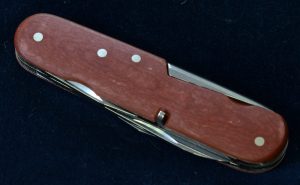 There are not tons of places that can say they have been in business over 100 years, much less 125 years.
Not sure why I'm sneaking this in a post about pocket knives but there is a Hot Dog joint in a nearby town to me (Bill's Hot Dogs in Washington, NC) that has been open since 1928.  Okay, not quite 100 years but you're still doing something right if you can sell the same hot dogs and super secret chili sauce for almost 100 years.
And so it goes with the Swiss Army knife.  They are doing something right.  It is so engrained in our culture that the very words "Swiss Army Knife" are synonymous with anything multi-purpose.  Actually the company stretches back until about 1884 but the Swiss Officer's and Sports knife was patented in 1897.   To commemorate this anniversary a replica knife was released .
And here is what I like about it.  Not much has really changed with the pocket knife.   Oh sure, metallurgy has come a long way, and the tools are a bit more refined and specialized but essentially it remains nearly the same.   The can opener was an odd duck compared to the openers of today, but make no mistake, you can still open a can with it.
Let's discuss the 1897 Replica a bit more in detail.
Continue reading →