I have so many computers doing various police scanner programs such as SDRTrunk and OP25 that I started running out of computers and Raspberry Pi's.  I'm really enjoying listening to the police scanner much like my father did many years ago with his Radio Shack scanner.  I decided to reclaim some computers so I went out and bought a Uniden SDS100 Scanner from Bearcat Warehouse.  I had some questions regarding shipping and the scanner and the guy on the phone was super helpful and even called me back to let me know when my SDS100 shipped.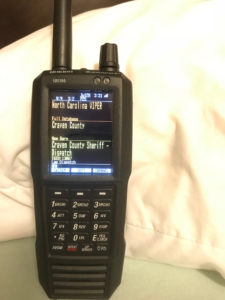 First impression is the cost.  Youzah!  $650 but this thing does all the digital modes however sadly you have to pay for additional modes if you want them.  Not sure that impresses me but I think there is a licensing fee involved with DMR or NXDN so if it were added up front the scanner would be more expensive.
Before you can really do anything at all with the scanner it has to have the firmware installed and the USA (or Canada) database updated.  You'll require a Windows only (BOOOOO!) program called Sentinel. Sentinel can be downloaded from a sticky thread in the Uniden Tech Support Forum on RadioReference.com
The latest BETA firmware can be found in a sticky thread there as well.  Bear in mind the Sentinel program will install STABLE firmware. BETA firmware is installed differently than STABLE firmware.

Simply hook up the USB cable to the scanner and update the database and firmware.  Just click update and "Update Firmware"
Beneath Firmware is the Database Update.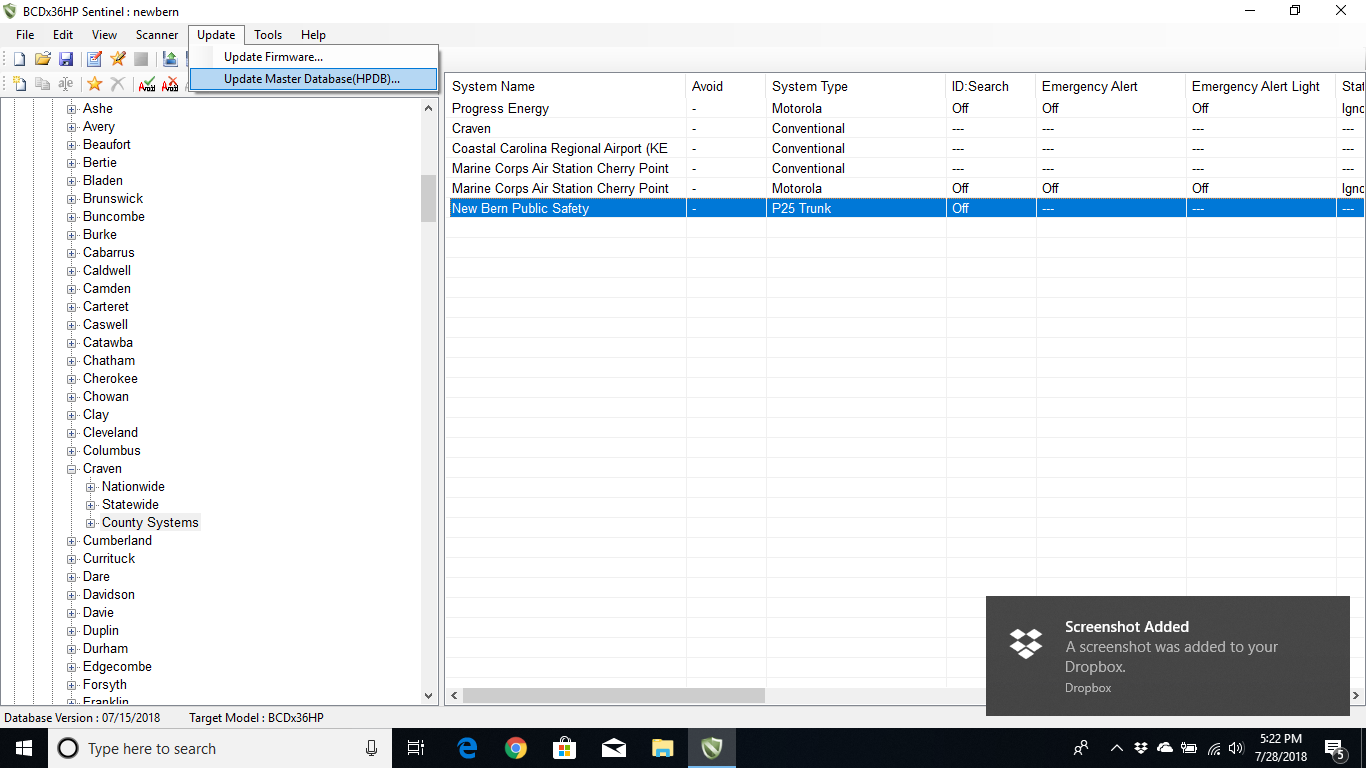 Once you've done that you can input your zip code to receive all the available services in your area.  No heavy duty programming or anything.  Just easy as can be.
There is a zip button on the keypad or you can do it from inside the Menus.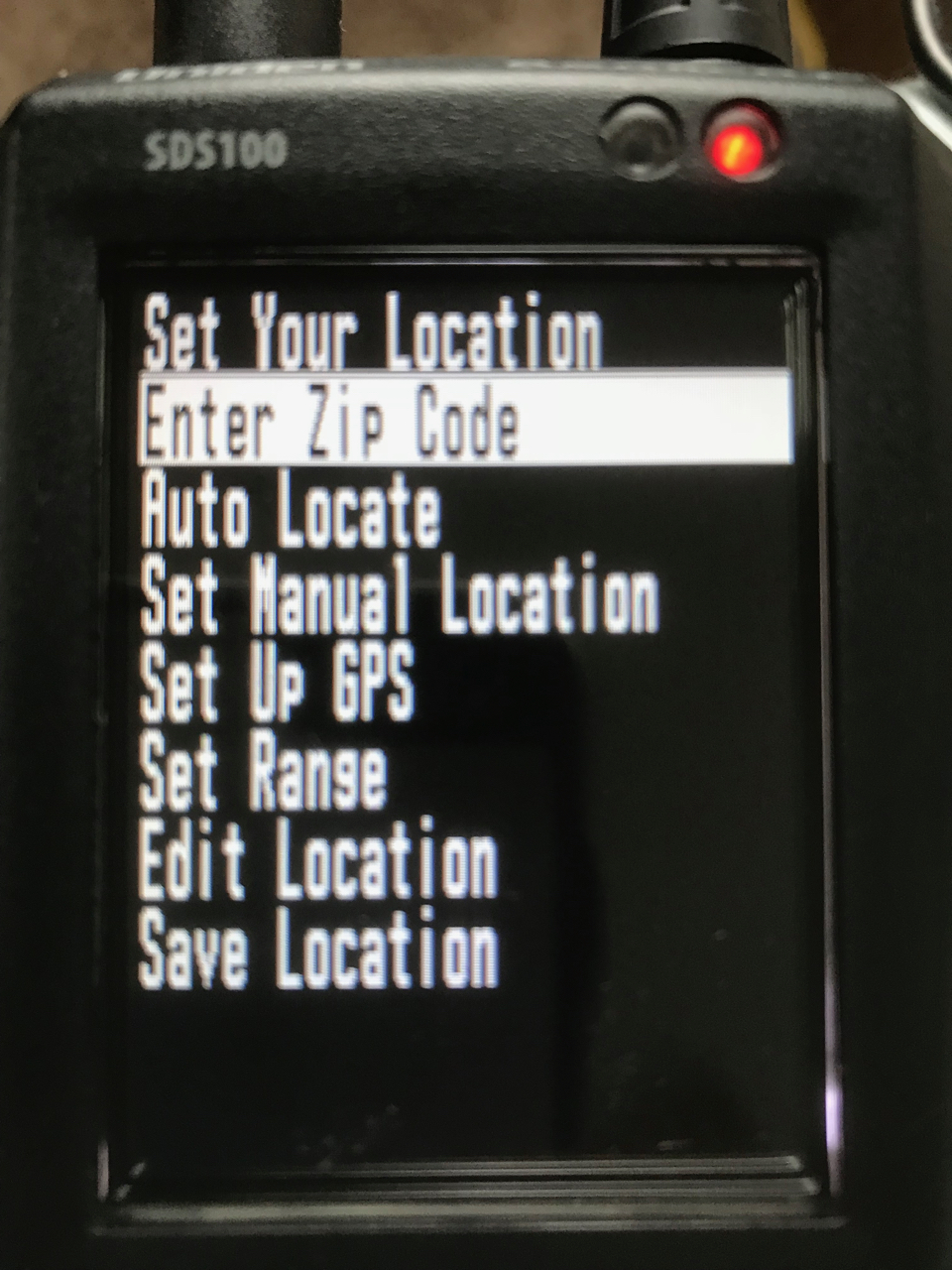 That being said I found that I was getting so much content that the scan time to make it around all the channels was so long I was missing the content that I really wanted to hear.   So you can set up favorites.  Find the system or channel you want and right click and "Append To Favorites List".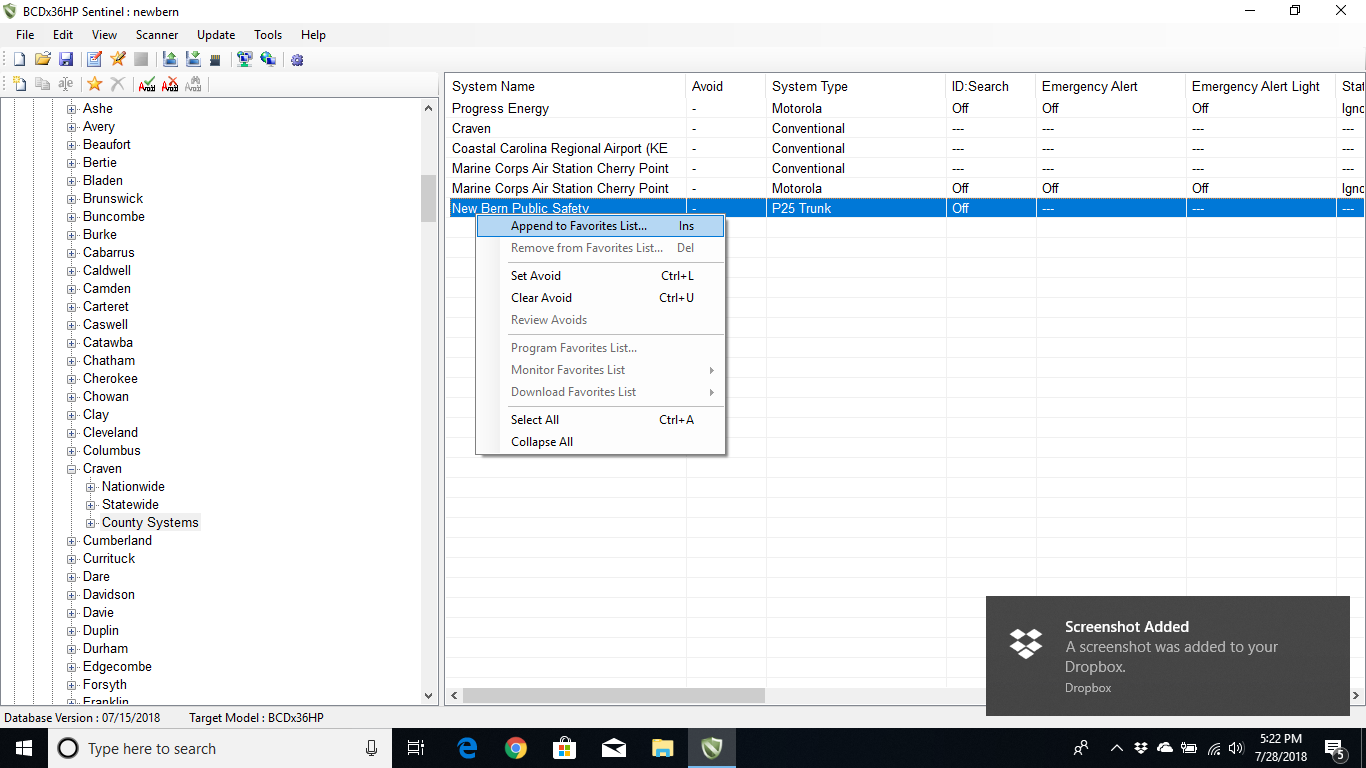 I was able to set up New Bern Public Services and VIPER however VIPER has 2000 talk groups and like 50 or 60 different sites.  That also took forever to scan through and I was still missing content.  I got help with all these from a User Group for the SDS100. Don't think I'm that smart!
So you can go into your favorites and set Location Services and then the range of miles that you want to receive.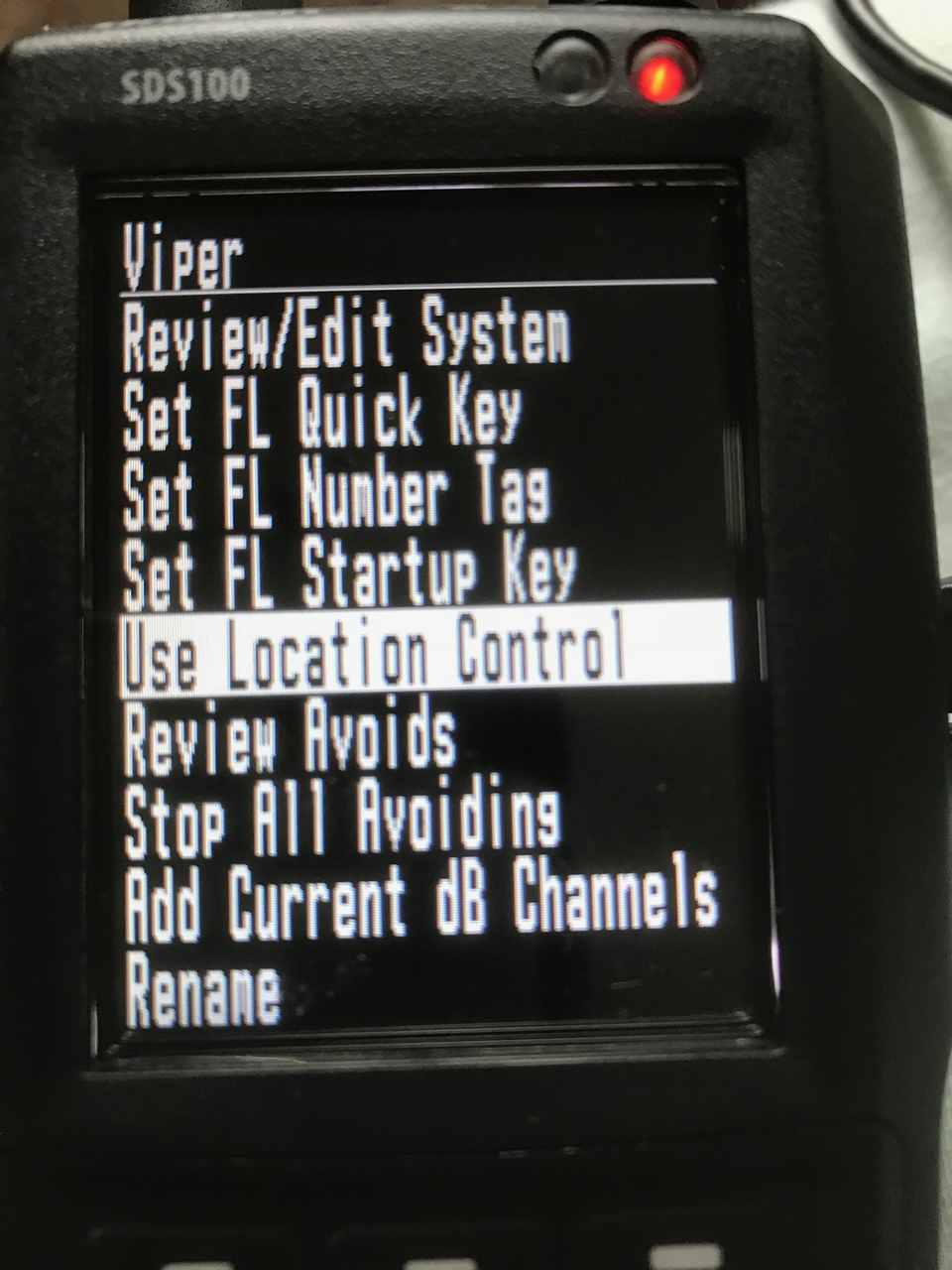 I turned on Location Services and set my range for 20 miles and I have a lean, mean scanning machine that gets EXACTLY what I want to listen to.  It is simple enough to go back to the zip code entry as well if you want it all again.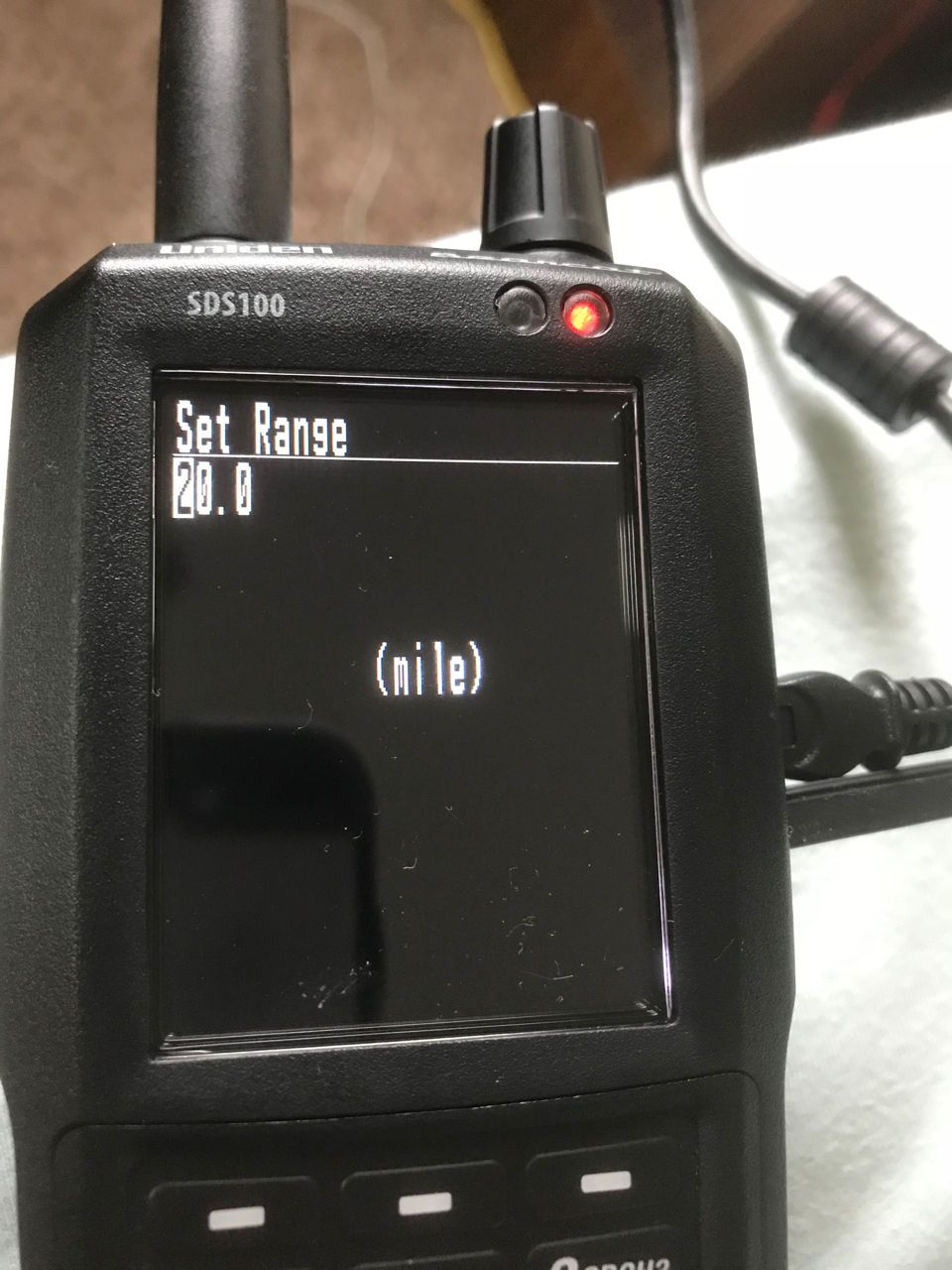 I don't really want to go into all the various screen shots and settings because there is literally no end to this.  There is a LOT under the hood.   A pretty steep learning curve as well.  Once you figure it out it becomes worth every penny of the cost.
Another cool feature is the Record feature.  Once enabled you can push the record button and it will play back the last 30 seconds (or other lengths of time you set).  In case you miss something good you can go back and listen to it.
PROS
Easy to set up
Can change zip code on the fly.  Great for traveling
Excellent on P25 Simulcast
Does P25 Phase 1 and 2
Sounds crisp and clear
Good form factor
CONS
High Cost
Must buy extra decoders such as DMR, NXDN
Steep Learning Curve
Gets hot
Battery life is abysmal. Comes with a yellow card in the box that says "This battery sucks, we'll send a new one when we get one that works for free."
Software is Windows Only
LED leaks light around edges.  That shouldn't happen on a $700 device.
Despite the powerful Cons list I still think it is a solid purchase. Digital Radio and Digital Trunking is HARD.  Once you figure it out, its all good.
Sooooooo……..what works better?  A $700 scanner or the multi-OS Java app SDRTrunk which is FREE or OP25 which runs on Linux which is also FREE.  Or the Windows app Unitrunker? Some observations about all.
SDRTrunk does not do P25 Phase 2.
SDRTrunk requires multiple SDR devices.  To track the two trunking systems in New Bern NC I listen to, they cover almost 10 MHz of bandwidth. That means I need an Airspy ($170) and another SDR stick to cover that bandwidth.
OP25 is hard to set up but does P25 Phase 2
OP25 would be hard to program on the fly for a new city in a traveling scenario.  Also to program OP25 more quickly would require a Premium Subscription to radioreference.com to download the CSV files to allow you to cut and paste the data into OP25 spreadsheets.
Unitrunker is okay but I typically don't do Windows and it also requires multiple SDR devices and it is hard to set up as well.
The SDS100, while having a steep learning curve, does P25 Phase 2 and is easy to set up for whatever area you are in by inputing your zip code.
The SDS100 will not do DMR, NXDN, or Provoice UNLESS YOU PAY EXTRA.  I bought the DMR upgrade and it was $60.
But the SDS100 WILL DO DMR.  To do DMR with an SDR device you need a program such as DSD+ which also has a steep learning curve.  Not only do you need DSD+ but you need a Virtual Audio program to pipe the audio from the receiving program such as GQRX into DSD+.  DSD+ is a Windows program but it will run under Wine in Linux.   SDRAngel is a program that pretty easily decode DMR but won't follow trunked channels.
If the last bullet made no sense to you whatsoever…………..better buy an SDS100.
I guess it depends where you are and what systems you are listening to.  Again in New Bern there are two trunked systems (there are more but only two I'm interested in) and they are both P25 Phase 1.  SDRTrunk and OP25 work fine for me.  I can run OP25 on a Raspberry Pi quite nicely as well.  That's all I NEED.  But I travel a lot and don't want to take another laptop with me to run OP25.  I've tried running OP25 in a virtual machine on my mac and it stutters.  You'd probably need a pretty super fast i7 chip with lots of RAM to pull that off in a virtual machine.
Sure I can stick an RTL in my mac and run SDRTrunk and even decode DMR but if you wanted to see talk group data in SDRTrunk you have to input and that takes time and it isn't easy or intuitive.   If I went to the same 2 or 3 cities when I travelled it would be no sweat to set it up but I don't.  I travel all over with little forewarning sometimes.
If you sit at home and are a scanner junkie you don't NEED an SDS100 but you would need to be an SDR and Linux geek.  If you listen to the police scanner in your car, the SDS100 would be ideal.  If you travel a lot the SDS100 is ideal.
Your mileage may vary.  Me.  I do it all.
Update:  Here's a video showing how to record from your SDS100 to a computer.
And here's a video of doing voice activated recording.