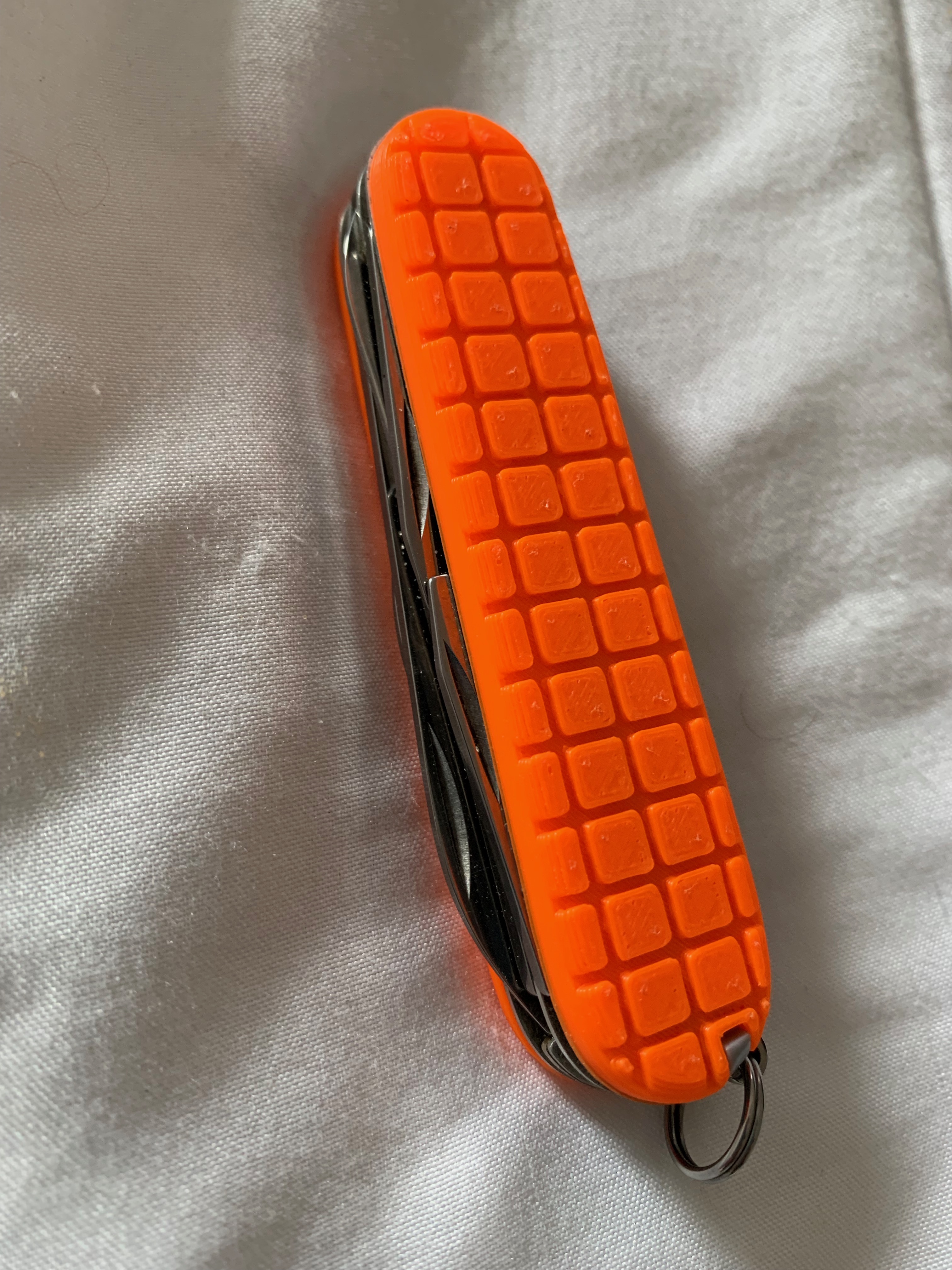 I have a thing for Swiss Army knives and I'm a somewhat sporadic collector and sometimes modifier of them, and by that I mean changing the appearance of the scales.
The Swiss Army Knife has been around for quite some time and when a company has been making a product with robust sales for over 100 years you have to figure they are doing something right.   Over all those years there are some knives that are a bit more collectible than others.
And it's nice when one of those knives falls from the sky into your hot little hands.
About 3 months ago a guy puts an ad up on Letgo for his old Boy Scout knife and he wants $20 for it.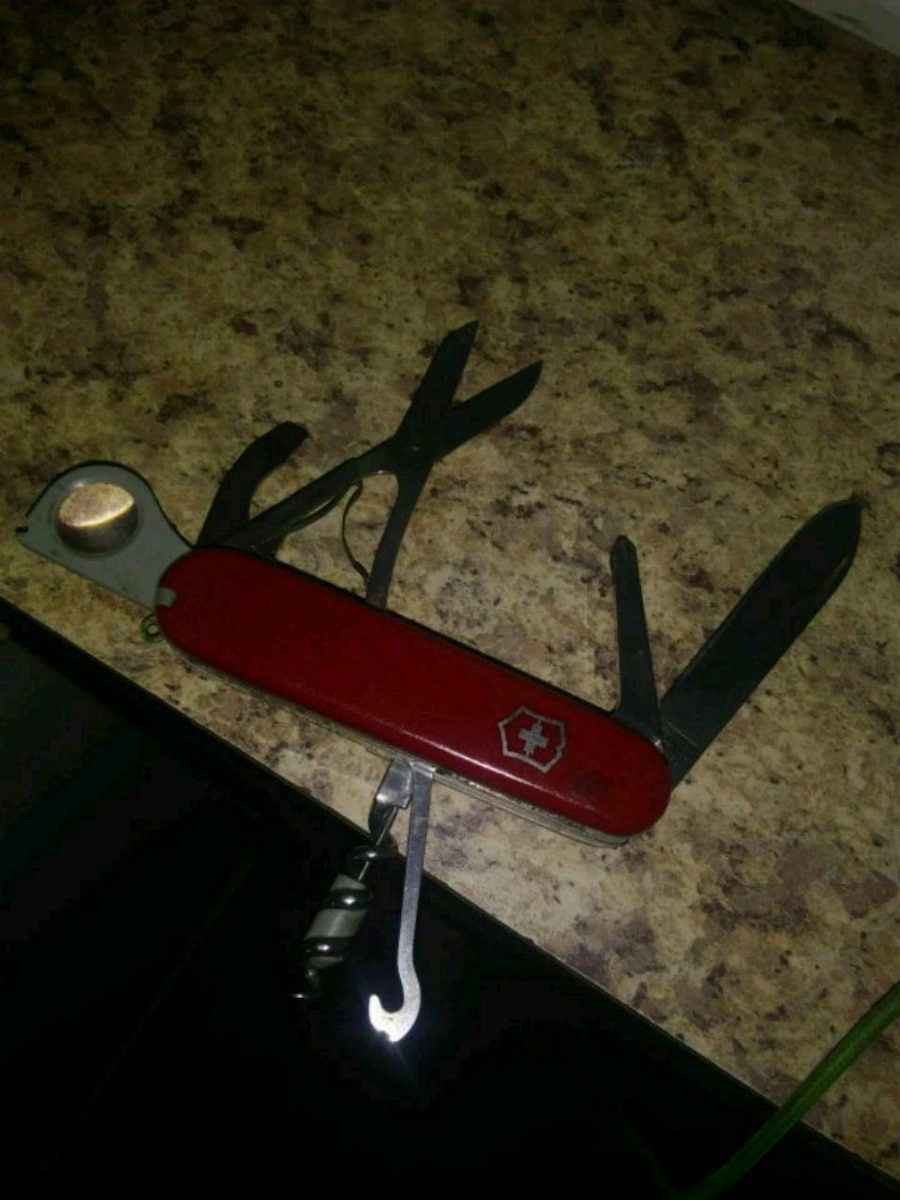 To my complete and total utter surprise that is an original Yeoman which is quite collectible.  Oh yeah, it looks beat up but for $20 it is a freaking steal.   Anyway I immediately answer the ad saying I wanted it and was greeted with total silence for 3 months when suddenly out of the blue he contacts me and says he still has it.
I start doing my research on the Yeoman and realize the original has the magnifying glass and the Phillips screwdriver on the same top layer.  The pic seems to confirm this.
I met the guy in a public place and he hands me the knife and sure enough I flip it up and confirm that this is a Yeoman.  I immediately palm him $20, tell him I'm a collector and "Thanks"!  Didn't want to engage in conversation about the knife for fear the price would go up.
Now I bet you lunch that guy giggled all the way home that I paid $20 for his knife which had a slightly bent blade on the tip, a bent bottle opener and a cracked rear scale without even looking.  And I giggled all the way home knowing that knife was worth $100 or more even in the state it was in.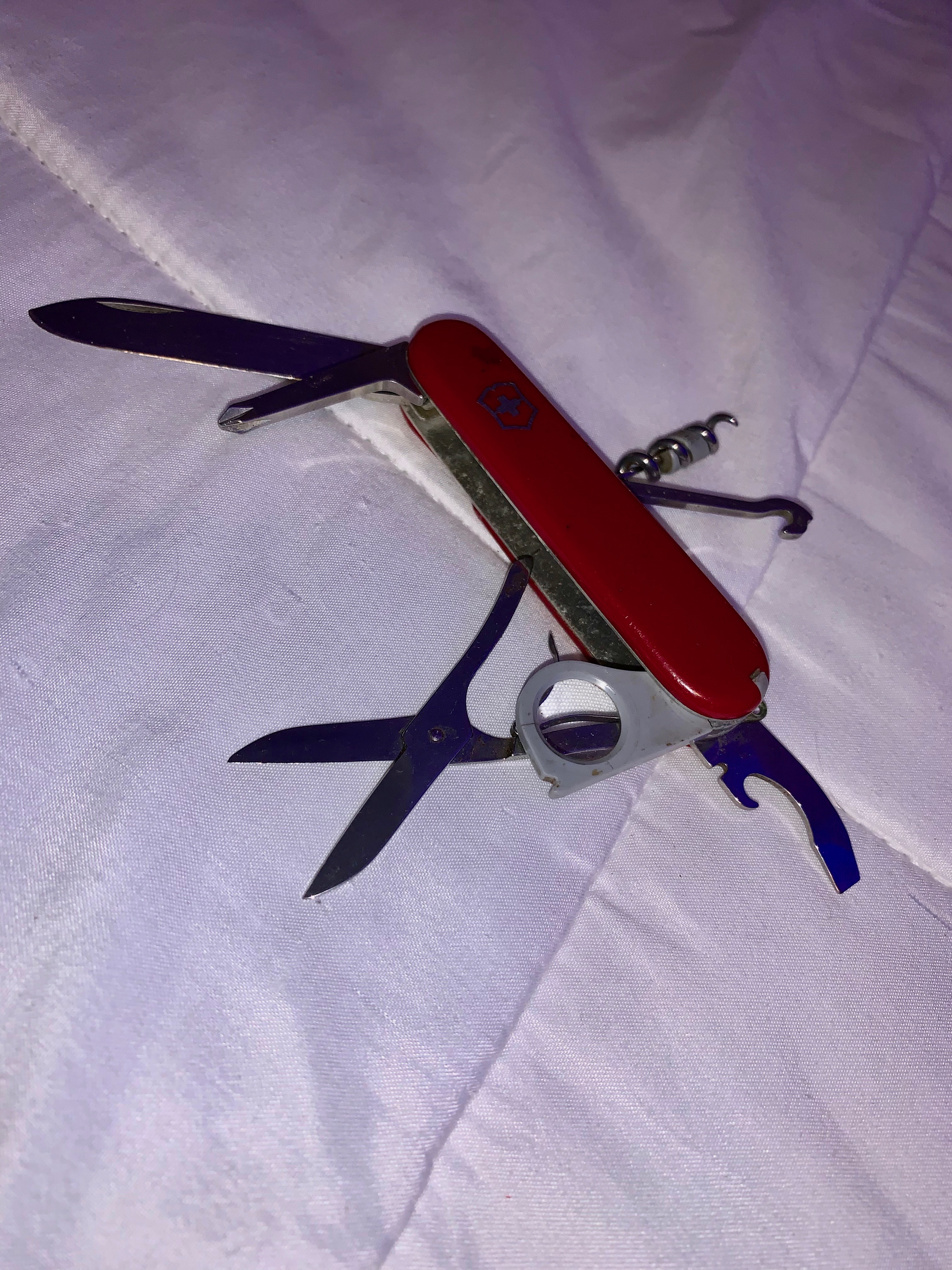 After bragging about this on a Facebook Swiss Army knife group I then found out that Victorinox has a lifetime warranty on their knives and will fix them up for a $5 processing fee.  Now it's very possible that they won't fix the bent blade and bent bottle opener for that $5 fee but I'm told they MIGHT and I'm more than willing to pay a little something to get this knife up to speed.   Here's the letter their Tech Support sent to me.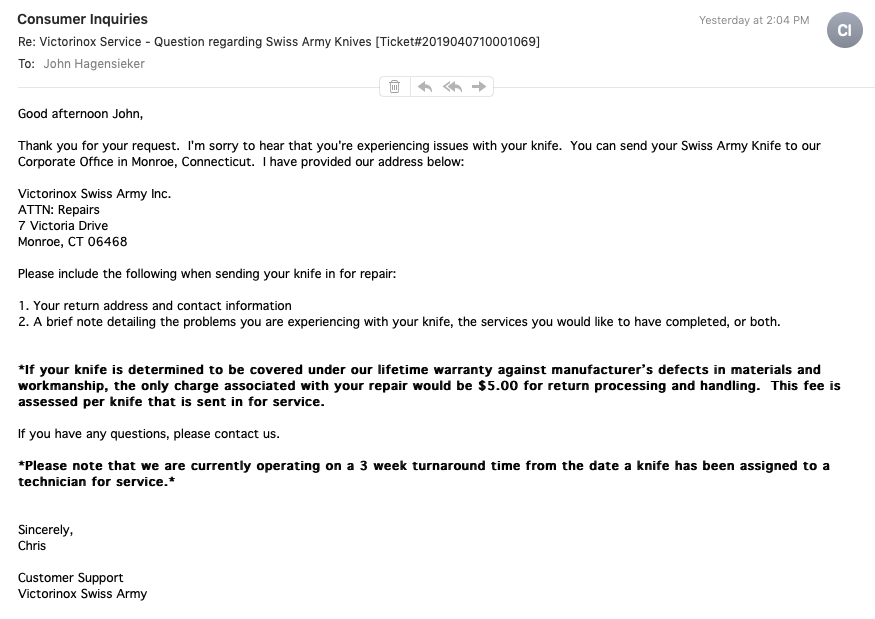 If you have an old Swiss Army knife laying around it might behoove you to check out what model it is and poke around on eBay and see what they sell for on the secondary market. You never know!
UPDATE:  Got the knife back.  Victorinox completely restored it for the above mentioned only $5.  It is just like a brand new knife and is worth a heck of a lot more than the $25 I have invested in it.
What a great job and what a wonderful company.