Ever since I was a little boy, which may have been a few years ago, I have been fascinated with radio.  They had things called "World Band" radios when I was a kid.   I would sit for hours and spin the dial trying to hear far away places.  There was mystery, intrigue, challenge, exotic languages………these are the things boyhood is made of.  Not Drag Queen Hour ?. Then there was Citizens Band (CB) Radio.  I had one and was prolific on it.  What I really wanted was a ham radio and it took me a few years, but I climbed that hurdle as well.  I am now licensed as KN4FMV.
You might think I'm a weirdo however in the radio hobby probably the quintessential website for radio systems and frequencies is called radioreference.com   If you go to their web page you will see that there are almost 1.5 million subscribers.  So………I'm in good company.
So I dig radios.  And the older I get, the worse, not better, it seems to get.  I still spin the dial on shortwave radios, sometimes for hours. I have multiple Software Defined Radios (RTL-SDR's) and I have police scanners, with the actual name of them being called "radio scanners".
Every so often in any hobby one item will rise to the top of the heap.
In my opinion, in the world of Radio Scanners that device is the Uniden SDS200.  This is an advanced radio for advanced users.  Most places you buy from will preprogram them for you for free, so if you know nothing about radios or police scanners let me forewarn you that the learning curve could be STEEP.  Everything is well documented but to an outsider to the hobby it could still be confusing.

In this day and age of Amazon 2 day delivery,  it is tempting to buy one off of there and get your quick shipping.  I love Amazon but I'm going to recommend that you NOT DO THAT.  This is a device that you need to buy from someone who will stand behind the sale and who has technical knowledge of the product.  If you buy from Jim's Imperial House of Scanners on Amazon you are not going to get that.  I bought mine from BearcatWarehouse.  I had a couple of questions before the purchase (mostly shipping) and someone answered me on their Live Chat feature.  They will walk you through technical questions, and as I mentioned before they will preprogram your unit prior to shipping it so all you do is turn it on and start listening.
It's pretty easy for a user to get started with a brand new one of these but it does require connecting to a Windows computer using a Uniden program called Sentinel.  One you have Sentinel you can connect the computer via USB and it will prompt you to update the firmware if needed and to do a full database update.
Once the database updates, then it is a manner of checking the manual for how to type in your zip code.  Once it does that it will pull in all the frequencies and radio systems in your area.  Pretty cool, huh?  Some users might like hearing EVERYTHING.  I do not.  I don't want to hear the guy driving the golf cart around the nearby Community Housing area or the School Bus drivers. I don't want to hear the people at the mall security either.
I want to hear Police, Fire, EMS.  That's it.
So if you're that guy………..buy your scanner from Bearcat Warehouse and tell them, "I'm in 28562 and all I want to hear is the Police, Fire, and EMS".  And they will pre-program it for you.  Might slow your shipping down a day but you can take it out of the box and start listening immediately.
Of course I would never do that but I do want to help people get their start and enjoy this fascinating hobby.  Here's a quick primer on how I do it.
Once you are in Sentinel you can expand the Database pane on the left side of the screen and select USA>North Carolina>Craven County>New Bern Public Safety (or whatever state, county and system you want) and then right click on it and "Append to Favorites".  Once it is in your Favorites list then you simply click the "write to scanner" button.  So you can scroll through the lists and see what interests you and select only what you want.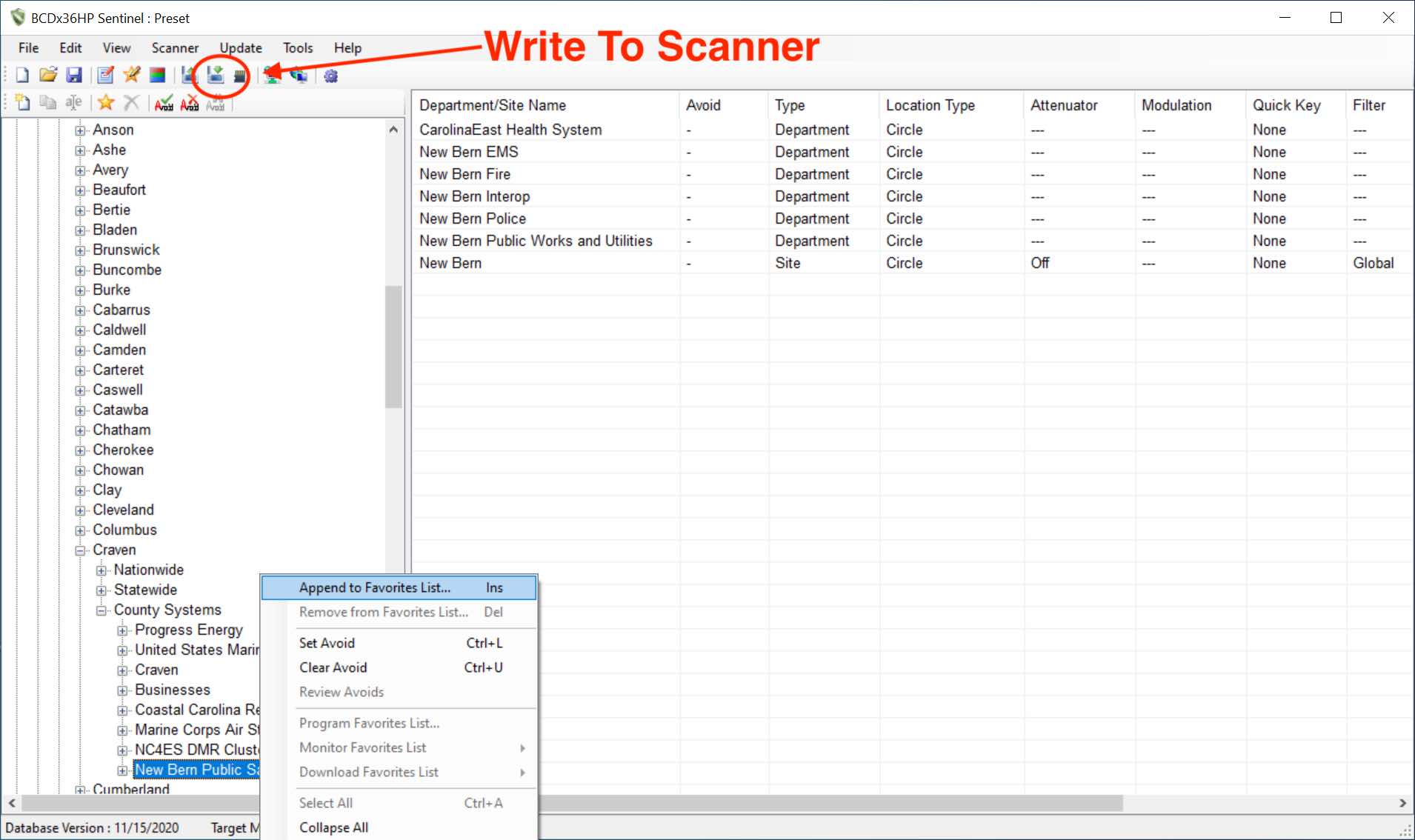 Once written to the scanner you can then enable the list for scanning. Trust me you'll need the manual to figure out how to do this. I'm not going into step by step instructions here.  It is in the menus though.  You just need to turn on the favorite lists that you want.
Not too difficult but not the most intuitive thing either.
So lets get back to talking about the SDS 200 again.  Here is roughly what you can expect to hear with it and believe me this will not be an all inclusive list:
25-512 MHz
758-824 MHz
849-869 MHz
895-960 MHz
1240-1300 MHz
The first list of 25 to 512 MHz contains a lot of stuff.  It starts just barely above what we call "Shortwave" radio and encompasses VHF and some UHF.  Around 26 MHz you can hear CB radio.  Then some systems may appear around 40 to 50 MHz.  Up the band is FM radio.  Yep, this is an FM radio too.  Above that is Aviation or Air Band, Analog Police, Fire, EMS, and Ham repeaters.  Up the range still will be DMR and NXDN channels and also this is a National Weather Service Radio with SAME programming capability.  SAME is the ability to put your county or counties codes in so you aren't bombarded by weather alerts continually.   You'll only get alerts relevant to the counties that you enter.
In the 700-900's is going to be Digital Trunking Systems however they leave out cellular frequencies.  It's against the law to listen if not impossible anyway.  Well, not impossible but not with the equipment we have.  Think "Government" here.  Way up there at the top of the spectrum is going to be more amateur radio and amateur satellite band at 23 centimeters.
Allow me to summarize.  This is bad assed. 
One of the major issues plaguing police scanning is Simulcast systems.  Thats where there are a bunch of towers broadcasting the same thing to provide coverage.  MOST scanners do NOT do Simulcast reception well.   The Uniden SDS100 and SDS200 are the best in the business.   It also decodes the systems listed below.  The ones with ** are going to be paid upgrades.  Most police systems these days will be APCO P25 Phase 1 or 2.  This list doesn't include plain old vanilla analog frequencies in the ranges listed above which the SDS200 does marvelously at.
Trunktracker X

APCO P25 Phase I and II
Motorola, EDACS, and LTR Trunking
MotoTRBO Capacity + and Connect +**
DMR Tier III**
Hytera XPT**
Single-Channel DMR**
NXDN 4800 and 9600**
EDACS ProVoice**
I don't really like listing ordinary specs in my blog reviews and of course that is what I've done here above.  Hell you can look them up yourself and anybody can cut and paste specs and sound smart.  I hate seeing reviews on YouTube of people who just mimic the sales sheet specs and a lot of people do that.
I prefer to focus on the good and the bad and what a user really needs to know.  My favorite feature on this device is a tiny bit perplexing.  The inclusion of an RJ-45 ethernet connector.
The Sentinel program does not allow for any ethernet connectivity and hooking the scanner to the internet does NOTHING without the inclusion of 3rd party software.  Very bizarre.  And of course buried in the menus is a setting to enable the ethernet port as well.  When I first plugged it in it didn't light up at all.
Once it was enabled it occurred to me just how odd it was they had this feature but the manufacturer itself didn't exploit the connection.   This is where the 3rd party application Proscan comes in.   Let me just say this:  I think the SDS200 is the most powerful radio scanner EVER.  Proscan is basically the SDS200 on anabolic steroids.
One of the best things about Proscan is the support.  I bought Proscan ages ago.  It costs $50 now and probably did then to.  You get two installations per license. I have one on my Windows laptop and I guarantee I put the other Proscan instance on a Virtual machine.  And I also guarantee I deleted the virtual machine without deactivating Proscan.  I'm all used up.
Before I shelled out another 50 beans I contacted the developer by email, told him what I did and asked if it were possible to clear one of my licenses.   I don't think the oil from my fingerprint on the enter key dried before he answered and said "Try it now".  Holy crap.  A program I can keep updated forever with almost instant, and REASONABLE tech support.  It's worth every penny and that's before I tell you what it can do.
It is also a bit geeky and left me scratching my head once or twice even with previous experience but I got it now.  You first set up the scanner by:
Serial port (connected by USB)
URL (if connected to network)
Audio Control (how you want the audio piped)
Once that is done you can do something astonishing.  It has a Server/Client Remote Control over IP feature.  The below pic is me on a client computer controlling the scanner.  One thing I did not find intuitive here is that on the screen below it says that a password for Server/Client is optional.  However if you want the client to control the server you HAVE TO PUT A PASSWORD IN.   Otherwise you can just observe/listen.  Manual doesn't say it like that and it probably should.
The directions kind of lead you to setting up an external WAN Internet address (which I think is a bad idea).  I set mine up with a local IP address inside my home network.  I can then VPN into my network from anywhere and control my scanner.  And then I don't have any open ports on the internet facing side for hackers to fool with (except of course the VPN port).
Anyway, how cool is this?  From anywhere in the world I can control my scanner and hear the audio over IP.  There seems to be about a half a second of latency which isn't too bad.  Conversely, if you stream to a web server there can be a 10 second or more latency and some areas have 30 minute latency to icecast and Broadcastify servers.
Also although it may be hard to see in the small pic above, when you are in Client mode there is a list of published servers from people all around the world.  You can connect to their feeds and listen in.  Very cool.
Speaking of which Proscan allows you to stream directly to Broadcastify as well so you can publish your stream to the internet for others to listen to.  I do that with a Raspberry Pi now and it is COMPLICATED.   Not so much with Proscan.  You may think no one will listen to your feed but wait until the National News says "New Bern is getting pummeled by a CAT 4 hurricane".  Inquiring minds will then hook up to your scanner feed.  I was amazed how many people worldwide were listening to my feed during Hurricane Florence.
Proscan also has a web server feature that also allows you to push your scanner screen and stream to a web page.  With Remote over IP you need another Windows computer with Proscan on although they do have a free connect client on their webpage but the free client only lets you tune in, not control anything.
The web server can be viewed on any platform and any browser.
Proscan has a lot of other great features including database tools to program your scanner and it also has a recorder on it.  That can be useful and as I type this blog the police are searching for a man who shot a deputy last night.  It's darned interesting and I have recorded some nuggets of the manhunt.
Another thing I appreciate about Proscan are the history log files.   It's one thing to hear the police scanner and another entirely to be able to view the various talkgroups to get a better understanding of what you are listening to.   An awful lot of times you might be listening and not really comprehending what is going on.  Once you find out the conversation is Animal Control or the Sewer guys you get a grasp on what you've heard.
Anyway, my closing thoughts………….If you shell out $700 for a Uniden SDS200 (or one of the other 18 models that Proscan supports…….) then GET PROSCAN TOO!  You are obviously embroiled enough in the hobby to where Proscan is of major benefit to you.
SDS200 + Proscan is the pinnacle of radio scanning.