Dymo 5XL LabelWriter Review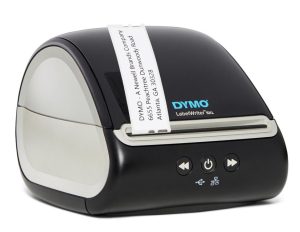 I have a Dymo 5XL and I figured it was time to do a blog about it.  I am kind of a Dymo Fanboy and own several Dymo Label Makers.  Here is my harem:
Dymo LabelManager 160
Dymo LabelManager 280
Dymo LabelWriter Duo
Dymo XTL 300
Dymo Rhino 6000+ kit
I like them all but will concede the 160 wasn't a great value.   The Dymo 5XL falls into that category as well.  Normally, I'd ease into my assessment but I can already tell the Dymo 5XL falls short of my expectations.
First Impressions
I own an old Dymo LabelWriter Duo and it was a sturdy little machine.  While my 5XL is considerably larger, it feels light, cheap and plastic like.  There is obviously no heavy motor inside which is surprising to me because a roll of 4×6″ labels is pretty heavy.
My second "first impression" is that Dymo Software has fallen from grace.  Badly.  I honestly haven't used a LabelWriter for years and just jumped back into this.  Back in the day, the Dymo software would add a POSTNET USPS barcode and there was an Address Fixer.
There is one here in the "Manage Contacts" section however it doesn't work worth a crap.  It will not correct my daughters address no matter what I do.  It did add the +4 zip code to my address and confirmed it worked.
So then I added a 3rd address and selected it and tried to fix it.  It wouldn't correct it either.  So then I selected ALL ADDRESSES and hit the fix address button and it corrected it but still wouldn't correct my daughters address.  This thing is one goofy piece of shit.
It is possible to add a USPS Intelligent Bar Code but it has to be done manually.
Dymo Connect – Piece Of Fucking Shit
Dymo Connect Software has earned the coveted John's Tech Blog "Piece Of Fucking Shit" Award.  While the Dymo 5XL might be adequate hardware the software is atrocious and the things I mentioned are just the beginning of sorrows.   I installed my 5XL as a network printer and installed Connect on 4 computers.  Three of them Mac's and one Windows 11 computer.
Two of the Mac's would not detect labels and one Mac and one Windows Computer did.
Dymo Connect Label Detection (click pics to enlarge)
This is nuts.  Note at the bottom of the first pic it says "Not in Printer" by a red warning.  Dymo Connect on another computer in the same room says "Labels Detected" and "263 Labels Remaining".  Fuck me.
Dymo Connects wants to install all kinds of weird stuff as well.  A WebAPI and it installs Trust Certificates which I've read can be used easily for a Man in the Middle attack.   Here's how I had to fix the other two installations.
Remove Dymo Connect by selecting the "CUSTOMIZE" button during the install routine.  You can then uninstall.
Then that somehow corrupts the installer.  It fails if you try to install after that.
Re-Download the Dymo Mac Installation pkg and start all over again.
Then I had to install the program exactly as they demanded with WebApi and Trust Certificates.
Damnit.  Just give me a hunk of stand alone label software Dymo.  Not some hunk of crap that trips my Firewall.
And Yet There Is More
When I make a shipping label they generally have 2 addresses, right?  So I drop an address box in and select something from my contacts list.  It works!
But, when I go to add the return address or rather a 2nd address to the label it will not fucking populate a 2nd address box.  I have to manually type it in.  Fuck Me again, Dymo.
Labels
The labels have chips on them and the 5XL has a reader which detects the roll of labels.  You CANNOT use 3rd party labels in the machine.  This doesn't bother me as much as it bothers other people but Dymo labels are a lot more expensive than generic labels.
When the software installs correctly you get a remaining label count which I can see is pretty useful. Especially in a business environment.
Compatability
I won't get into the nuts and bolts of this whole scenario but I tried printing a label from a hunk of software called Quick Lettertracker.   Quick Lettertracker makes USPS IMB Bar Codes and lets you print labels and envelopes.  The driver just will not fucking print anything but the border if I add one.
Conclusions
Pass on this fucking piece of shit.  Or pray they hire a new software engineer.
The size of the printer is cool, and the style is cool but the inability to drop 2 addresses into one label means their software boys should be sent to the Ukraine.