The folks at NIIMBOT have made yet another great label maker.  I have previously reviewed their B21 Label Maker, and their B3S Label Maker.  Both are stylish and fun and very efficient.  And while both are portable the NIIMBOT Label Maker D110 really excels at portability.
It checks in at 4.2″ tall, 2.9″ long, and 1.2″ wide.  And it is so light you'd never feel it after you slipped it into your backpack, purse, or toolbox.  And after posting a picture of it after I received it, my brother messaged back and said he owns this very label maker and the portability is what he loves best about it.
The design is sleek and simple with one control button, one release mechanism for changing label rolls, and one USB-C charging port.  And it is of course, a thermal printer that never needs ink.

Specifications
Despite its small size and light weight it packs a punch in the specifications department. So many label makers these days have tiny keyboards on them and while that is fine for some applications the real power lays in the ability to design a label via an app and print wirelessly using bluetooth using the NIIMBOT app on your phone.  The app is very configurable and capable and does all you need and more.
Max label size is 15mm or just over 1/2″ which quite honestly is large enough for most of your label making and organization needs.  Batch printing is supported and the print speed tops out at about 20 mm/sec.  The battery is a 1200 mAh which provides around 4-5 hours of advertised continuous use.  Bar code and QR code printing are supported in the NIIMBOT app.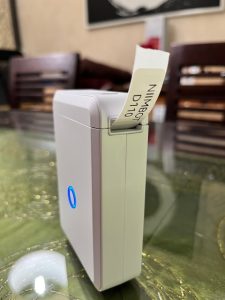 Print resolution is 203 dots per inch (dpi) which is way more than adequate.
One of the things that makes me insane about label maker "experts" is the claim that a 300 dpi is the absolute minimum resolution anyone should even consider buying.
At John's Tech Blog I don't count dots per inch.  My criteria is "can you read it, is it legible"?  These labels are crisp and quite legible.  Don't be a pixel counter.
Manual
Even though using the D110 is pretty intuitive to use, there is a user manual available to download.  It shows how to load the rolls very clearly and what the light indications means.
Pricing
Current pricing seems to be $19.95 and the nice folks at NIIMBOT have given my readers a coupon code for 15% off.  Use the code john15 at checkout.
Additional rolls of labels seem to be priced at $9.59 and come in a variety of colors and styles.  Cable markers are also available.  NIIMBOT sent me 3 additional rolls of material that I'll be playing around with.
I won't name names, but if you look around for small bluetooth printers with roughly the same form factor as the NIIMBOT D110 you'll find that almost all of them cost a heck of a lot more and do not provide any additional features.  In some cases similar label makers cost nearly $100.
Portability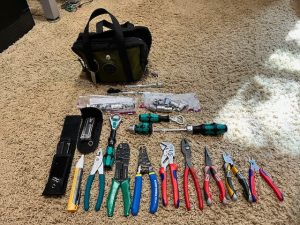 I own a lot of label makers and it seems to be a conscious effort to remember to take one with me.  Many times I forget and wish I had a labeler with me.   The D110 is so inexpensive and unobtrusive that it is a perfect addition to a tool bag or tool box.
This is exactly where my D110 is going.  I carry a small "go" bag of tools and there is just enough room to slip the D110 into the side pocket of my Red Oxx Lil Roy bag.
This leads me to my ONE AND ONLY SUGGESTION for the D110.  Because it is so small and so easy to add to the tool kit, glove box or your wife's purse it might get banged up.  I'm a weirdo for keeping my gear as pristine as possible.   I think it would be nice if a small D110 case were offered for sale by NIIMBOT.
Just for an example, I just happen to have a Maxpedition Fatty Pocket Organizer that I use for everyday carry items.   It kind of slips out of the front pocket but fits in the interior pocket nicely.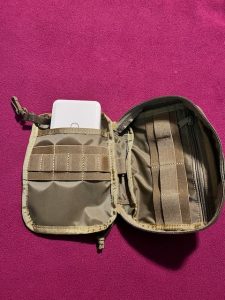 Imagine if you will a label maker that is small enough to carry around in an EDC pouch.  Anyway, a custom pouch that fits the D110 and charging cable perfectly with room for an extra roll of labels would be AMAZING.  This was just a couple of  examples of how to carry it as a day to day tool.
I've been on a kick lately where I have been organizing parts in zip lock bags or bins and labelling them.  I have also been marking things that frequently get assembled or disassembled with the metric wrench size or fastener head size.  I did a whole bunch of these parts bags this afternoon.
The sky is the limit.  You could label wall switches, or put your IP address or password on the bottom of your computer/switch/firewall.  And of course you can mark boxes, pantry items, file folders, etc.  You could even use these for address labels.
Conclusions
Everyone needs a label maker to get better organized.   You can spend hundreds on a label maker and maybe you do need an industrial label maker.  You'll only use a label maker if it is nearby and easy to use though.
For the price of a D110 at $19.99 plus 15% off you can buy 2 or 3 of these things and have them staged in a couple of different places.  This D110 that NIIMBOT sent me is going to find a permanent place in my tool bag.  I almost always have that with me.  I wish I had it the other day when I was working on a friends condensation pump.  We kept getting the inlet and outlet ports mixed up.  I could have solved that problem real quick if I had had the D110 with me in my tool bag.
The D110 is inexpensive, unobtrusive, easy to use and creates clear and crisp labels.  It is so simple to use with the NIIMBOT app as well.
Having a label maker like this nearby will help you get organized and you'll have fun doing it.