Started messing around with "vintage" audio again.  Drug a couple stereos out of the attic and picked up a new stereo or two (or three).   I've been heavily involved in vintage audio since around 2001 or so on and off and one thing that any old stereo guy will tell you is that DeOxIt spray is a miracle solution for audio.  Spray it on and rust falls off, light bulbs glow brighter and the gravitational force of the moon gets stronger if you accidentally spray some on the moon.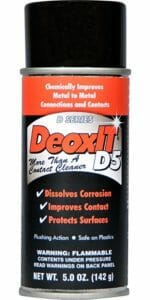 Bullshit.
Absolute utter and total bullshit.  Kinda.
And let me qualify that statement.  Right around 1995 or so I got a got a job in Fleet Training in the Naval Aviation Depot as a Corrosion Control Instructor and the Aircraft Painting School.  Previously in the Navy I spent a couple of years in the Corrosion Control shop of VA-34.
I parlayed that into a job with a place called NAESU where I was a Tech Rep assisgned to the Materials Science Program.  During both tenures I either had access to a lab or the greatest minds in the DOD Materials Science Program.  Corrosion Control costs the government billions annually in the DOD and particularly the Navy.  Airplanes landing on carriers and such. High stresses in highly salt environments.  Some of the smartest scientists I ever met were in the DOD Materials Science program.
So I know a thing or two about Corrosion, Corrosion prevention …….. make that a thing or three.  I was the up and coming wonder boy in the program as well and once co-authored a paper on Trivalent Chromium aluminum surface treatments with one of the scientists on aircraft aluminum.
So I'll say it again.  I know a fucking thing or three about Corrosion preventative compounds.
This blog is NOT a hit piece on DeOxIt.  Hell, I have a can of DeOxIt.  And I use it.  But I know what it will do and what it will not do.
Let's talk about the name of it.  DeOxIt.  What does that name imply?  That it will De-oxidize things or remove rust from things.  It absolutely will NOT do that.  All you need to do is look at the Material Safety Data Sheet to see what is in it.  Go to the CAIG (manufacturers) web site and download an MSDS for the product you use.
Here's one for the 5% spray.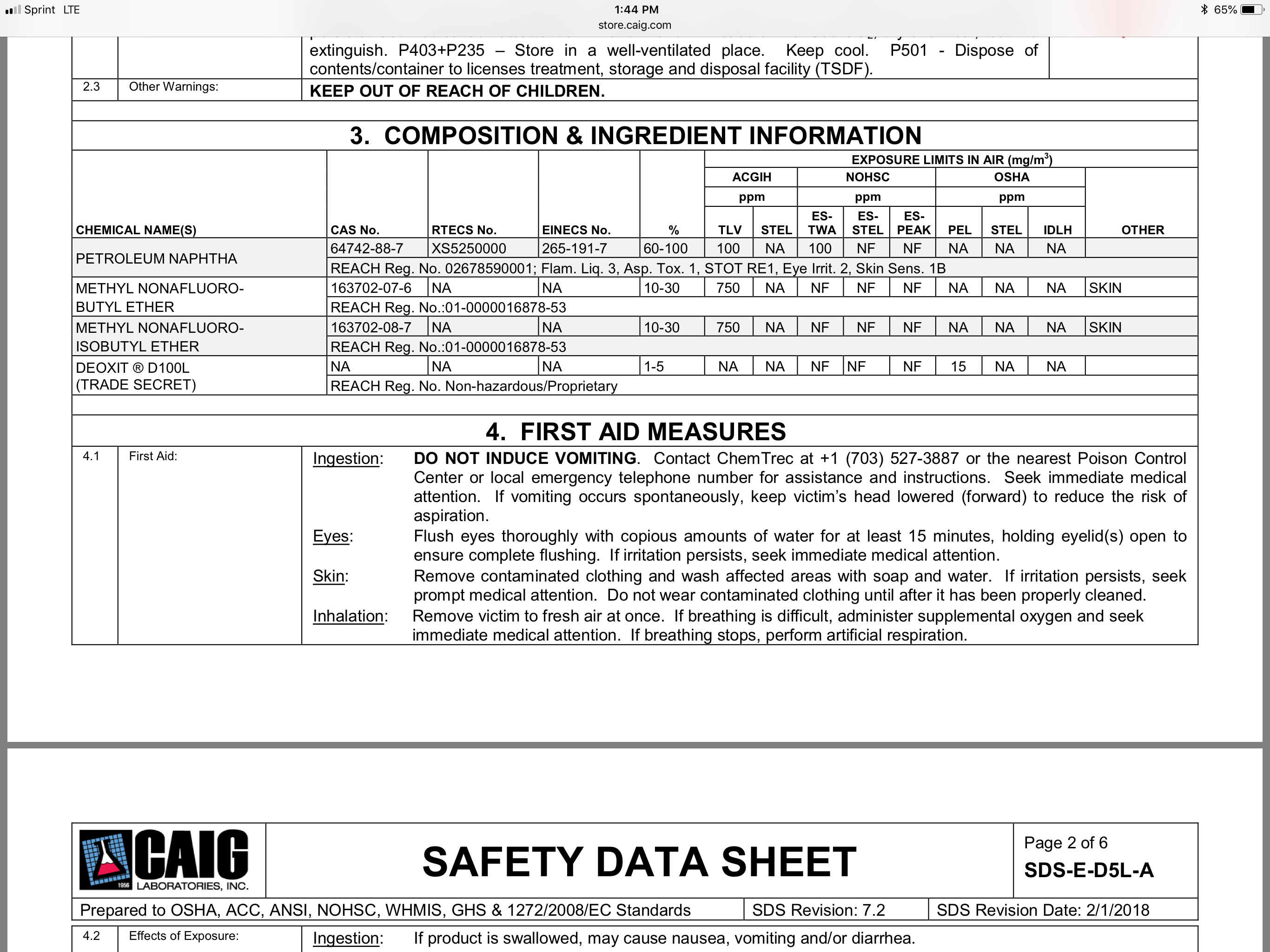 Main ingredient = Petroleum Naptha.  That's lighter fluid folks.  60 to 100%.  Ok it isn't a 100% because it contains Methyl NonaFlouroButyl Ether.   Yeah, yeah, that's the propellant in the can. The stuff that makes the lighter fluid spray out.  Then you have 1 to 5% of your trade secret.
Okay, so I don't know what it is but I know what is in some of the greatest corrosion preventative compounds that there are.  In the Navy the Corrosion Preventative Compound we use is also lighter fluid, and propellant with a barium corrosion inhibitor.
So I can't say for sure DeOxIt has a barium inhibitor in it but I bet it is an inhibitor of some kind. As far as converting oxides on metal you need an acid for that.  It can't be an acid in DeOxit because then it couldn't be listed as a "Trade Secret" because by law "Trade Secret" stuff can't be hazardous. Stuff like phenolic acid and chromic acid is hazardous.
I also know that to test products we put them in a salt fog booth then take aircraft aluminum's and scratch X's into them, then treat the metal then place it in the booth.  I can unequivocally state that DeOxIt is NOT AS GOOD as Mil-Spec Corrosion Preventative Compound (Mil-PRF-81309) because I've tested it in salt fog booths myself.  It just isn't as good.
But Naptha is a good cleaner and a bit of a lubricant and of course depending on what the mystery 5% is maybe a really good lubricant.
There is no doubt a blast of DeOxIt in a an old non-sealed potentiometer full of dust and grime is a great thing to do.  Spray, work, it back and forth and it will clean and lube your switch or potentiometer.
What it will not do.   IT WILL NOT REMOVE RUST. IT WILL NOT REMOVE OXIDATION, and let me qualify that by saying tightly bonded oxidation.  Loose oxidation products……..okay, I'll buy that. But let me explain by that I mean loosely bonded oxide films that you cannot see or see that they are removed.  The NAPTHA CLEANS IT.  There is no chemical conversion that I am aware of.
If DeOxit makes your bulb in your flashlight seemingly brighter, just try the same experiment with lighter fluid and bear in mind you have added an electrolyte solution to an electrical circuit which can make it conduct better.
DeOxIt is indeed the old vintage stereo guys friend.  Please stop saying it is a miracle product though.
DeOxIt = $14 a can
Lighter Fluid $14 a gallon.
I'm serious as a heart attack.
Again, this was not a hit piece.  I like DeOxIt.  I use it because I can't buy Mil-C-81309.  But it isn't what most people thinks that it is.
So to kind of summarize, DeOxIt is a contact cleaner / corrosion preventative compound that will clean, protect, and INHIBIT oxide growth with regular repeated applications.  It is NOT a de-oxidizer.   The only way it would remove oxide layers is if you applied mechanical means like an abrasive cloth or similar in conjunction with its use.