Ahhhh Shortwave radio.  If you're my age you probably remember it fondly in the 70's and 80's. Every home probably had at least one World Band radio.  If you are my kids age you may not even know it exists or if you do ………… what exactly it is.
Everyone knows what AM radio is.  What most don't know is AM Radio is actually called Medium Wave (MW).  The frequencies BELOW AM are called LONGWAVE.  So it stands to reason the frequencies on the other side of AM are called "SHORTWAVE".
Shortwave kind of fell out of popularity mostly due to the big old orange ball in the sky firing solar storms at us.  The sun works in cycles and sometimes shortwave listening is really really good and sometimes it is really really pointless to try.
For some odd reason or another shortwave listening has picked up quite a bit here lately and whether you are aware of it or not it's still out there, and still carrying information.
One of the gigantic advantages (or maybe a disadvantage) is because of the small audience, the ability to put your programming or thoughts on the air is EASY AND CHEAP.  I've seen places you can buy an hour of shortwave time for $50.  So consequently there are a lot of weird things to hear.  Lots of Patriot Radio.  Tons and tons of Churches, and heck you can hear Islamic prayers being sung from Saudi Arabia.
But many don't realize you can transmit DATA on it as well.  Here's one example.  NOAA publishes Weather Faxes over High Frequency Shortwave.  Pump that signal into a computer and software and it will create an image like below.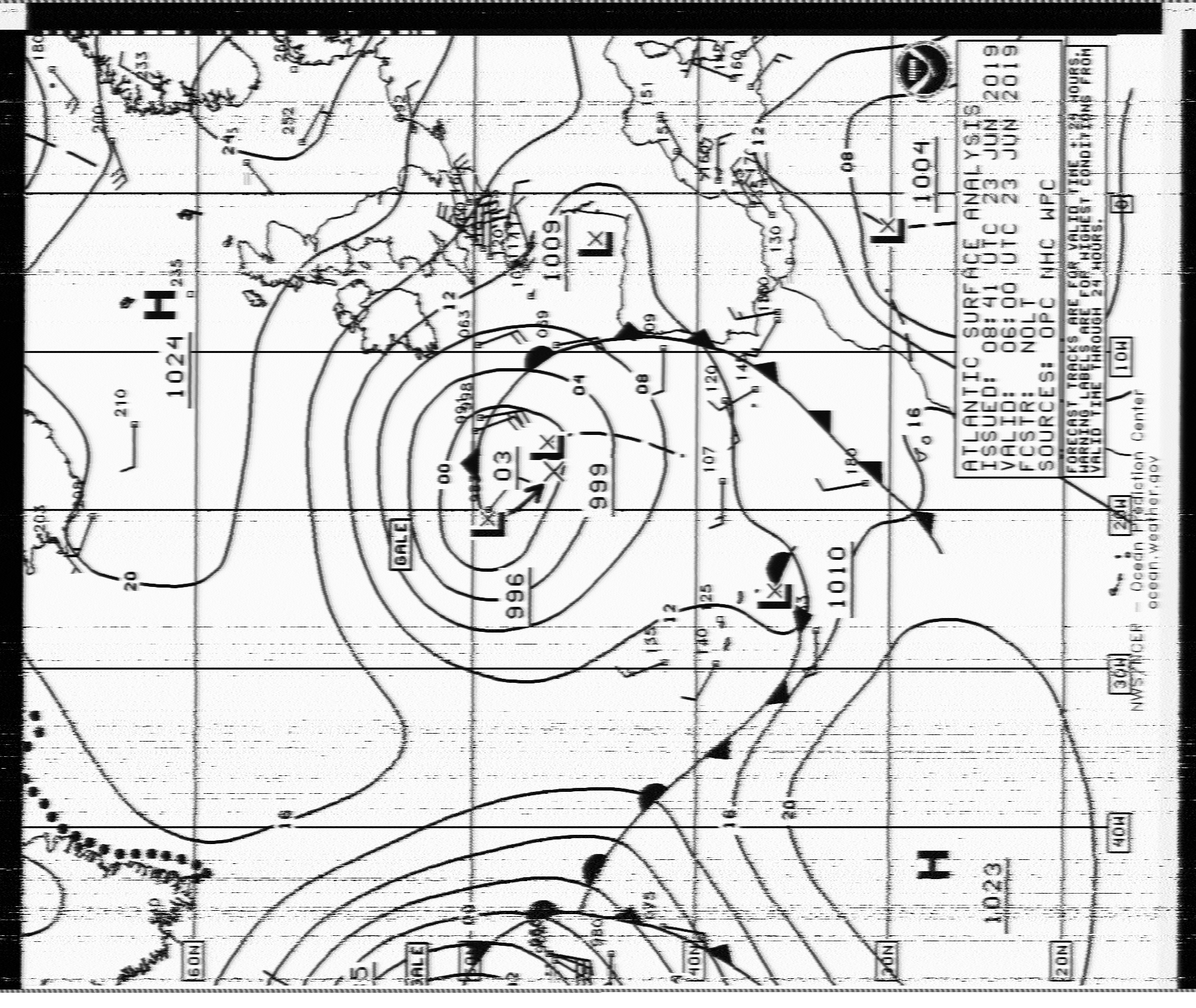 Spies also transmit data along with one time codes called "Numbers Stations".  Heck they made a movie about it.
Starting to get interested?
As I type this I'm sitting in an airport. Did you know when your pilot gets out of range of a control tower that they speak with a controlling tower via SHORTWAVE RADIO? Well now you do.
Also, how do they know when you get on the airplane in NC that the descent into Phoenix will be bumpy?  Because of a shortwave broadcast called Volmet.
Many countries use shortwave radio to send propaganda or news into other countries. On any given night in NC I can listen to Radio China, Radio Romania, Radio Viet Nam, Radio Havana and so on and so forth.   And yes, we the US of A do it as well.  Everyone has probably heard of VoA (Voice of America).  There is a gigantic transmitter and antenna in Tinian.  When I used to go there we would drive past the site and it had a big sign on it that said "Deadly Force Authorized".  Huh?  For Shortwave?  Interesting.
So shortwave is still used for politics.  You can pinpoint a transmitter but you can't tell if someone is receiving it.  What better way to get to the populace of a country than by radio that travels over long distances.
WWV in Colorado and WWVH in Hawaii has been broadcasting the time over shortwave for many, many years.  Believe it or not companies pay HUGE for Time Calibration signals.  Both stations almost fell victim of fiscal cuts and were supposed to shut down.  However the deadline past and they are still transmitting the time signals.  How long since you heard that?
DRM is another mode carried by shortwave.  It's not something you see a lot of in the US but more in Europe.  It is a digital radio station broadcast.  Below is a DRM broadcast from Kuwait that I received.
Cool stuff.  Also you can communicate via a protocol called FT8.  It was designed for very low power transmissions in high noise environments.  FT8 allows you to add a few characters of text, usually to identify yourself although other messages can be transmitted.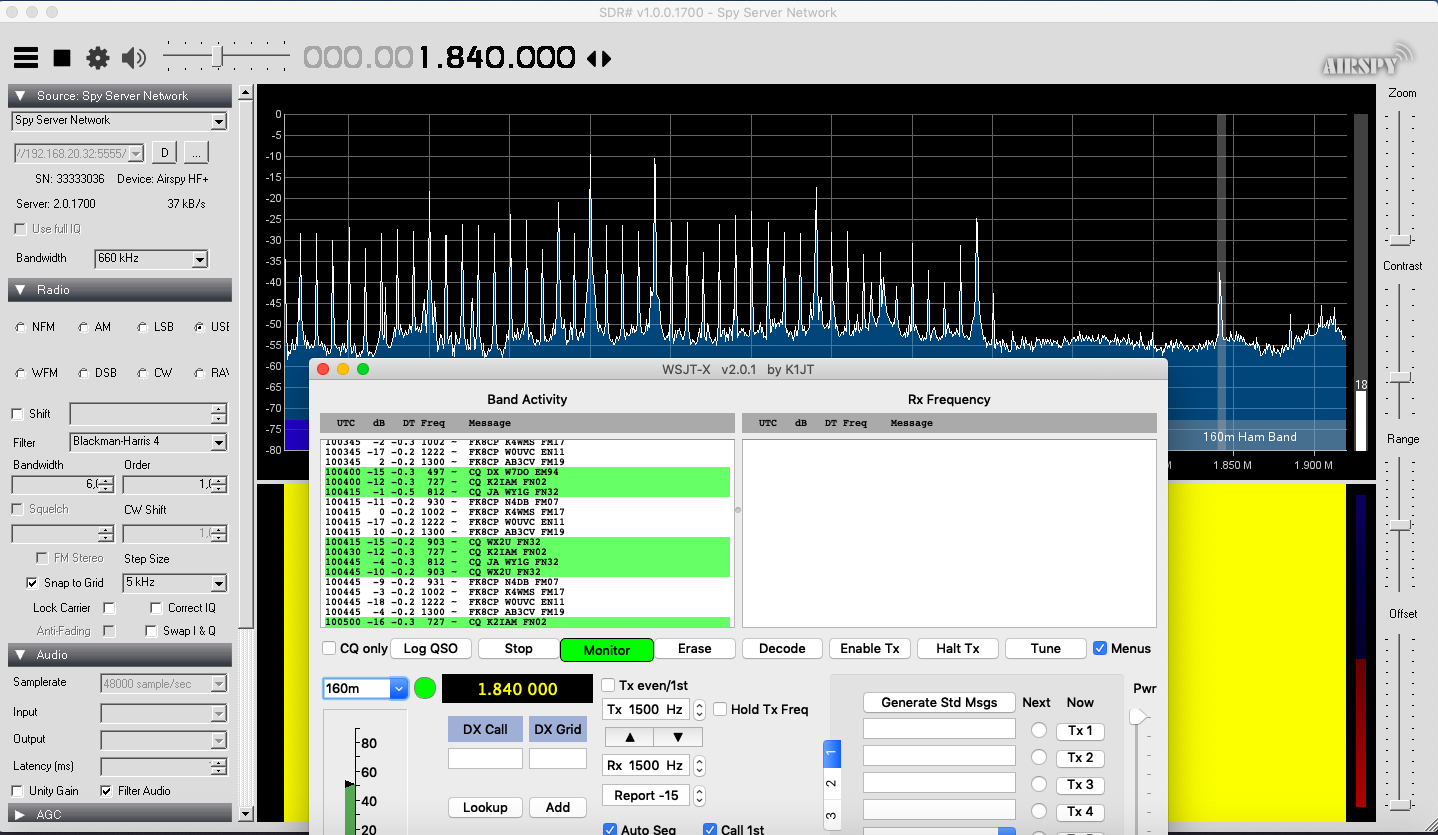 And of course you can hear Amateur radio operators talking on Short Wave, Upper or Lower Sidebands and even good old Morse Code still gets transmitted these days.
I know I'm missing some stuff, heck I'm probably missing a lot of stuff but that scratches the surface a bit and hopefully gives the reader a brief idea of what is going on in the Shortwave bands.
Shortwave is alive and well still, and darned interesting.