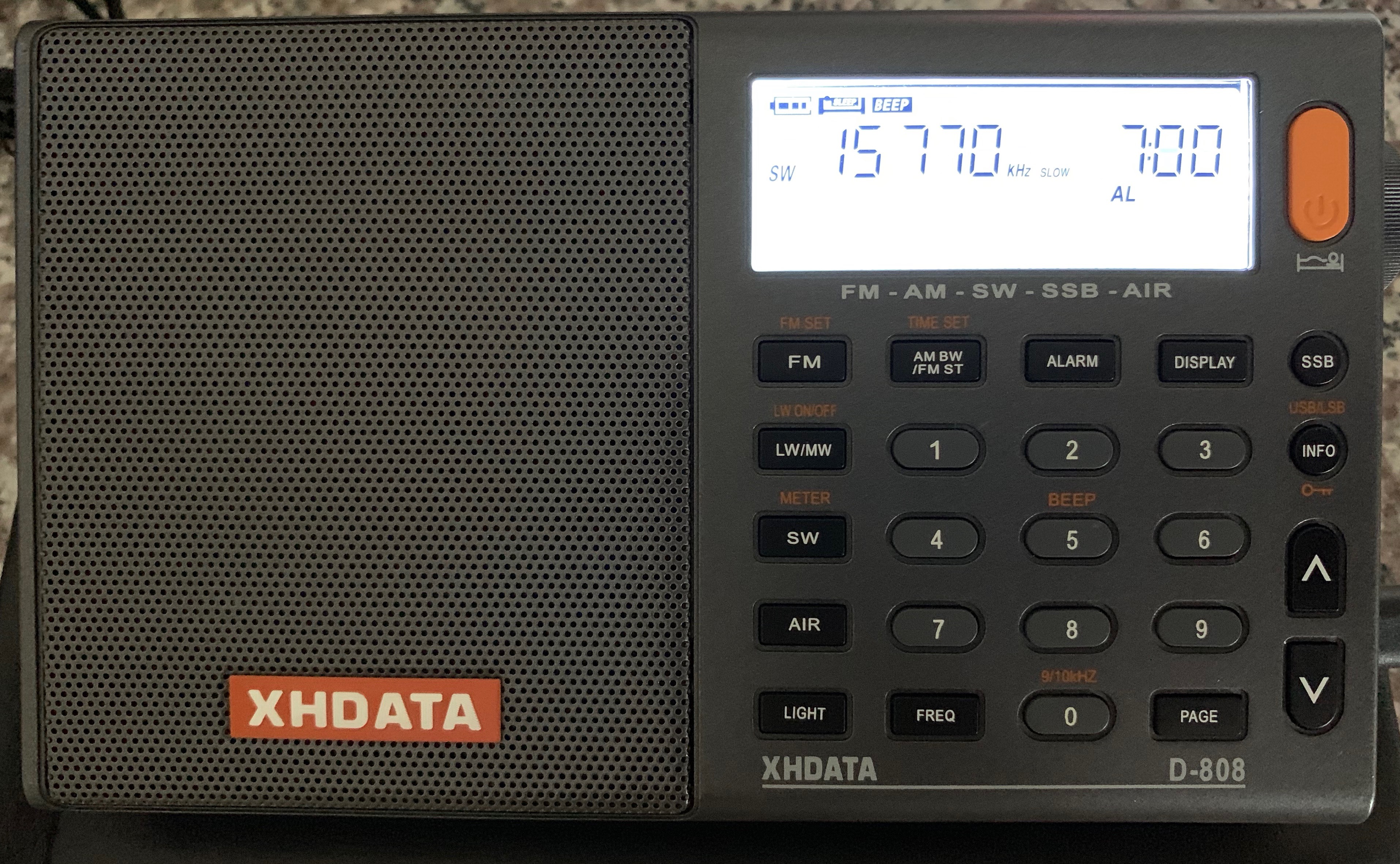 I've had this radio for a few months and have used it sporadically and feel like I'm getting a good grip on its strengths and idiosyncrasies.
It's a good strong radio with lots of features.  When I got this radio it was pretty much unobtanium except through AliExpress and eBay.  I got mine from eBay but paid a few extra dollars for it.
The XHDATA D-808 is about the same size and weight and has most of the normal features found on the other shortwave radios in its class and then some.  Of particular delight to me is an external antenna connector.  I know a lot of people judge radios on their stand alone merit but I like pushing the envelope.  I seldom use a shortwave radio without an external antenna of some kind.

Also this D-808 does Air Band.  I work on a Marine Corps Air Station in the Operations Building and our guys support emergency arresting gear.  I like to monitor the Air Band at work for aircraft which might be taking an emergency arrestment.
MW performance is good but of course better with an external antenna and my Magnetic Loop antenna works wonders with the D-808.  Lets talk a little about that antenna connector though. I use regular coax from the wall plate to the radios and use F to whatever I need adapters to make the connection to the radio.  This radio needs an F to 1/8th" plug. The adapter I use works FLAWLESSLY on every other radio I own with a 1/8th inch antenna jack.  However, comma, the D-808 tends to push the connector out sometimes seemingly like magic without touching it or without movement.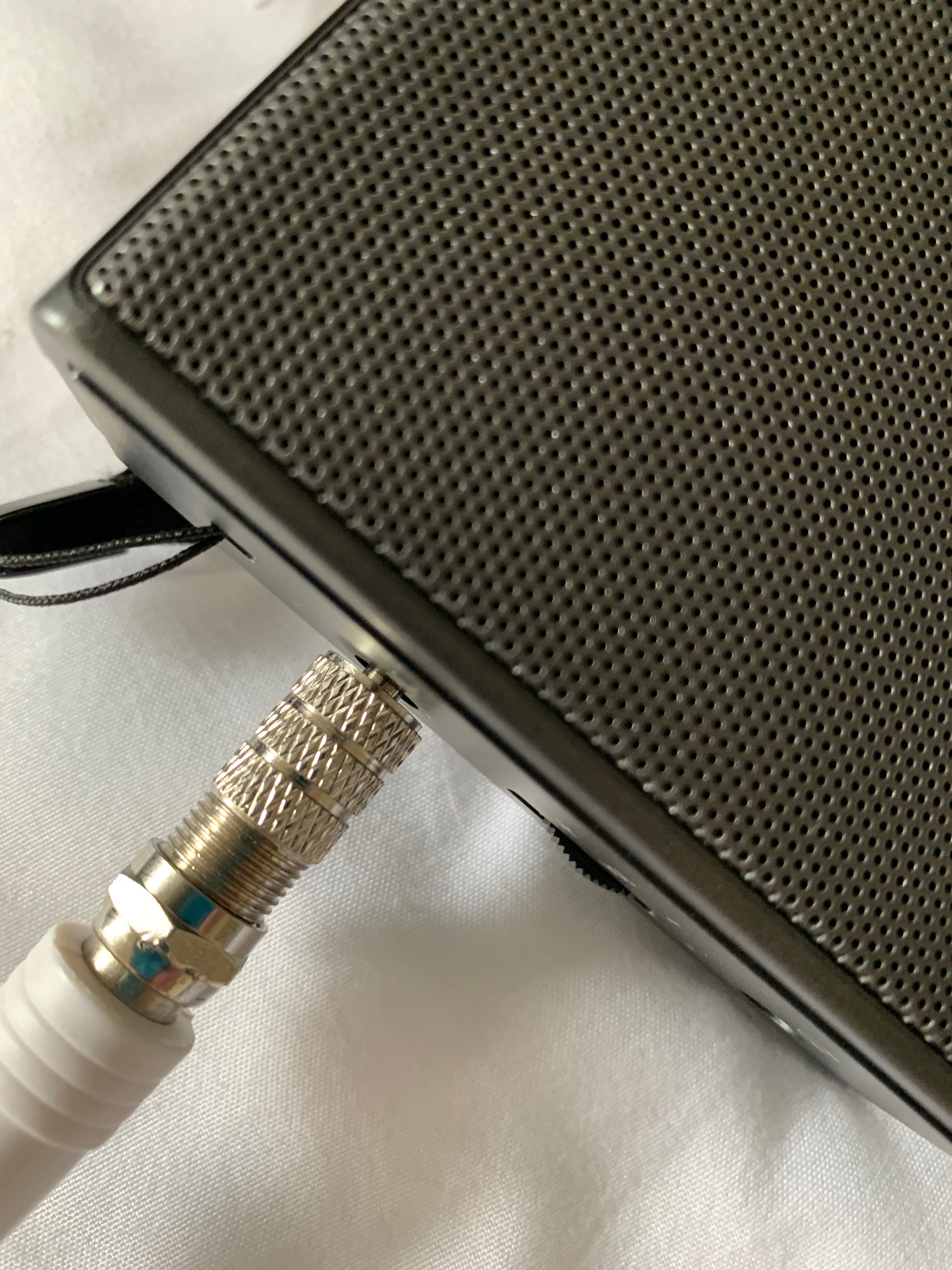 That's weird.  Sometimes it pushes out further than that.  I have to keep an eye on it.
While the LCD looks pretty great while you're looking dead on at it if you tilt the radio even a little it become illegible.
LCD – Click to Enlarge
Another thing that's weird about the radio is the Single Sideband mode of operation.  There is a button that says SSB but it only toggles between whatever sideband mode it is in and normal operation.  For example if it is set in LSB pushing that SSB button only gets you LSB or Normal.  Not USB.  To switch to the other sideband mode you have to push the info button. What in the actual hell?
The info button has no corresponding label indicating that function and the SSB button is labelled USB/LSB which ain't exactly kosher.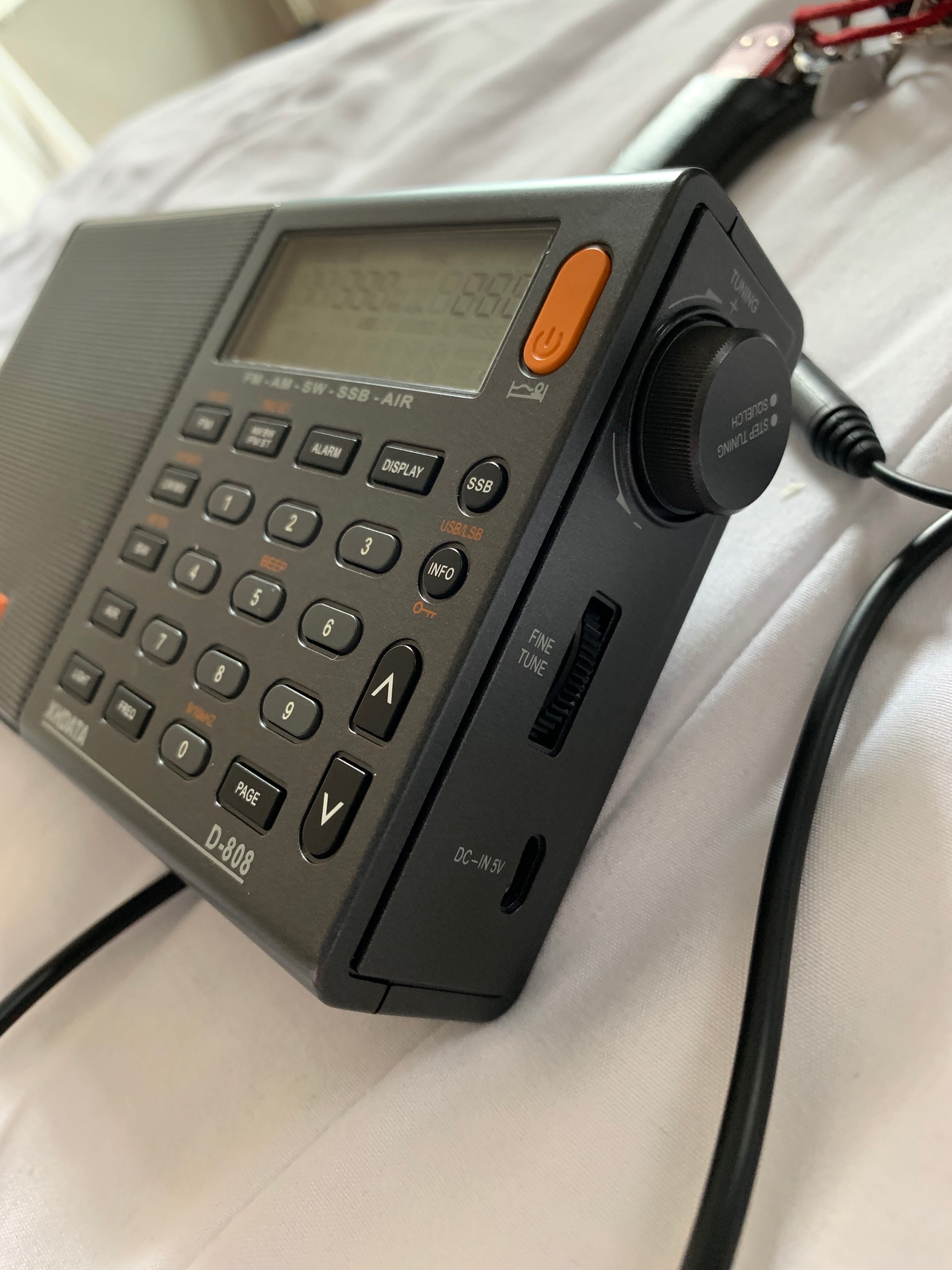 And speaking of USB the Fine Tune is where you'd expect the volume control to be.
I can't tell you how many times I screwed that up.  Almost every other radio there is has the volume on this side of the radio.
Must have been made by a lefty.
And speaking of that Fine Tune Control I find that it isn't dead money accurate.  I listen to Aeronautical HF transmissions and on most radios tuned dead on the radio on USB works perfectly.  On my D-808 however it needs to be fine tuned to minus 5 to make the voices not sound tinny.  I'm actually not complaining about this, just making an observation.  Dialing stuff in is fun in my estimation.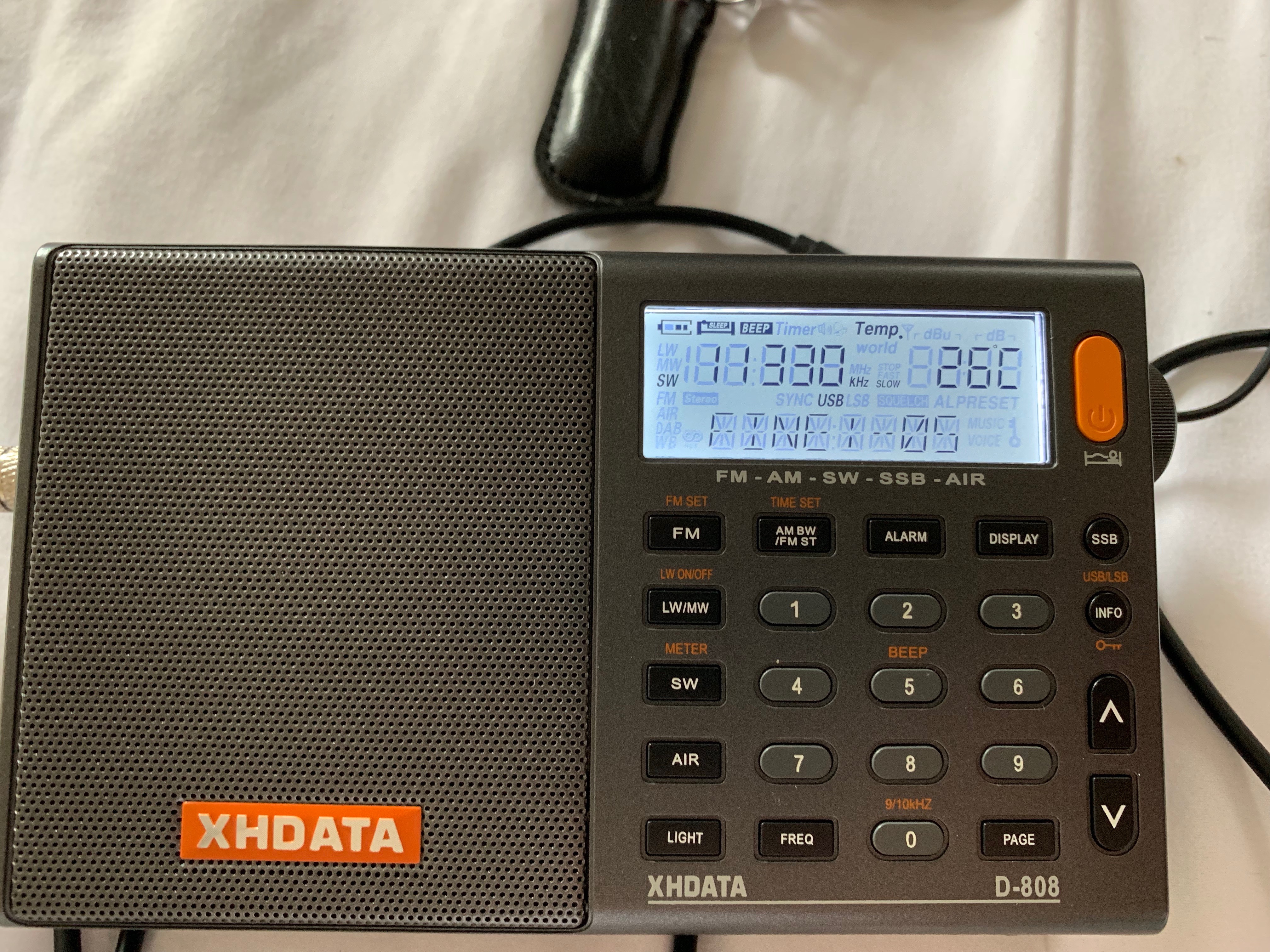 Captured some audio with the adjustment made.
I recorded that by pumping audio into my laptop using a program called Audacity . That brings me to one thing this radio is lacking in my estimation, and one of my favorite features.   A dedicated Line Out.  If you plug a cable into the headphone jack and pump it into a computer the radio silences.  I had to have another radio on to know when to hit record.   A real live Line Out would be AWESOME to have on this radio.  I like to record stuff, if you don't do that, then it shouldn't be an issue.
I should note that with Audacity you can do Voice Activated Recordings so then you wouldn't really need to have another radio available to listen to so you know when to hit record.
While much of this review may seem negative, it isn't meant to be.  No radio is perfect and the XHDATA D-808 is way more feature packed and capable than many other radios in the same class and price range. These are just my observations and maybe somebody somewhere will read them and implement them at XHDATA, whatever company that may be.  If they don't it is still a damn fine radio.