Sorry about the misleading Subject Line.   I am NOT a man of tactics.   And while I work and deploy with the USMC as a DOD Civilian I haven't learned a damn thing from them.  I'm not tactical.  I could not sneak up on you with a cup of coffee.
If you wake up in an awful place like Iraq or Afghanistan it is very comforting to know that most of the people inside your base are US Marines.   I've had no desire to be a wannabe tactical guy.  Always been happy to let the paid pros take care of the tactics.
But I do like to hike, and I do like to camp and living in an area known to catch a few hurricanes it is only smart to have a certain level of preparedness.   Much of being prepared involves having equipment that is tried and tested in the field by people WHO HAVE TRIED AND TESTED IT IN THE FIELD.
And I guess that's how the term "tactical" gets tossed around.   No matter.  Contrary to the fact that I didn't want to learn anything while buying all this cool gear I ended up learning LOTS of things.  One term that keeps creeping up is Every Day Carry (EDC).    EDC is also about being ready for things, or it is about having the tools at your disposal, on your person, that you would use in your day to day tasks.
We all EDC everyday whether we know it or not whether it be the jumper cables in your trunk or the toolkit under the seat.  Women EDC every day in their purses.  Men EDC every day in their pockets, and truck consoles.   And before someone goes gender nuts on me, Yes I know women drive trucks too and men carry man bags.
Granted the list can evolve and change daily but here is my typical EDC:
Wristwatch
Pocketknife
Flashlight
Pen
Ok, that doesn't cover much turf, at least not seemingly.  Let's break it down a little.   A Wristwatch can simply provide you the time and date or it can do so much more.  Case in point. Casio Rangeman.  The Rangeman series is TRIED AND TESTED by real guys in the field and is a favorite.  If it will work for them, it will work for me.  Also it is SOLAR and seems to keep a full charge even from indoor lighting.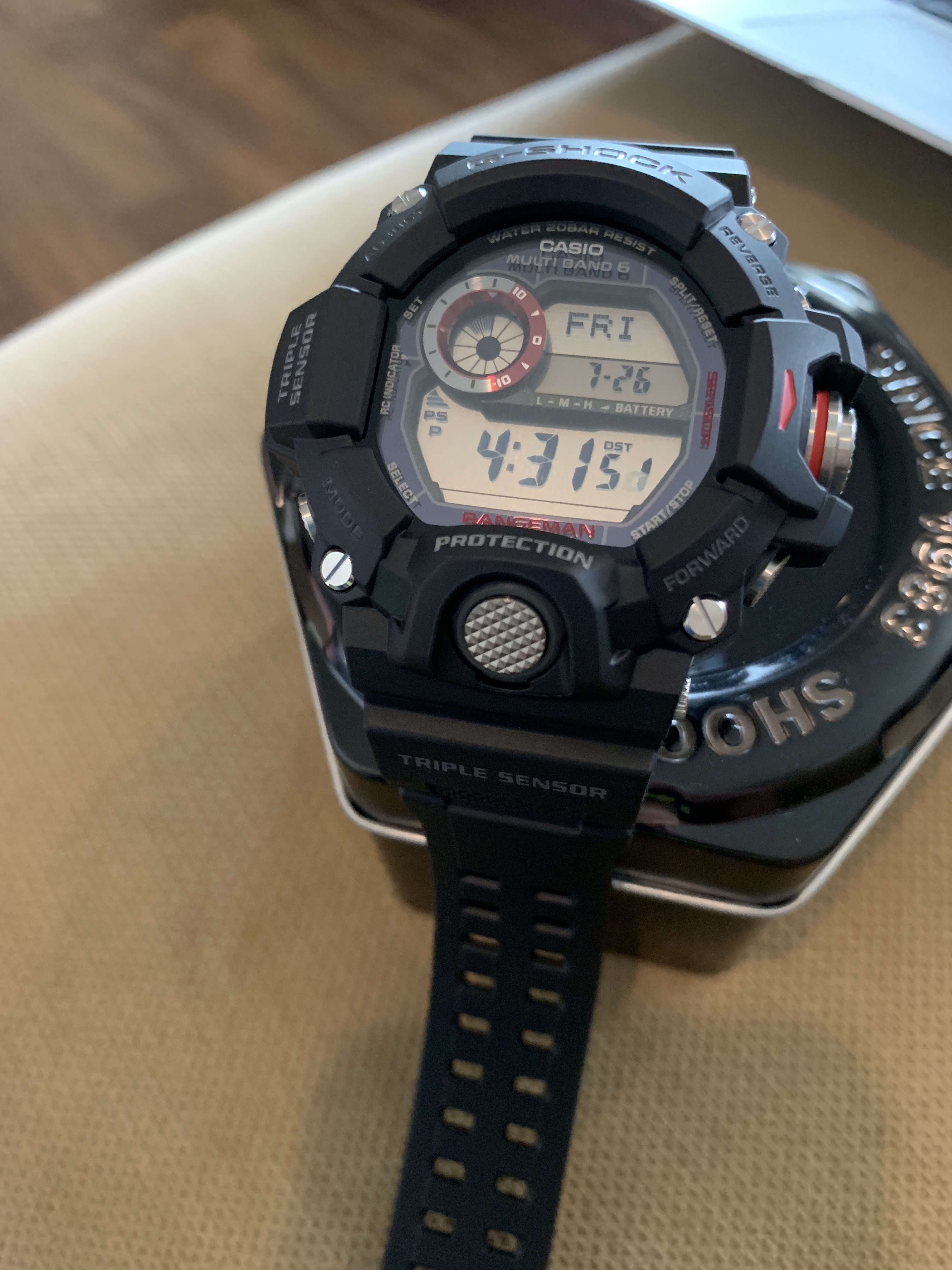 First and foremost it is a watch with a calendar but it is also a barometer, altimeter, compass, world time zone and it receives time calibration updates from long wave radio signals to keep PERFECT time.   The compass is accurate enough to align satellites which is also something I do here at Casa Hagensieker.
Below is a SMAEL tactical watch .  While not nearly as tactical as the Casio Rangeman it is an AWESOME watch with the basics.  Time, date, stopwatch, water resistant and best of all I CAN READ WHAT TIME IT IS WITH MY OLD EYES.  And to make the deal even sweeter it costs $15.  Yep you heard me right.  $15.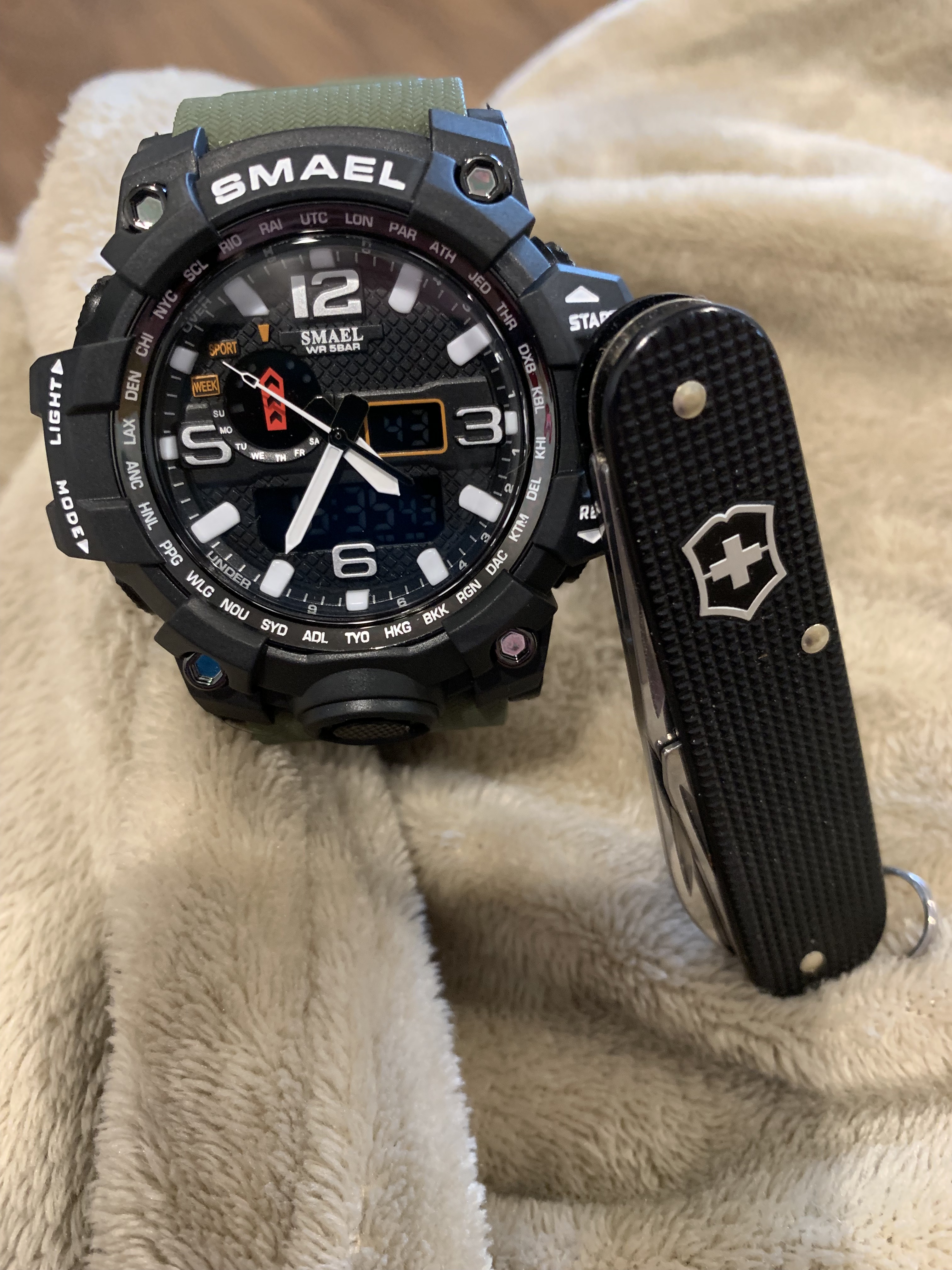 At any rate if you're wandering around alone out there you need to know what time it is.  Even better to know some weather details.  If you are hiking knowing your altitude would be helpful if you were working off of a topo map.  Having a compass with you is almost a necessity on hikes. When I lived near Joshua Tree National Park I would stand at my truck and shoot a compass heading and then I'd hike straight out on that heading never deviating more than 5 or 10 degrees.  If I did deviate then it was time to take notes or use a map. I would take a note with my start time and if I walked an hour and deviated 10 degrees then I'd write that down.  Then I'd take note of the time and reverse the process coming back.  Anyway when it was time to come home I knew for a fact in that brown, nearly featureless desert which way the truck was  WITHOUT QUESTION.  I'd shoot a straight compass heading and follow it back. Yeah, I might walk back and be a couple blocks away from the truck but by golly I wasn't lost in the desert.
The ability to walk out in the woods or desert and WALK BACK TO THE SAME PLACE is a valuable life skill that you don't know you need until you need it.   I'm reminded of the time I went to Warren PA and the people I was with told me that every year several hikers would go into the Allegheny Forest and POOF.  Gone forever.  They'd get lost and couldn't find their way out and die in the woods.    Get a compass.  Learn how to use it.  Rant over.
Pocketknives
Oh boy this could be a windy subject but I'll try to keep it simple.   If you go on Google and type "Best EDC knife" you'll probably get back a lot of results like this:
That's my Spyderco Native 5 and yep, it's a damn fine EDC knife. Most of the time.  You have one of these in your pocket and you are a box opening fool.  In fact it is an EDC choice well made for 99% of the tasks you need a knife for at home and on the job.
But step out into the Wilderness a bit and while that knife may still be most helpful it probably can't help you cut down firewood and start a fire.   That's when I reach for a Swiss Army Knife.  They make them in Large, Medium, and Small.  If you're in the woods you probably want one with a tree saw like below. Also the thing next to it is a Firefly which is basically a flint that you can rub against the back surface of that tree saw and throw sparks and make a fire.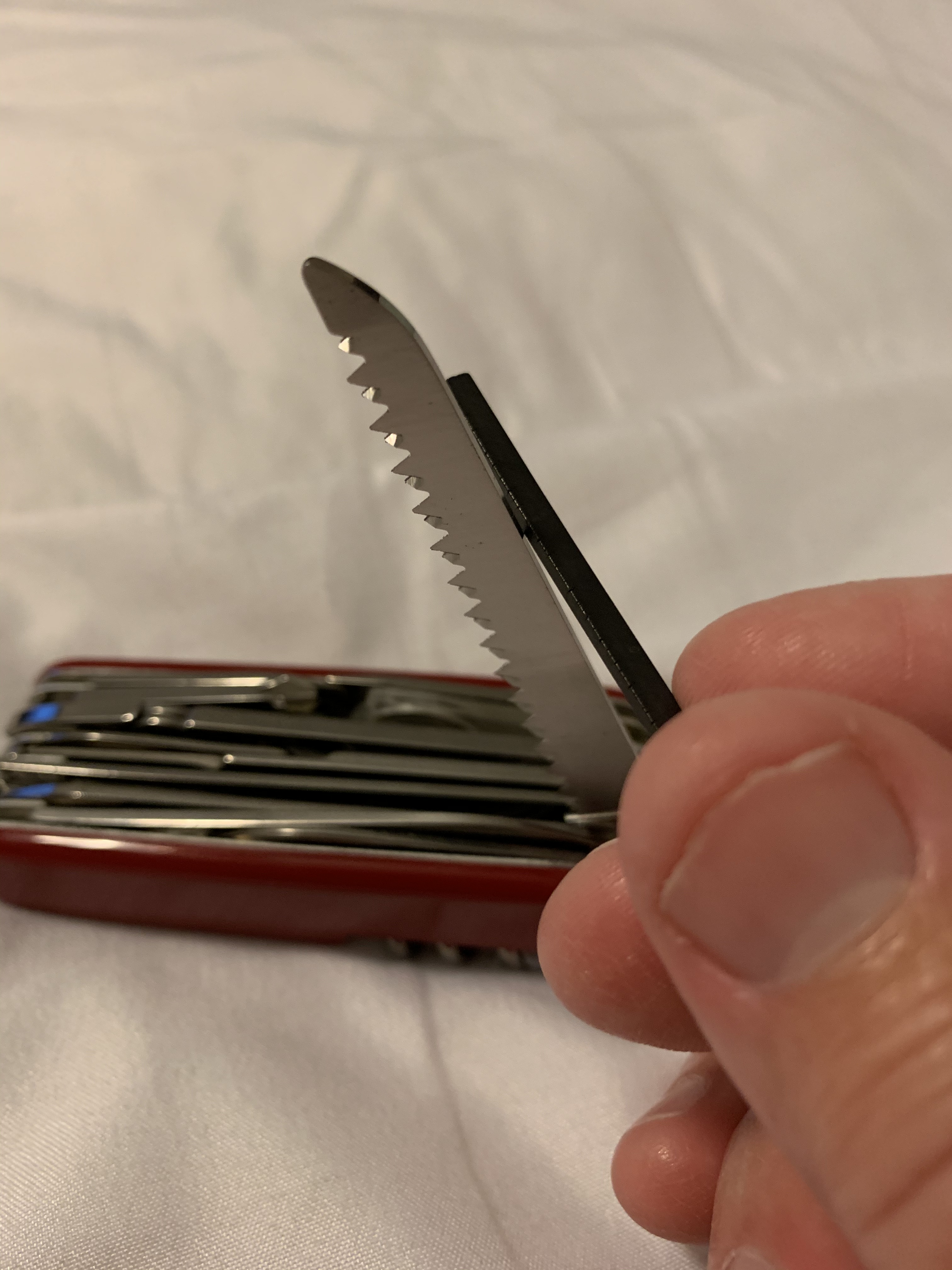 So anyway an EDC single blade knife is nice but when you're in the woods having a multi-tool like a Swiss Army knife nets you a whole lot more versatility especially when it comes to starting a fire (you can use a magnifying glass as well which many Swiss Army knives have), also you can use that tree saw, scissors, pliers, toothpick, hook……….you name it. If I go in the woods I'm taking a Swiss Army knife, not an EDC single blade knife.  Or both.
Flashlights
Another subject that you can go on and on and on about.  You can literally go in any store just about including a grocery store and buy a flashlight. There are SOOOOO many brands of flashlights. Most people have a flashlight for when the power goes off and use it to help them find the candles and matches.  Us tactical types have bad ass flashlights that rival the sun for output.  We know we'll need our flashlights in the woods, on the trail, in the rain, in the mud, and in the snow.   I've compiled a short list of things I think a flashlight should possess:
Bright
Throws a beam way out there
Comfortable and ergonomic.  You could be holding it for a while.
Rechargeable and by that I mean the whole light and not removing batteries, charging them, and reinstalling them.
Water and mud resistant.
Shows charge state.
I've dabbled with a lot of flashlights, done all the requisite research on the internet and come to the conclusion that Olight hits all the wickets for me.  They have keychain lights, small pocket lights and wickedly large military style flashlights.  My personal favorite is the Seeker 2 Pro.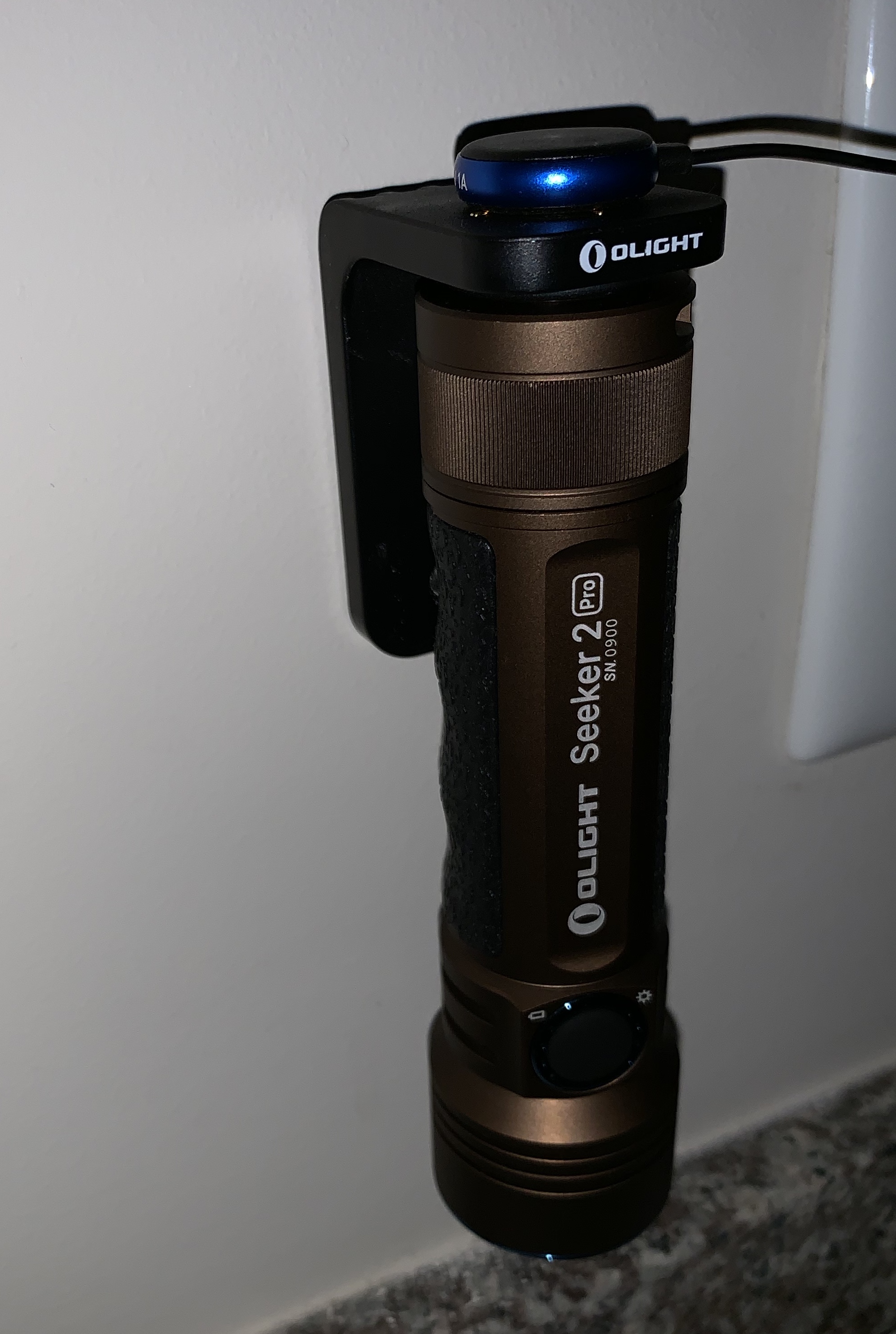 It's darn near a perfect light. 3200 lumens which means it will turn the dark to day. It is very grippy, very ergonomic, and has LED's on the side switch that show you what intensity level you are at and how much charge is remaining.   It is however slightly large for the pocket.  That's where the SR1 Baton II comes in.
Perfect size for the pocket and it also shows you the charge state and is rechargeable in the Olight magnetic docking station.
So here are some of my EDC choices:
EDC (click pics to enlarge)
And as you can see in one pic, if I'm carrying a man bag I might also throw a ShortWave radio in the bag.  That is a Red Oxx Hound and a CCrane Skywave SSB radio.
Pens
You need to write things sometimes. Going in the field with a Sharpie is a good idea and so is having a ball point pen.  For my money there are only two kinds of pens.  Stolen hotel pens and Fisher Space Pens. Being able to write upside down in the rain is not a skill you think you need. Until you need it.  My space pen is in one of the pics above in the Hitch and Timber pouch.  Last thing I'll say about pens.  Lots of Swiss Army knives have pens in them as well.  Just saying.
Anyway I love my gear. Most of it is very well known performing tactical gear.  You don't have to be a special ops guy to have good solid tools that will keep you safe, keep you confident, and get you home.  Buy good quality gear folks.