As a typical guy I go through phases of wrist watches. I wear them, I don't wear them.  They aren't as practical these days as your smart phone has a big old honking time display on it so for the purposes of telling time all your devices suffice nicely.
I have a very nice dress watch, an Omega Speedmaster that I bought in 2003.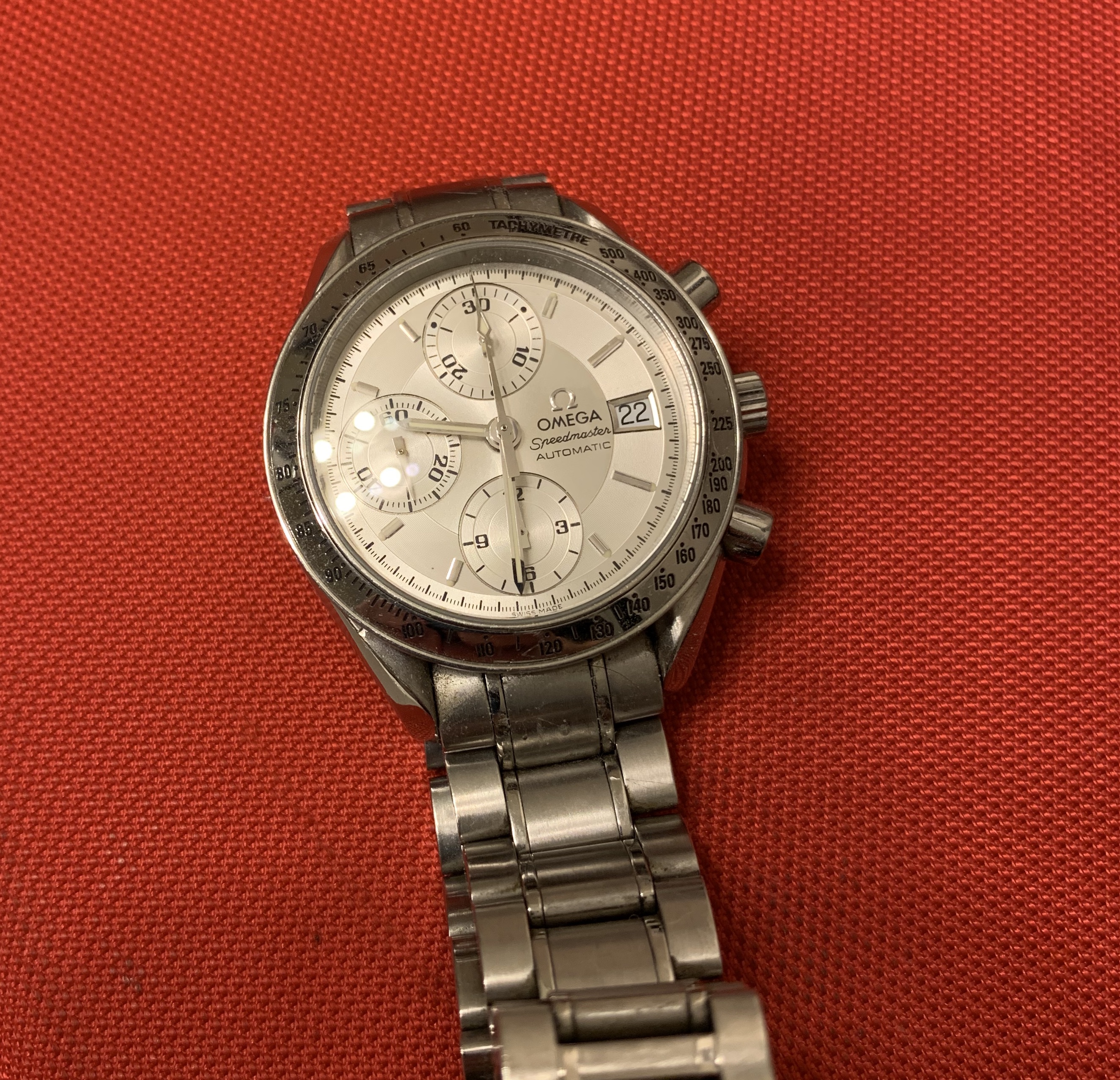 It is an amazing watch that I thoroughly enjoy wearing on special occasions but you don't wear a watch like this to work and you don't wear it while going to McDonalds.
There is a time and place for all good watches.
Then I went through a bit of a tactical phase and decided to get a watch that looked slightly military in style but slightly flashy as well.
The watch that fit that bill was a Victorinox Swiss Army Maverick Men's 241434 Dial Date Chrono Watch w/ Sapphire!  Wonderful watch that is a little more suited to wearing to work or out on a dinner date with your pretty Southern gal from Alabama.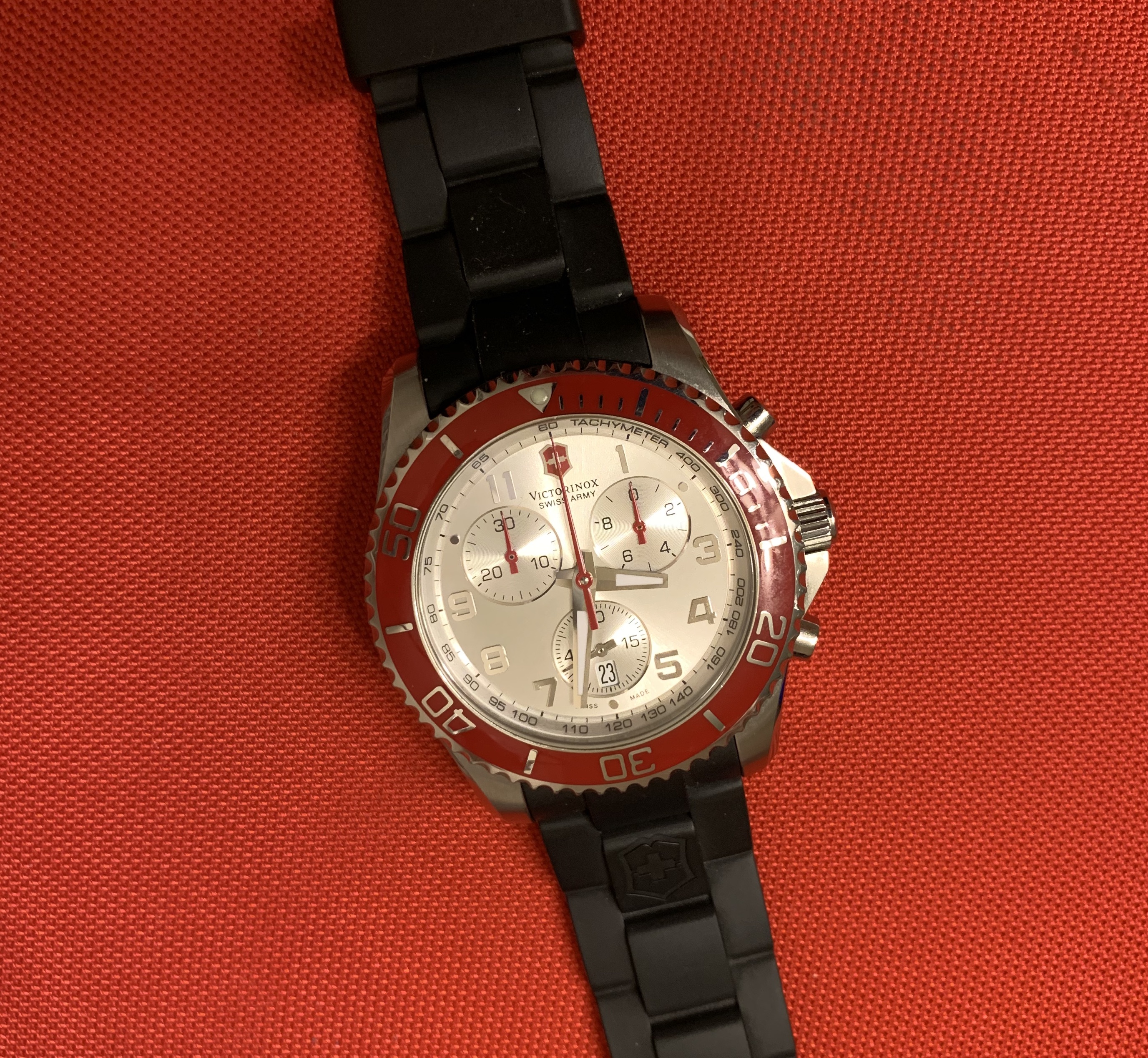 Sweet.  I love this watch as much as I do the Omega but not as much as I love the pretty Southern gal from Alabama.
This watch is stylish, military looking, has several complications on it. (Complications are what things other than the time telling feature are. Yep that's what they call them)
I also have a cheap watch that I wear in the woods for camping that cost $15.  And by golly I have a few other watches as well.  But I'll spare you those pics and get to the point of my Subject Line.   A budget watch that I found that is remarkable.
The study of the capture of time is called Horology.  Yep, that's what they call it.  And my mind kind of works this way………..It's not enough to know there are watches……..I want to know who made them and WHY.   Anyway I start digging in to this fascinating subject, and it is pretty fascinating, and one series of watches keeps getting talked about as you study the history of watches.
The Seiko 5 series.
Ok first off.  Why is it called the Seiko FIVE?  Because Seiko wanted to incorporate 5 attributes into their watch.  Those attributes are:
self-winding automatic movement
resistance to water
day-date in a single window
recessed crown
durable case
So Seiko had a vision of what they wanted to do.  Then they powered this vision, most recently with a watch movement that is absolutely tried, tested, and bulletproof.  The current movement in these watches is a 7S26 version C.
This movement has been made since 1996, relatively unchanged.
It is an automatic movement which means the watch has no battery and operates on movement.   It has a 40 hour reserve when fully "wound".
Accuracy is good but certainly not as good as my Casio Rangeman which gets time calibration signals from Long Wave radio from an atomic clock.  If you need wicked accuracy the Casio tactical watches or Eco Drives are probably among the better ones.
So anyway the 7S26 movement is LEGENDARY in the watch world.  It is very resistant to shock and it just keeps going and going and going.  Also if your watch takes a dump you just drop another 7S26 movement in which are readily available and cheap.   Like I said they've been making them since 1996.
So the watch I bought is an SNK803 but most people generally get the SNK809 (pic below).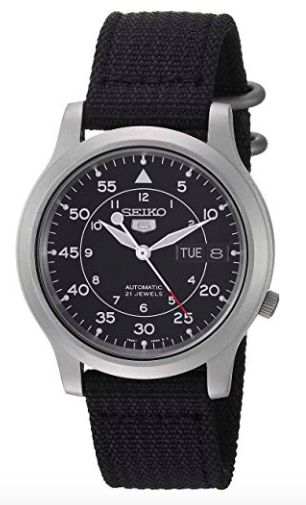 The cost of this watch is generally about $70 new.  Let me put this back into perspective for you.
An automatic watch, with a legendary, bulletproof movement, with a stainless steel case, and a military style type field watch look, and a day/date complication for $70.
In the world of watches that is fairly insane.
I chose a watch with a different face for more of a fashion statement.
I went with the SNK803 with beige strap.
I sent the beige strap to hell where it belongs.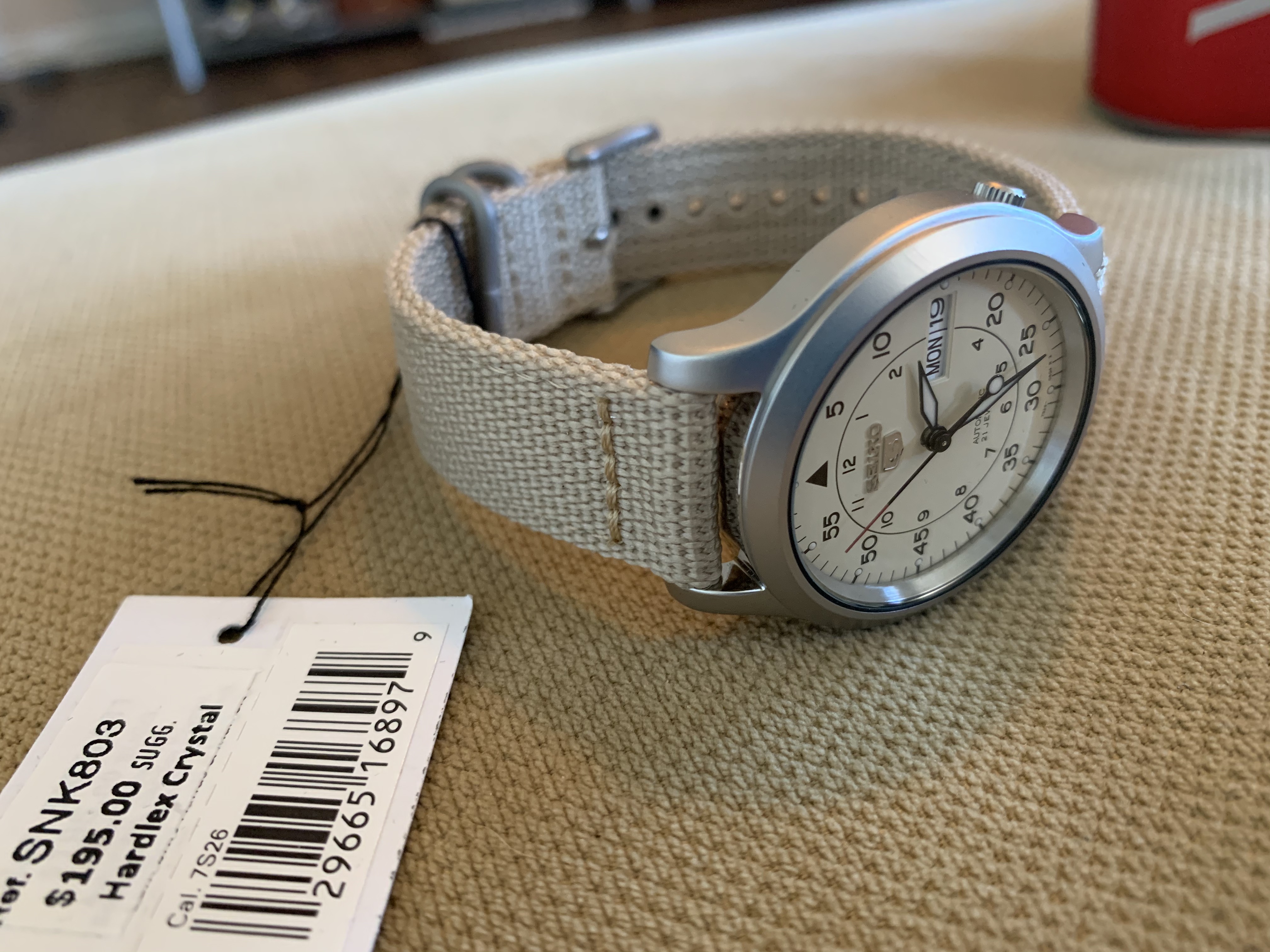 Replaced the beige strap with an 18mm EACHE leather watch band for roughly $16.  I think it looks pretty great now.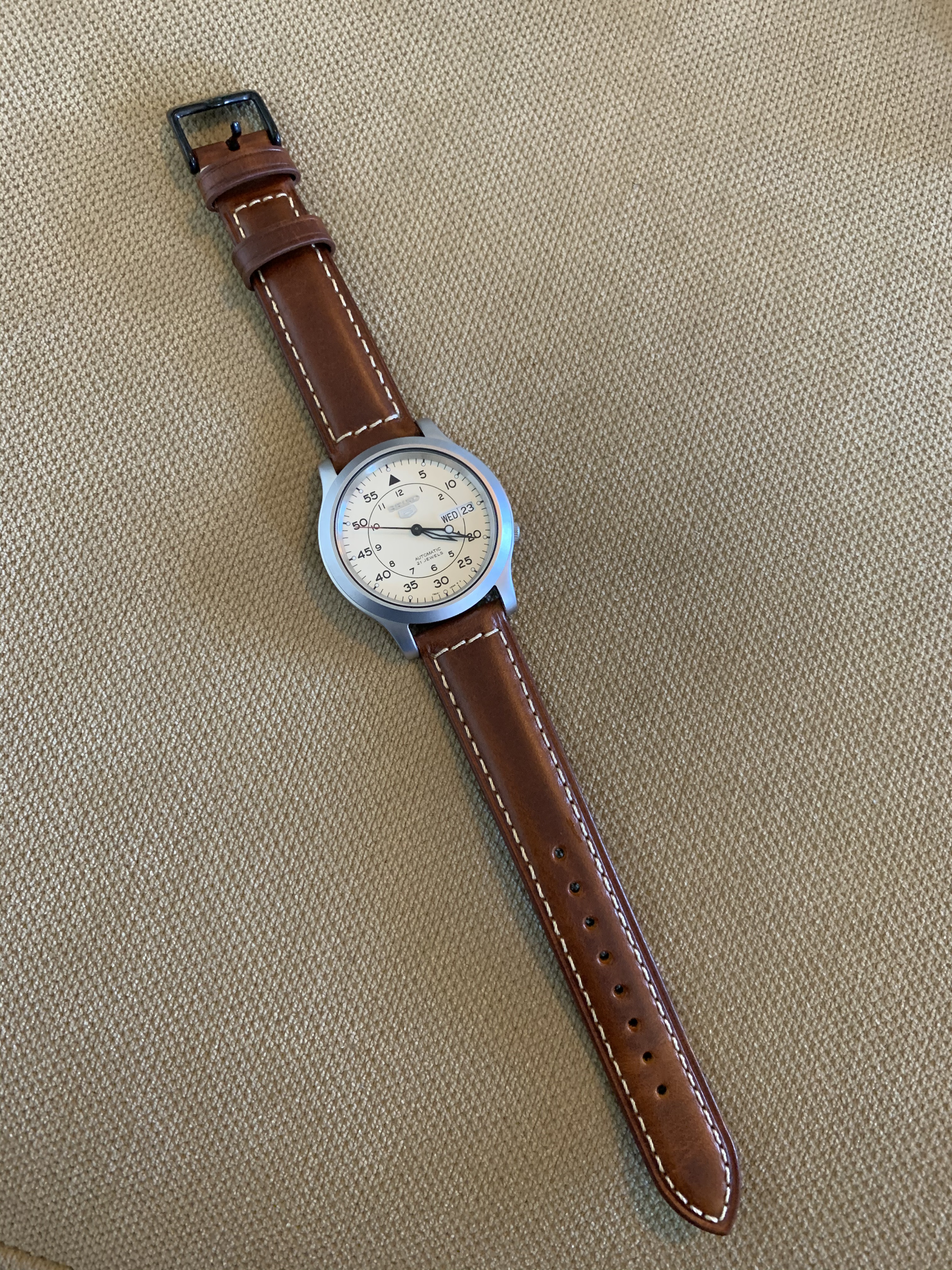 What a watch for less than $100. It hits all the wickets for me.  Price, style, durability, reliability.  Just a good solid watch that should last for decades.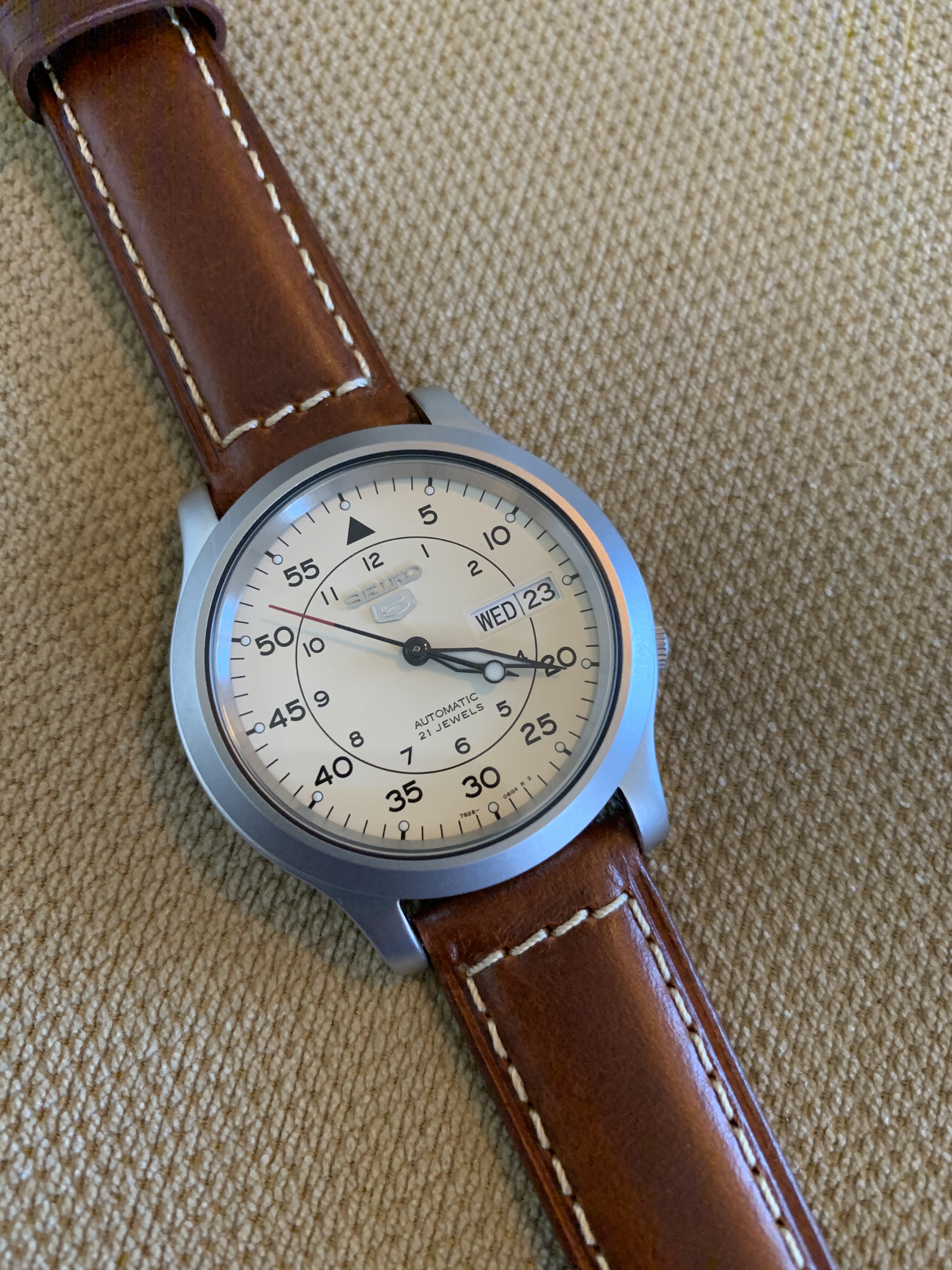 It is a 37mm case which may look small on you if you have massive wrists. Most mens watches, although not all by a long shot are usually 40mm. I personally love the slightly smaller profile.
Finally the watch is treated in Lume (the glow in the dark stuff).  It isn't the best or longest lasting lume but it looks good when activated.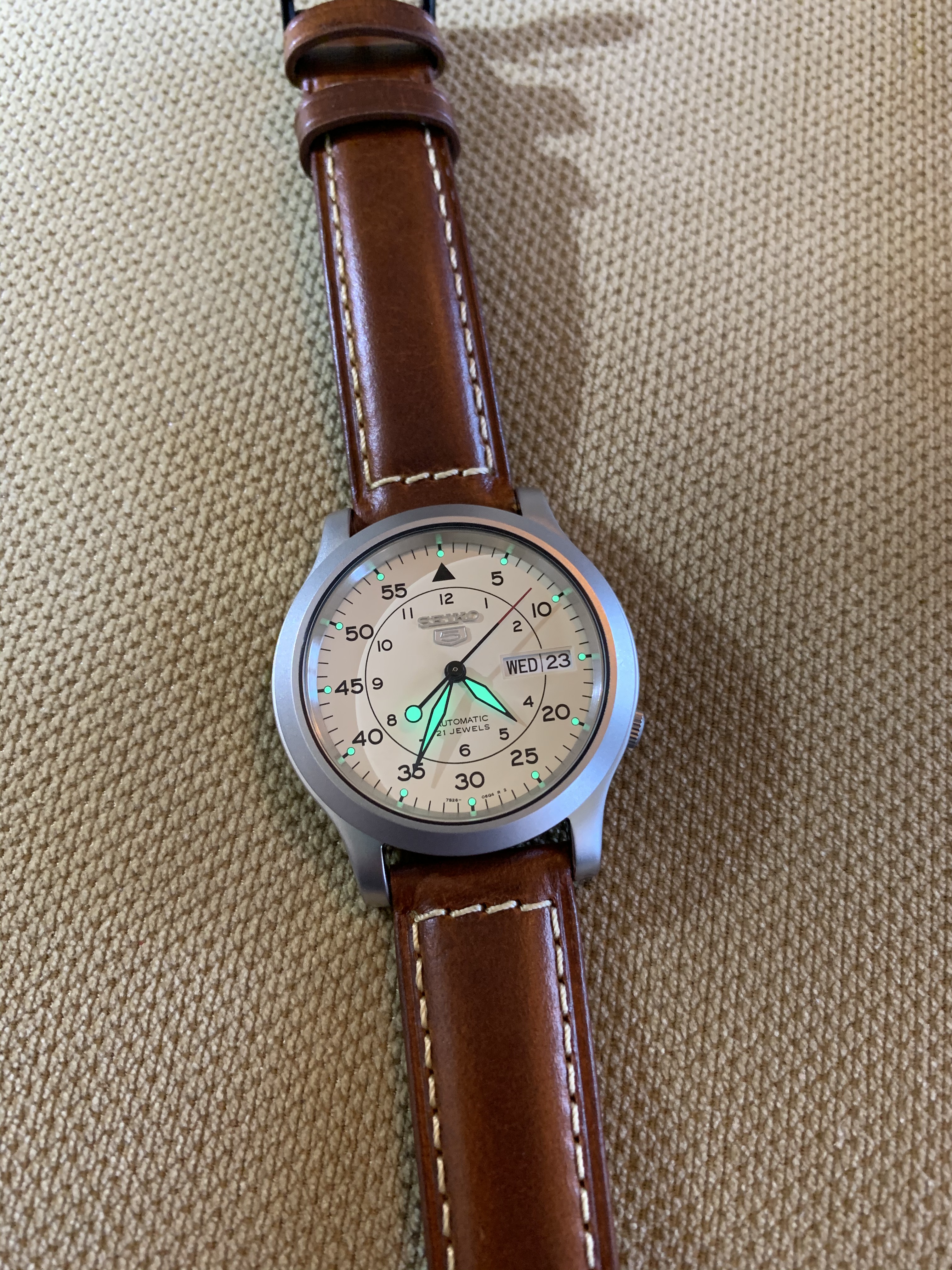 I probably fell in the category of "Gotta have a pretentious watch like a Rolex to show everybody I'm somebody" at one time or another.  But since I became John the Tech Blog guy I want good solid equipment that doesn't cost too much and is a known performer.  The Seiko 5 fits that bill EXACTLY.
The SNK 80x line of Seiko Watches is just that.  Perfect blend of workhorse material.  Getting back to that 7S26 movement for just a second…………..some of Seiko's iconic dive watches that cost much more have that exact same movement in them.
These are fabulous watches.  For less than $100 with a stylish watch band you cannot go wrong.