Rolex, Omega, Breitling, Casio, Timex, Citizen and on, and on, and on.  Some watch brands we know.  Some we have never heard of.   I recently became interested in Horology, which is the study of the measurement of time.
I AM NOT A WATCH SNOB.   I do own a nice Omega Speedmaster though.  For many, many years I stopped wearing a watch because our phones have taken over the duties of other devices and of course, the measurement of time being one of those duties.  Darn phones have taken over the role of stand alone cameras as well.  (I still like stand alone cameras as well).  Call me old school.
Anyway as I began studying Horology it became apparent that the modern wrist watch evolved from World Wars I and II.  My personal preference in watches revolve around those military style watches sometimes referred to as "Field Watches".   While I don't get out as much as I like, I love to camp and hike and I'm a gear junkie.  Knowing what time it is while hiking is VITAL. I not only want, but NEED a Field Watch.
So I began digging into military field watches and keep running into these Bertucci Watches.  Never heard of them before.  I hit the watch forums on the internet and while there isn't much chatter about Bertucci most of what I read is positive.

So I hit the Bertucci website almost daily for a week or two and there is something about the look of the watches that pleases me.  I keep looking and keep looking and the specs of one of the watches catches my eye.  Swiss movement, titanium case, and sapphire crystal, 200 meter water resistance, with a NATO watch band.   The watch is the A-2T NATO.
Bertucci A-2T NATO (click pics to enlarge)
Boy do I love the way this watch looks.  The NATO strap sure is comfortable, it doesn't slide over my wrist and sits just right.  The NATO strap actually came from the 1970's when the Brit Ministry of Defense developed something called a G10 strap for their watches.  NATO came from the NATO stock number (NSN).   So I guess technically it is a G10 strap.
The watch is highly legible, contains no complications and just WORKS.  The lume is adequate and the second hand movement seems to line up nearly perfectly with the second markings on the dial.  That is some serious attention to detail.  The stem is located at 4 o'clock and doesn't dig into your wrists.  Also the stem is a screw down crown with an o-ring for water/moisture resistance.   In one of my pics above you can see the crown opened and the o-ring is visible.
If you want to change the strap it is a 22mm band.
I've been wearing the A-2T NATO for a week now at work and it stays out of my way, is comfortable and I could tell what time it was working in the dark.
I don't know what else to say about this timepiece other than I love it, and the titanium case is gorgeous and I feel comfortable knowing I have a sapphire crystal which is very scratch resistant.  It is a nice watch that you don't have to stress over banging it around.   And again it is comfortable and sits well on my wrist.
The A-2T comes in around $220 on the Bertucci website which oddly enough you cannot order from.  You can either call to directly purchase or email and they will send you a PayPal invoice.   I sent an email in the afternoon one day and received no response so later that night I started looking at where else it could be purchased.   To my surprise the Armed Forces Exchange website had it. Not only did they have it but it was WAY cheaper.  I have to put a screenshot up because you have to log in to see the price and I know not everybody can shop at AAFES.  You have to be an authorized customer.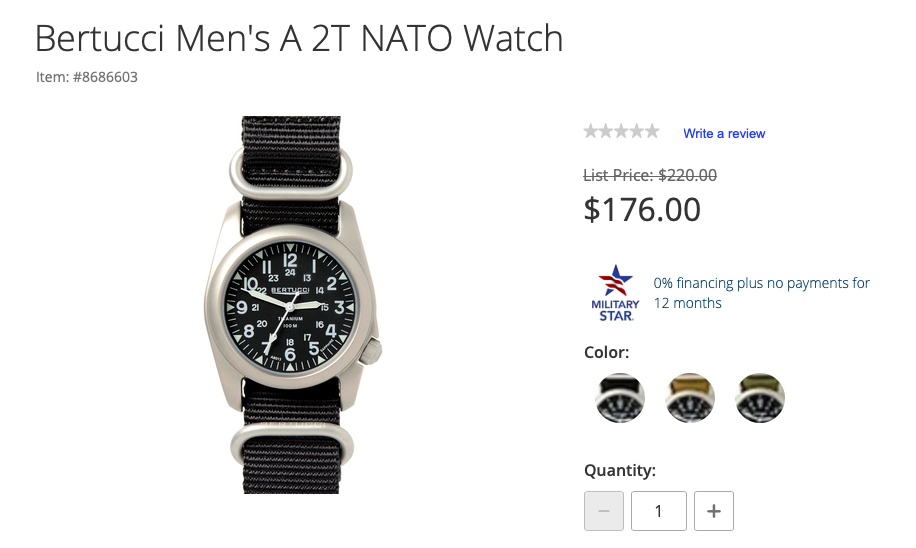 Once you order the watch AAFES has Bertucci fulfill the order anyway. It comes straight from them. Also I should add that the very next day I did receive a Paypal invoice to purchase the watch I inquired about. I do wish they would add direct purchasing on their website, however if they had I'd have never gotten the great price that I did from the AAFES website. Win/win.
$176 for a Swiss movement, titanium case, sapphire crystal and 200 meters of water resistance is EXCEPTIONAL. Try to buy this at AAFES if you can.
This is a watch line that in my opinion deserves serious consideration.  Highly recommended.
NOTE:  I love this watch so much I have since ordered a couple of their less expensive watches.    In fact I just came home from a work trip and a DX3 Plus was waiting on me.  Slapped a NATO band with black hardware on it.  I FREAKING LOVE THE WAY IT LOOKS!
Here is my Bertucci collection as it stands right now:
DX3 Plus (click pics to enlarge)
A-3P (click pics to enlarge)
A-2T White Face Olive Strap (click pics to enlarge)
And now the most awesome of all the Bertucci's. The A-4T 15 Year Anniversary watch with leather strap.
A-4T (click pics to enlarge)
Bertucci Watches are keepers.