I am a big fan of Jackery Products. And it is with great pleasure that I give my two cents regarding the Jackery SolarSaga 100 solar panel .
It's an interesting solar panel with some very pronounced pros and cons which I'll delve into here in a bit.
First and foremost lets describe what it is.  It is a 100 watt solar panel that has an 18 volt output at 5.5 amps. Its principle purpose in life is to recharge Jackery Portable Power Stations, specifically the Jackery 160, 240, 500 and the Honda by Jackery 290.  I'm pretty sure it can be used to directly charge other items and we'll investigate that at a later date.
There's quite a bit of chatter about it by reviewers and several fairly comprehensive videos on YouTube.  After playing with it let me give you my quick rundown on it.
First of all it is very portable and lightweight at just 5.5 pounds.  It has an excellent hand grip which is very comfortable.  The hand hold inspires confidence.
It has a low profile and sits at a slight angle when the legs are deployed.
The next most prominent features are that just above where the word Jackery is printed on the case there are 2 USB ports for charging individual items.  One is a USB C port and the other a standard USB port.  There is also an ON indication LED.
This is very cool but I promise you is it very NOT waterproof.   On the other side of the panel is a storage compartment for an Anderson connector.  This is your output connector and it is for connecting to the supplied extension cable that has an 8mm input connector to the Jackery Power Station.
Your Anderson connection is also very much NOT waterproof.   As you read the Jackery instruction manual it tells you that if the panel gets wet it can loose efficiency.  It doesn't come right out and say not to get it wet but it does say not to clean it with water and to only use a damp cloth to clean it.
This may seem like a stupid statement but I'm going to make it anyway.  To make sure you are pointing directly into the sun, look at the shadow that the panel throws.  The pic below is me charging the Jackery Explorer 500 and my input power is about 62 watts with a perfect shadow..  Turn it a bit and make the shadow lopsided, and then it is 35 watts or so.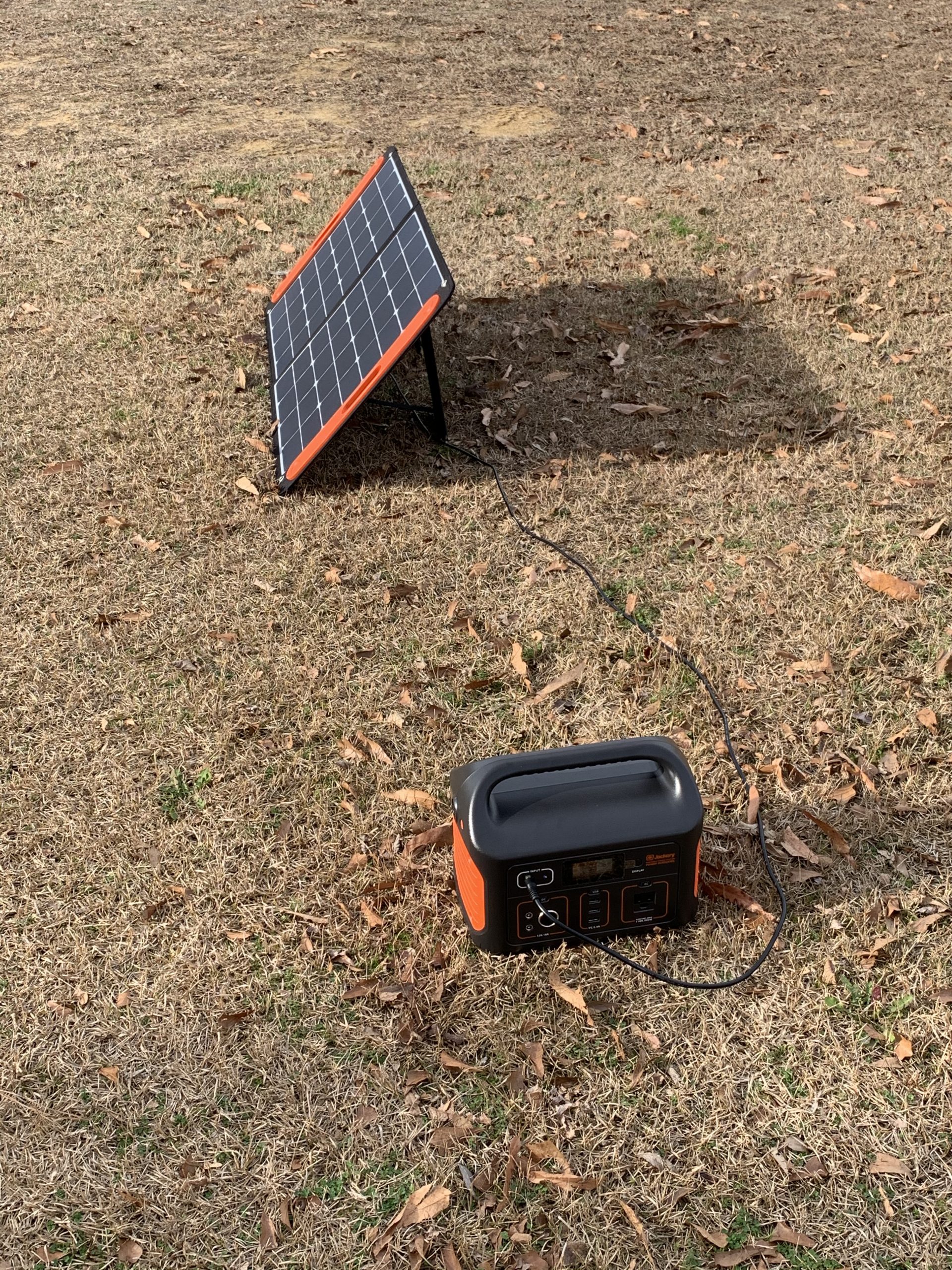 I find it a tiny bit unusual that a solar panel, which is designed to be outside should not get wet. Then again, solar panels are designed to catch sun, not clouds and rain.  You wouldn't go set a panel up on a super crummy weather day.  Then again even sunny days can turn ugly quickly.
Let's discuss some of my pros and cons.
PROS:
Lightweight
Easy to carry
Super easy to set up and adjust
All you have to do is remove the extension cable from the zippered pouch and hook one end to the Anderson connector and the other end to the Power Station input (8mm).
Fold out legs let you set the panel at an angle
Inclusion of 5 volt regulated circuit to charge USB and USB C devices is frigging brilliant.
Included extension cable is a good length.
Charge rate is pretty close to excellent but probably best suited to the smaller power stations regarding recharge speed
Can be set on my A Frame camper roof at what would be a good sun catching angle.  There is enough cable that I could set the Jackery under the camper to keep it somewhat cool and hidden.
CONS:
EXPENSIVE – Cost is $300
Not waterproof
It is so lightweight it could be easily and silently stolen.
Covered in cloth which seems like it will get extremely dirty if set on wet ground.
3rd party solar panels are WAY cheaper but not as flexible or lightweight
Despite the fact the panel shouldn't be exposed to water it is roughly the same size as one of those reflectors you put up in the windshield to protect the inside of your car from UV damage and to keep it cooler inside.  So in a pinch you could put the solar panel up against your windshield inside and set the charger in the back seat floorboard if your vehicle windshield is large enough.  I have a Toyota Tacoma 2018 and mine DOES NOT fit.
While it probably makes economical sense to buy a much cheaper waterproof monocrystaline panel to charge your power station they are bigger, heavier, have no flexibility, would require a large storage area free of items which could scratch or discolor the surface and are harder to drag around and position at the proper angle.  I simply don't have that kind of space in my camper and the sharp edges of the panel would almost certainly bounce around while I'm towing things and scratch up the inside of my camper.   Also putting it in the back of the truck bed would probably give it a decent bounce around as well.  So while it isn't impossible to transport it, it isn't real practical to transport it on a weekend trip.  Permanent mounting to the camper would be a possible solution but then you have to make sure you are always parked with the installed solar panel facing South to South East. More impracticality.
Trade offs.  Trade offs.
There are flexible solar panels that are lightweight and wouldn't cause damage to my camper interior.  I'm looking into those now.
The fact that the SolarSaga 100 folds up and snaps together with strong earth magnets is AWESOME.  I can throw it on the bed in the camper and it won't bounce around much or I can put it in the back seat of the truck as it only occupies a little bit of space.
It's a trade off between price, and usability.
Here's what I think, and you can quote me on this, heck I'll quote myself:
"Get both a SolarSaga 100 and a 3rd party solar panel.  If you can afford a $300 SolarSaga you can afford to buy a $75-$100 rigid solar panel with similar electrical specs.  Then use whichever best suits your conditions and requirements."
It's really rather simple when you think about it.