Once upon a time I was introduced to Adventure Lights the hard way.  I had just come out of Iraq and I don't think I even got home when they told me to fly to our HeadQuarters in Lakehurst New Jersey and pick up an assault pack of Adventure Lights that our Engineers were testing for use in Helicopter Landing Zones and VTOL Pads.  I was then to proceed to the Philippines with them. This was sometime in late 2006 or early 2007.
They weren't authorized for fleet use at that time.  However, the 1st Marine Air Wing was tasked with a humanitarian mission in Bicol Province in the Philippines.  Three typhoons hit back to back to back which caused a mudslide which destroyed an entire village.  A field hospital was set up and a farmers field was utilized for helicopter landings.   Because it was supposed to be multinational the Marines requested the Adventure Lights (VIPIR model) to make a NATO "Y" marking for the landing zone.
So my workings with Adventure Lights goes back to 2006 or slightly earlier since we were dabbling with these lights prior to the mudslide.  Through my dealings with the company I managed to get a couple samples of the lights and even bought my own because I liked them so much.  I found the VIPIR light (which I'll show in a video below) was great for scuba diving at night and for bike riding during the day.  Also, I discovered they had something called a Guardian light which made for a nice rear blinking light on a bicycle.  I managed to pick up a couple of them as well.  Fast forward 15 years later and all this stuff is still working like it did when it was brand new.
Adventure Lights is based in Canada and doesn't sell directly to the public however Amazon sells SOME of their lights.  Many people use the Guardian type light on dog collars.  The bike LED kit which I have a picture of at the top of the blog is the same light as the others but has hardware for bicycle mounting which is the only difference.  Amazon does not sell that light nor could I find it hardly anywhere else.  I did find it on Walmart finally, and for a good price.
So here's a pic of my Guardian Light from 2006 or so compared to a brand new one.
2006 (dog photobombed me)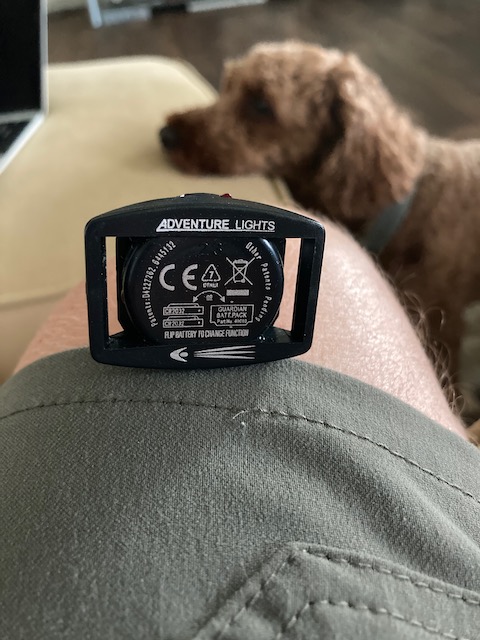 2020
The only difference that I can see is the Light from the mid-2000's has a raised plastic area that says "23" and the brand new 2020 light molding says "AL-3".  To my untrained eye and with no scientific testing or fancy optical measurements the light from the mid-2000's LOOKS BRIGHTER TO ME.
Anyway, both the VIPIR or the Guardian LED light are exceptional lights for bicycle riding.  The only issue I have with the VIPIR is that battery runtime should be about 200 hours when flashing which should mean about 100 bike rides for me.   I'm currently getting about 10.  It could be the battery itself that I'm using, but let's face it.  CR123 batteries are freaking expensive and I don't want to spend a boatload of money to find a better performing battery.
All that being said though if your Blinky light gets you seen and not killed, isn't it worth a few bucks?
The Guardian light advertises 250 hours using two 2032 batteries which are relatively inexpensive (if you order them online and not buy in the drugstore).  They last FOREVER, in fact the batteries in my Guardian light were still flashing after being in storage for YEARS.  They weren't flashing bright but they were still flashing.
Adventure Lights also makes a Clip On light that you could clip to your belt or maybe somewhere on your clothing so you can be seen easily when running or biking as well. The Clip On light is sold by Amazon.  This clip on light would be ideal for hiking especially if you hike at dusk or dawn.  Would greatly aid in keeping a small group together safely.
I find this light to be the EXACT same light as the Guardian but just configured differently for mounting.
To summarize a point which I never really made in this article…………BIKE LIGHTS ARE EXPENSIVE.  Adventure Light Guardian lights ARE NOT expensive, have excellent run times, and better than excellent visual acuity (that means your ass will be seen).
Save yourself some money, and while the lights can be a little tougher to find………try to find some.  Put them on your bike, your dog, your scuba tank, etc.