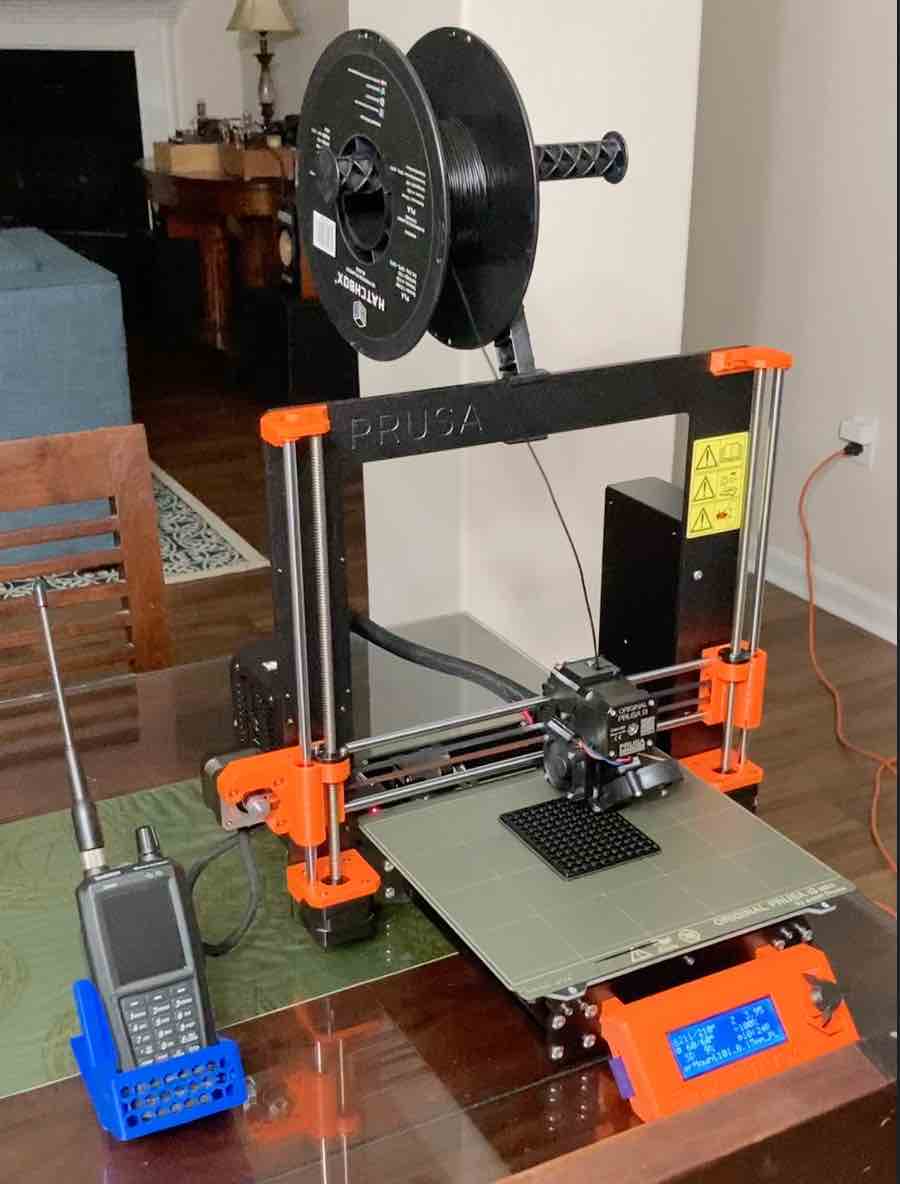 I've done my share of 3D printing with various printers.  I have hand built a Rep-Rap kit, and owned an M3D cube printer.
But nothing compares to the Prusa EXPERIENCE.
What do I mean by that?
Well, I built that Rep-Rap kit which was just an awful experience.  After I got it built it was probably a week before I actually extruded any material with it.  My heart leapt with joy when I saw some plastic ooze out of the nozzle.  Then it took another day or two of tweaking to make a print that wasn't horrific.   The EXPERIENCE I gained was invaluable but the EXPERIENCE itself was horrific.
Once I got the Rep-Rap going I began upgrading everything on it.  Also gained tons of EXPERIENCE but again the EXPERIENCE itself was fraught with frustration and trial and error.
So I bought that M3D cube.  It wasn't half bad.  Pulled it out of the box and downloaded some software and it just started printing.  The first thing I printed on it were these kitchen appliance mounts that you tape under your cabinet to hold your stand mixer parts.
It turned out nice. Very nice and translucent and then I tried to print other things and the quality just WAS NOT GOOD.  It was okay.  If you were a kid, or not that picky…….it was just okay.   Once again the EXPERIENCE eluded me.
Then I got tired of fooling around and decided to buy a good printer and spend some actual money.  At that time (Sep 2017)  the flagship was the Prusa i3 Mk2.  I bought the kit and it instantly began producing quality parts.  Real things of beauty.  I still have that printer and I upgraded it a while back to the i3 Mk2. I currently have an upgrade on order to turn it into a Mk2.5S.  There really is no compelling reason to upgrade other than I just bought a brand new Prusa i3 Mk3S+ and I have fallen in love with the steel printing beds.
This is where I can really begin to talk about the Prusa EXPERIENCE.  And I can make a list of why these printers create a great user EXPERIENCE.
Open Source – The concept of Open Source means that everyone can contribute to the project.  With a strong community of technical users and gurus a product and its computer code will continue to get better.  This is without a doubt happening in the Prusa printers line.
Manuals – You know what they say.  RTFM.  Most people won't read them but Prusa manuals are well written.  The construction manual is second to none with lots of high resolution images.  The online version of it on a big, crisp monitor leaves no room for doubt.  Also users can add NOTES to the manual which can be extremely helpful.  An interactive manual……..what a concept!
More Manual Stuff – Its one thing to build it and another thing to use it.  The 3D Printing Handbook is INVALUABLE.  It is extremely well written, specific to your printer, and covers all aspects and problems a user is likely to encounter.  NOTE:  I STRONGLY RECOMMEND DOWNLOADING AND READING THE HANDBOOK A COUPLE OF TIMES WHILE YOU ARE WAITING FOR YOUR PRINTER IN THE MAIL.  
Firmware – Prusa is continually updating firmware to improve your finished prints.
Software – They have their own Slicing software, PrusaSlicer which was developed from the Open Source program Slic3r.  Slicing a file could not be more user friendly.  The profiles for their printers are also available for Cura and Simplify3D.  Octoprint works too.
They Have A Massive Print Farm – Okay, what does that mean to you.  It means they upgrade or change something and slap it in the farm and put it to work.  By the time those mods or that new printer are released for sale they are going to have a really good idea of what works, what didn't work, and what to keep and what to discard.   Your printer isn't just designed by some engineer and then put in a box to let you find all the problems.  They receive a thorough shakedown.
24/7 Live Chat – The Live Chat has never let me down.  Did you ever do a live chat with your credit card or your phone carrier?  Two things are likely to happen.  You'll get some guy in India who makes 12 cents an hour or some 19 year old girl who is sending selfies to her boyfriend while she is chatting with you.   Every single Prusa Live Chat I have ever done I am CONFIDENT that the person on the other end was a qualified technician with EXPERIENCE in Prusa printers.  If you have a problem, they will work through it with you.
Quality Filament – They make their own filament.  I mostly use Hatchbox filament but I have gotten a couple rolls of that stuff that is just unusable.  One roll I have now will melt but it curls as soon as it leaves the nozzle.  It just rolls up and sticks to the hot end.  No other roll of material I have does that.  Just this one particular roll.  I only use it when I don't care about the appearance of the part.  Anyway, Prusa makes their own Filament.  They, like me, realized that filament was hit or miss so to fix the problem they created their own with higher tolerances and standards. What's not to love?
Reliability – My Prusa i3 Mk2 has been down exactly twice since September 2017.  Once for a Pinda probe that malfunctioned (a very easy replacement), and once when I upgraded it to a Mk2S.  As I type this blog I am currently printing a Raspberry Pi case on it.
Steel Printing Surfaces – For years printers used glass or some kind of adhesive bed.  I about choked to death on hair spray trying to get stuff to stick to the beds.  Now Prusa has come out with these two sheets, one that has PEI and has a smooth surface perfect for PLA and another that is powder coated that is great for PETG and I think it is awesome for ABS.  The sheets are flexible and removable.  When you are done printing you just lift the magnetic sheet off, and bend it slightly and your print just pops right off.  I have literally driven a spatula under my prints with a hammer before to get them to come loose.  No more.
Steel Sheet Profiles – If it isn't enough to have the greatest surface to print on you can set up a user selectable profile for each sheet.  The Z adjustment and first layer calibration is different for each sheet.   You do a Cal, and then save that profile.  When you swap sheets you just select your sheet on the display screen.  Absolutely INVALUABLE and ridiculously brilliant.  Also lets say you use various settings for certain parts you print.  You could create a profile for those calibration settings and name them whatever you want.  A real time saver.
Print Quality – It took me a while to get here and seemingly this may be the most important thing.  I can't even imagine better print quality than I am currently getting.  I'm way more than satisfied with the appearance of my prints. I however do not print Cosplay crap, or Baby Yoda, or anything like that.  I'm the guy that prints cases for things, stands, holders, outlet covers, brackets, braces, hinges, etc.  My 3D printer is a TOOL, not a toy.
No Reason To Mod – This is very user specific to me. If it can be hacked or modded……….I want to try it.   For some reason I have no desire to hack or mod my Prusa printers.  Again they shake these things down on their farm.  Their implementation works.  I don't want to mess with that.  I get superb quality, the printing is reasonably quiet and I have no reason to try to improve on that.  Josef Prusa is a 3D printing guru.  I am just a guy who 3D prints stuff.  I'll leave all this to him and his team.   With all that being said I see what the community is doing with the Creality Ender 3's.  And that looks like fun to me.  Taking a $200 printer and seeing what you can do with it.  I watched a video last night of some guy who put like 25 mods on his Ender 3.  And it was super cool, but all I could think about watching the video was "Dude, with all the money you dropped you could have just bought an i3 Mk3S+".  But I get it, I really do.  It's FUN to take Yugo and make a Ferrari out of it.
Again I cannot emphasize enough the EXPERIENCE you get with the Prusa machines.  I'm a bicycle nut.  I was looking around for a water bottle cage for a 32 oz. Nalgene bottle.  Right before I ordered one I thought, "Wait, I bet someone has one to 3D print".  Yep.  I printed it with Galaxy black PETG and it looks store bought.  And the fit is PERFECT.
If you want to get into 3D printing, it is my opinion that the absolute best, all around user EXPERIENCE is had by purchasing a printer from Prusa Research.