I love Swiss Army knives.  But recently I have decided to try out some of the larger multi-tools.  Yeah, I'm a few years late to the game……..but here goes.
Before I ever talk about these tools know that I think they are used best on a conditional basis.   When I am at home or in the truck or camper know that I keep a proper set of tools around to take care of business.  The right tool for the job, as they say.
However, having a good multi-tool within reach most of the time does come in mighty handy.   And on the surface this statement might seem odd ……….. If the proverbial fecal matter were to hit the electrical rotary device………being stuck in the middle of an emergency situation with a suite of tools in your pocket would be a blessing, no?
So multi-tool choices are abundant and there are review videos galore on these tools.  The selection of a good multi-tool is going to be a very personal choice and no way am I ever going to imply that I found the BEST TOOL and that you should get one.

While trying to figure out who made the first multi-tool (Leatherman or Gerber) it turns out it was the ancient Romans.  They found a foldable multi-tool that dates back to about 200-300 AD.
There are probably a lot more manufactures of plier type multi-tools however I'll stick with the big names.  Look up any "Best Multi-tool Ever" review and it will mostly be comprised of these guys:
Gerber
Leatherman
SOG
Victorinox
There can be NO DOUBT that I am a Victorinox Fanboy.  They have been making knives since 1884 or so and it stands to reason I'm going to try them first.   I went with the Swiss Tool Spirit X.
I am NOT going to review these in great technical detail. You can find that anywhere.  I am a practical guy who can fix damn near anything and understand whether a tool is useful or if it isn't useful.  That's my criteria.   Words like "big, bulky, heavy, uncomfortable" never get said much in technical reviews.
Because I am not going down the rabbit hole and buying a lot of tools I will never use much I decided to compare the Spirit X against just one competitor.  I chose Leatherman and specifically the Leatherman Surge (2nd generation).
The Surge is a big heavier, a bit thicker, roughly the same length, and a lot less comfortable in the palm of your hand than the Spirit X.
One thing of note about both of them is the "How In The Hell" factor.
After picking them both up for the first time I was left with the "How In The Hell do you do this or open that" feeling.
Watch one video or read the instructions and you'll figure it out for all eternity.
However, the time to first figure out how to use the tool would not be while fighting a monkey over a coconut on a tropical island.  The monkey would win the first round.
One tool I use a lot on knives and multi-tools is scissors.  Without doubt or question the better and larger pair of scissors lives on the Leatherman Surge.
I found the Leatherman was the least intuitive to figure out and many of its tools are not outside accessible.  All of the tools on the Victorinox are accessible from the outside with the exception of the pliers of course.   In the end though, inside, outside……..doesn't really matter.  If you need a file or saw and it is on there somewhere………well by golly……..that's good enough.
By and large the tools are easier to extract on the Leatherman compared to the tiny nail nicks afforded to you on the Spirit X.   That doesn't mean it is hard to pull the tools out on the Spirit X, it just means it is easier on the Surge.
When you pull one interior tool out on the Surge, they all come out.   The tools extract one at a time on the Spirit X.  Again, as long as the tool comes out……..WINNING!  Minor inconveniences are just that……minor, and not to be factored in on the "This is Crap" scale.  Because both of these are very serious tools.
The Spirit X has rounded corners and the Surge is a bit more abrupt and a lot more uncomfortable.   However, if I were headed to Gilligan's Island for 3 seasons I think I'd prefer having the Surge because it is built like a tank.  The wire cutters are replaceable but I don't see how that would help you if you were lost in the Croatan National Forest and in fact some young man here recently got lost in the forest and walked out 8 days later.  I bet he wished he had a Leatherman Surge in his pocket when he started his walk.
So where to keep one of these tools?  And why?  They are in my opinion "Apocalypse Tools".  Keep them in:
Glovebox – every disaster movie starts with a family on a trip and zombies, and aliens and global warming all hit at the same time.
Camper – More specifically the backpack that you have in your camper that you take hiking.  Refer to the story of "man gets lost in Croatan National Forest for 8 days".
Pocket or belt – When just out and about.  Never know when you might be able to help someone although to be honest when going to the grocery store or something I'd rather just take a Swiss Army pocket knife.
Bike bag – once again you are out and about and while it may not be a valuable bicycle specific tool you may just stumble across someone who needs a quick hand with something.
Boat – Although I'd have some proper tools on a boat, this would be one of them.
Party – You're in the woods around a camp fire and some asshole shows up with fancy beer with a lid that won't twist off.  Or a can of fake chili for nachos and no can opener.  Also regarding said fire………you have a saw.
There are probably a million other scenarios befitting having a multi-tool but suffice to say it is just useful to have one within reach even though they aren't terribly practical to lug around in your pocket.
Let's talk about cost.  Both of these are in the $130 or so range.  Both come with a cool pouch.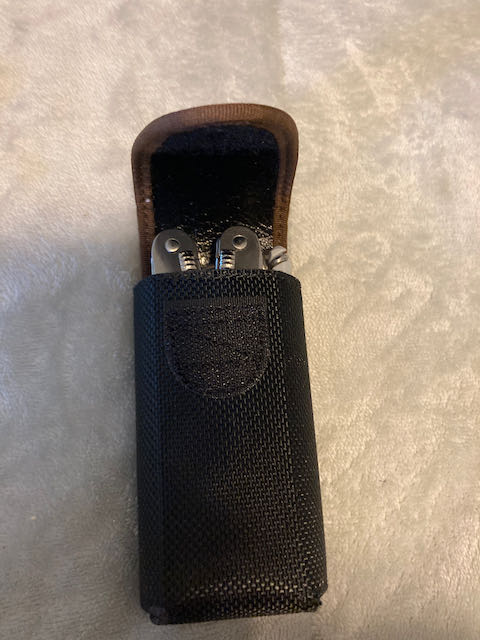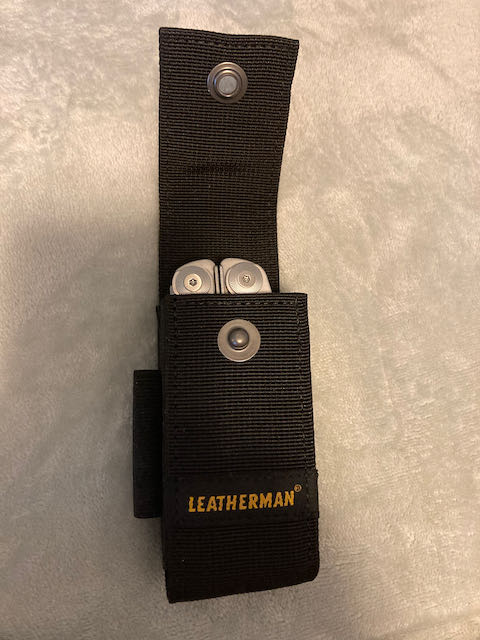 The surge comes with a spare saw blade and the Spirit X comes with a little bit driver set.
Again, your choice of tool is personal.  For me, just walking around the Victorinox Spirit X is smaller, lighter, smoother, and more comfortable.   If I was planning on getting lost in the forest  I think I'd probably wish that I had the Leatherman Surge.