I have two scanners, a Uniden Home Patrol 2, and a Uniden BCD436HP.  They have the following in common:
Both made in 2014
Both GPS compatible
Both use the same Mini B 4 pin connector for the GPS connection
BUT, THE GPS 4 PIN CONNECTORS TO THE SCANNERS CAN BE WIRED DIFFERENTLY.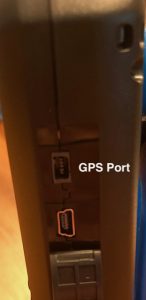 To make your own GPS cable you need:
ProMaster #3696 6′ cable – The first people to do this hack used a Rosewill RCW-109 cable.   Good luck finding one of them these days.  What you need is a USB 2.0 Type A Male to Type Mini-B 4-Pin Male.  Make sure it is a 4 pin.  I found some other branded cables on eBay as well

Take your 6′ cable with the Mini B 4 pin connector and cut it in half.  Prepare the ends as such:
USB 2.0 A cable – Red and Black wires only
4 pin Mini B cable – Red, Black, Green
On the GPS puck, cut off the 9 pin serial connector and prepare all four wires.  Red, black, green, white.
Now wire together as per this table:
WORKS ON BCD436HP AND HOME PATROL 2 WIRING
| Signal | GPS | RCW-109 | USB Cable | Uniden Connector |
| --- | --- | --- | --- | --- |
| GPS RX | WHITE | RED | | 1 |
| | | | | 2 |
| GPS TX | GREEN | GREEN | | 3 |
| Ground | BLACK | BLACk | BLACK | 4 |
| +5V | RED | | RED | |
If you own the Home Patrol 2, with the RCW-109 cable it can also be wired as in this diagram made by RadioReference forum user Jasonyohon from this post.  USE THE TABLE IN POST #4 IN THAT THREAD.
HOME PATROL 2 GPS WIRING ONLY
After wiring for each scanner I confirmed it worked by setting the zip code for each scanner to 47715 (Indiana) and pulling in the Full Database for that area.   Then I plugged in the GPS.  Both scanners immediately pulled in the North Carolina Full Database and began working perfectly.  Each wiring diagram for each specific scanner is confirmed to be working.
Here it is in action.  Even printed a fancy junction box for it.  I got the box file from here and downsized it to 65%.  I didn't mess with the hole size but some 3/16″ x 5/16″ grommets from this kit fit pretty well.  I had to slip a piece of heat shrink on each cable to tighten things up.  I wouldn't call this case water resistant but then again, neither is the scanner.
So essentially, if you own both scanners as I do,  you need to wire it up as my first example.  If you own a Home Patrol 2 you can wire it either way.