Sculpfun S9 To S30 33 Watt Upgrade Kit
Sculpfun provided me an S9 laser and then subsequently provided me a Sculpfun S9 to S30, 33 Watt Upgrade Kit.  I did a "First Impressions" blog which you can read here.  After using it for a couple of weeks I decided to do a deeper dive on upgrade kit.
Laser Module
The S30 Ultra 33 watt module is considerably larger than the original S9, 5.5 watt module and contains a lot of really cool features
Most noticeable is the addition of an all metal air assist.  One of my favorite features of the air assist is that it not only is secured in place with an allen screw, it also threads on and contains an O-ring to keep the air contained.
The tube is considerably larger than most competitors air assists which allows for a higher volume of air movement.
Removing the air nozzle allows for access to the lens for cleaning.

Lens Assembly
I spent a career in Aircraft Optical Landing Aids and know a thing or three about Optics and Lenses.  On these types of systems there are Lenses and protective glass covers.  Lenses are expensive, and covers are not.
And that is exactly what we have here on the S30 Ultra 33 watt module.  There are actually two parts of the lens assembly.  The actual Lens and a removable, protective cover.   The protective cover is a consumable item and spares can be purchased.  There are laser manufacturers that either do not have a protective cover or do not sell them as a consumable item.
The purpose of the lens cover is to protect the actual lens from contamination or impact damage.
The Upgrade Kit contains a repair kit which has a spare protective lens cover, A removal tool (pointy tweezers), and some O-rings and replacement allen screws.  There is also cleaning cloth and an allen wrench in the kit.
As an owner of multiple lasers from other manufacturers I cannot stress how HUGE the addition of a removable lens cover is.  Additionally, the parts in the kit are all the things you need and none of the things you don't need.   Sculpfun earns a lot of cool points here.
Lens Module Connection
Most manufacturers have a JST connector but the S9 to S30 Upgrade Kit has a very robust 3 pin connector.  I feel confident unplugging the module for inspection and cleaning.  Cheap JST connectors don't inspire a lot of confidence when doing a lot of insertion and removal operations.   This one does.
BLUETOOTH
The Upgrade kit contains an ESP32 Internet of Things (IoT) chip that is ready to rock and roll and connect to software via a Bluetooth connection.  The Bluetooth is enabled in firmware and reports as Sculpfun S30 Ultra.  Once connected it shows up as a COM port on your Windows device and as cu.SculpfunS30Ultra on a Mac under Lightburn.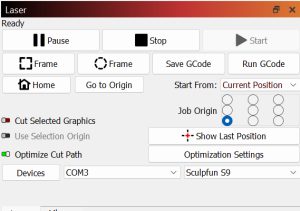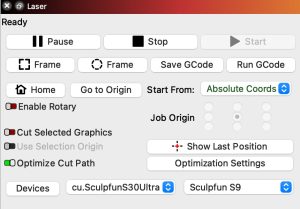 While I prefer a wired connection to a computer I have been using Bluetooth quite a bit on this upgraded laser with absolutely no issues whatsoever.  It just works.
I am grateful that WiFi is NOT enabled. I have never seen an implementation of a laser wifi app and one manufacturer has an open Telnet and FTP server with no security enabled.  You might want WiFi, but I don't.
Sculpfun S9 To S30 Upgrade Cutting
Just for fun I decided to do something outside of the norm and cut something DIFFICULT.  Most folks will blast balsa wood or acrylic and just trim an edge off of something to demonstrate cutting depth.
Not me.
I cut a very small complex frame shape and cut it on 5 mm thick Canary wood.  Canary is a hardwood. While I was able to get through in 2 passes at 5mm/sec and 95% power I found I got a cleaner cut at 25mm/sec and 95% with lots of passes.    At any rate I expected some seriously burned edges, especially in the tight corners where the heat really builds up.   Surprisingly, I got some pretty clean cuts.  Yes there was some charring but not nearly as bad as I thought.
Cutting Canary Hardwood (click pics to enlarge)
Speed And Accuracy
As I mentioned in my other review cutting using "Line" in Lightburn had to be performed at slower speeds.   This is due to the size and weight and inertia of the larger module.  It works PERFECTLY, you just have to run it slow.
Fill, and Image operations are able to be run at much faster speeds.
Repositional accuracy, or the ability to perform repeated passes over and over again is EXCEPTIONAL.  Not all lasers have great repositional accuracy.
Lightburn Setup
Set the following Device Paramaters
GRBL
Serial/USB
X=375, Y=380
Home = Front Left
Select Auto Home on Startup
Air Assist
The Main Board has a connector ready for computer controlled Air Assist.  The Air Assist is a 24 volt pump and the pump is SILENT.  So silent I had to check to make sure it was running.   When you enable "AIR" in Lightburn it comes on automatically as needed and does NOT run constantly.   This is a feature that is needed in a lot of other lasers.   Having the air assist built into the main board on a desktop diode laser is a GREAT FEATURE.
Sculpfun S9 to S30 Upgrade Wrap Up
I own, or have owned lasers from just about all the manufacturers.  The items that really stand out in my mind are:
Pros
Removable Protective Lens Cover
The Lens cover is a consumable item and a spare is provided
Built in Air Assist connector on motherboard with 24 volt silent pump
Robust Connectors on laser module
Repair kit to maintain the laser module
Bluetooth
Open frame construction with great pass through in all directions.  Easy to raise and increase Z height
Cons
Must go slow using Line to obtain clean lines
Reduced working area due to size of upgraded 33 watt module.  Working area is still substantial though
The pros way outweigh my cons.   In my opinion this is a solid upgrade kit worth the cost especially considering it is a few hundred dollars cheaper than buying an S30 Ultra 33 watt.   I can strongly recommend the Sculpfun S9 to S30 Upgrade Kit.