LG 43UQ7590PUB Piece Of Fucking Shit Award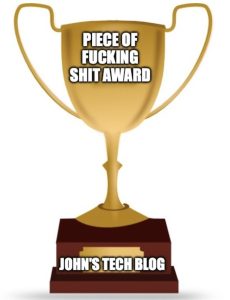 I recently bought a new smart TV from  BestBuy.  The LG 43UQ7590PUB
It's a Piece Of Fucking Shit and earns John's Tech Blog's coveted Piece Of Fucking Shit Award.
I bought it in January 2023 and it has been nothing but trouble.  My wife and I frequently watch TV in separate rooms and just about the time I get comfortable and engaged in some program here comes the call from the other room.
"Honey, the TV sound disappeared", or "Honey, the TV just rebooted and now XXXX app doesn't work".
I've reached the point where mild annoyances that this TV produces has now expanded into full blown rage.   Two days ago I told my sweet wife……."Fuck this fucking TV.  It is driving me crazy.  I'm buying a new TV".  Normally, there might be a little back and forth discussion coming from the mouth of a reasonable and loving partner.  Option exploring.  My wife is good and real sweet in this department.
No discussion this time.  She was 100% in agreement that this TV needed replaced.  To her credit she didn't use my US Navy vernacular sentence enhancers.

Fuck This TV
What's it do?  All kinds of uncommanded stuff.  The first thing that made me mad about it was I checked on line if WebOS (LG TV's operating system) had the HDHomeRun app (network TV Tuner for local TV).  Their website said they did.  Then when I got this particular model number TV home it did not.  I emailed support and they let me know they no longer support the HDHomerun app.
Then I got mad at Sling TV and switched over to Philo.  No Philo app on this TV either.  Rats.
Okay, this can be overcome with a Roku or Firestick but then the TV starts malfunctioning.  Frequent reboots, and worst of the Audio system has some kind of demonic ghost from hell inside its matrix.   The audio just shuts off sometimes. The only way to fix it is to unplug the TV from the wall.  The audio guidance comes on sometimes uncommanded.
Yesterday the audio set itself to USB rather than eARC HDMI which I keep it set on for the sound bar.  The remote is not in play here.  It lays on the table. It's not being rolled over on nor is a dog stepping on it.
The LG TV I bought is a Piece Of Fucking Shit.
Warranty
Well, first of all you can only return a TV to BestBuy in the first 15 days.  LG's policy is the same.  BestBuy won't warranty it and tells you to call the manufacturer.  I'm awaiting the sheer joy that those back and forth emails are going to bring to me.  I don't want this fucking piece of shit repaired.  I want it erased from my memory.   Like ServePro says………Like it never happened.
I think the smart play here with TV's is not to buy a smart one.  Ha!  See what I did there?
Just get a TV and plug a Firestick or Roku into it.  For my money Firestick is the better platform, well except for all the spying shit Amazon does.
Fuck Smart TV's.
Fuck LG, and their Smart TV's and fuck WebOS.
As stupid as it sounds I didn't follow my own advice.  I bought another TV from BestBuy.  This time the OS is FireTV.  Hopefully, it's not a piece of fucking shit.