Ooni Pizza Oven Update
Just over a month ago I bought an Ooni Pizza Oven, the Karu 12 Multi-Fuel.  It was an impulse buy.  But suffice to say I've eaten more than a few pizzas and calzones in the last month or so.  I've been having so much fun with this thing but I want to share a few things I have learned along the way to any potential buyer of the Ooni.   If you are a fence sitter and thinking about buying one I'd absolutely encourage you to do that.  But there is a learning curve.
Buying an expensive stove, oven, stand mixer or any other kitchen porn won't make you a good cook.  Using your equipment a lot with study and experimentation will.  There is so much to learn regarding a brick pizza oven like the Ooni.  There are hundreds of posts on the Facebook forum alone regarding dough hydration.

Me.  I just make some dough in my stand mixer.  No hydration calculator apps for me.  I try not to overthink it.   But no matter how good your pizza oven is, you need to master the dough first.  Or at least find something that works.  My recipe is:
Two cups of flour (and that is whatever flour is in the pantry)
Pinch of salt
Shake in a bunch of Basil
One packet of Rapid Rise yeast
Add water slowly until a somewhat dry ball forms in the stand mixer.
My dough will pick up everything on the side of the stand mixer but it won't feel very sticky when picking it up out of the bowl.
Fuel Source
I originally was using charcoal and then graduated to lump wood charcoal.   Hey, I like the taste of charcoal more than using gas.  But there are some problems with using charcoals.   Yep, you can cook a pizza nicely when everything gets up to temp but if you cook more than one or two pizzas you need to continually add fuel and stoke it.  In other words you have to pay attention to the oven and in a party situation I heard someone refer to the cook as a Pizza Widower. Everyone is having fun………and you're desperately trying to keep things perfect and consistent with the oven.
Another problem is that if you spill pizza guts on your cooking stone the result will be a blackened mess on the stone.   The recommended way to clean the stone is to scrape the heavy contents off and then get the oven hella hot for 30 minutes or so to magically cook all the blackened junk off the stone.   The problem with charcoal or lump wood charcoal is that you won't get the necessary high flame to burn the gook off and if you do you'll consume a rather expensive amount of charcoal doing it.
Gas Attachment
I resisted the urge to get the optional gas burner accessory when I bought my Karu 12.
This was a giant mistake.
After only a few pizzas my stone was looking pretty rough.  After buying and installing the gas burner I turned it on high and let it roll for 20 or 30 minutes and to my complete and utter amazement the stone was CLEAN.
My recommendation is to buy the gas burner if for no other reason than for stone cleaning.
Fire In The Hole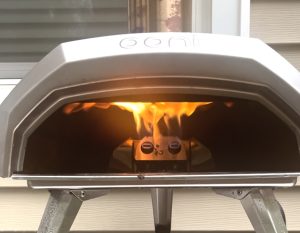 I've since started cooking with gas.  I like to get the stone to about 650 degrees F and then chop the flame down to the minimum before cooking.  Otherwise things burn up way too fast.   I hate to admit out loud that I like the taste of gas cooked food but to be honest I can't tell a difference.
Also the gas burner kit is well stocked.  There are spare screws in case you loose the oringal ones.  There is also an extension rod for lighting with a match if your igniter stops igniting.  All these extras are a nice touch.  They thought of everything.
Accessories
If you buy an Ooni Pizza Oven, that's what you get.  A pizza oven.  But all the stuff that you really need is an accessory that you'll wish was in the kit.  I wish they sold bundles in stores.
You'll probably want:
A digital thermometer
Stone cleaning brush
Cover
Gas Burner Kit
Pizza Peels
A cover is a must.  If the stone gets wet, and it probably would in a good storm, then it might crack.  I wish the cover was maybe an inch longer though because it is kind of tight if the gas burner kit is installed.  But it does fit.
So don't think you are going to go to the store, buy an oven, and be set.   The more involved you get with the pizza oven the more you'll realize you need all the accessories.
Pie R Square
No they aren't.  They're round. Anyway this is what it is all about.  The pie.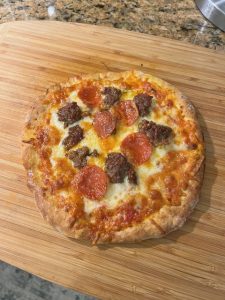 Wrap Up
Making pizza is way more complicated than just buying an oven.  It takes a little practice and a lot of dedication and some of the accessories we talked about to pull it off.  Read and watch what others are making.  There are some phenomenal chefs out there, especially on the Facebook User Group.   Most of all you should have fun.  If your pizza sticks to the peel and comes out horrific looking then cut it into small squares and say "I meant to do that".