Algolaser, A Deeper Dive
I've had my Algolaser Alpha for a few weeks now.  I was provided the Alpha prior to the official USA release of this very intriguing laser.  I did an initial impressions review here.  Since that time I've gained some more experience with the machine.
Since my review the Algolaser Alpha has been officially released in the US and is available to purchase for $799.  My readers can purchase the Algolaser Alpha  here.  This is an affiliate link and helps support my blog.
I feel really fortunate to have been among the first to have gotten my hands on one and my initial impressions were very positive.  This laser has a lot of features, not to mention a lot of power.
Algolaser?
The founder of Algolaser is also the original founder of Ortur.   That person has left the Ortur board, and is moving in a different direction.  I personally like the direction.
It should be noted that I am not a fan of the Ortur Laser Master 3.  Not at all.  It should also be noted that I loved the Laser Maser 2 and the Ortur Aufero 2.
Finally, it should be for sure noted that I LOVE the Alpha.   Let's get into why.

Design And Engineering
A desktop diode laser frame should be open to allow for larger items to extend beyond the engraving area if needed.  For the most part the Alpha frame does allow for decent pass through.   Also, no components should sit too low to restrict this pass through.  Again, the Alpha  has reasonable pass through.   Raising the machine for thicker materials is easy and there are probably going to be a substantial amount of DIY solutions for mounting the laser to a spoil board and raising it.
The frame is so important.  Now that lasers are becoming more powerful, they are also becoming larger, and heavier.  A beefy frame and X rail are more important than ever.
Connectivity
In this day and age it is common to connect to our Internet of Things (IoT) devices wirelessly.  The Algolaser Alpha laser engraver is no exception.  That being said, connecting to wifi took me a bit to master.
The Wifi connection method is almost 100% similar to method used to connect to an Ortur Laser Master 3 or Laser Master 3 LE.   I have owned both lasers and had both connected to wifi with no issues.
Try as I might I was unable to connect to the app wirelessly with the shipping firmware.  Tried dozens of times.  Finally an upgraded firmware (version 108) came out and I still had issues.  I finally contacted Algolaser support and was advised that firmware version 109 had just been released.
Connecting via the app just wasn't working but what did finally work was to use the Lightburn Wifi Bridge.  In the Lightburn console, issue the following commands:
$74=

YOUR_SSID


$75=

PASSWORD


$WRS

Now if you watch the console it will return an IP address.  I tried this method on the previous firmware versions with no success but it finally worked on version 109.  Once you have the IP address you can input it into the app manually and ensure you add the Port Number 23.
Then and only then will it connect.  I went to a lot of trouble to connect the app knowing that I'll never use it.  But, hey, I'm reviewing this laser and shaking it down, and I have to test everything.
An IOS or Android app can be downloaded from here should you wish to run your laser from a tablet or phone.
Setup
I put all my lasers on a spoil board and secure the feet to the board somehow.  Lasers that are secure and don't shake around produce the best and most consistent results.  I downloaded some 3D feet from Thingiverse.
The rubber feet on the Alpha fit snugly.  Even though it raises up the laser a touch, the laser head is still able to obtain focus on the spoil board.
That means you can laser thin items.  Not all lasers reach the working surface, oddly enough.
This makes it easy to burn a grid onto the spoil board for alignment issues.
I have found that the frame clearance has really good pass through.  I create items on my CNC machine and use the Algolaser to apply my makers mark to the bottom of the items.  There is plenty of space for me to do this without raising the machine in any manner.  This is something that I very much appreciate.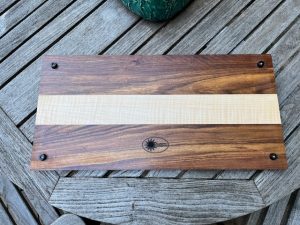 Now, about that grid:
The Algolaser Alpha advertises a 400mm x 400mm working area.  I could not achieve a grid that size.  I had to pull back a few millimeters as the laser head would always trip the Y limit switch as it neared the home position.   Having said that, it will frame a 400mm x 400mm box but when it slides back into home it trips the limit switch.
Just to be sure to get a good fit I settled on a 390mm x 390mm grid.  Realistically, I could have probably made it 395 or even slightly larger.  But I couldn't quite squeeze a 400mm square inside the working area.
This might be an issue for some, but not for me.  Unless the item you are engraving all day, everyday is 400mm x 400mm, you are not going to ever have a problem.  
I use my lasers primarily to put Makers Marks on my CNC manufactured items, which are either small or are flat sushi or charcuterie boards. 395, 398, 400……..all the same to me.
Power And Speed
There's a lot to love here with this 22 watt laser head. Surprisingly, the dot size is quite small and precise for such a high wattage laser output.  In my case applying a makers mark with small detail would normally be best accomplished by a 5 watt laser.  Surprisingly my makers mark has exceptional detail at 22 watts with a precise laser spot.
Other items are crisp and legible.
Air Assist
One of the best parts of the Algolaser Alpha is that it has a variable and easily adjustable air assist.  Push button controls allow the user to easily control the flow of air to the laser nozzle.   That's really all that needs to be said about that.
Resources
Here is a good article on using a laser engraver for wood.   Also be sure to check out the available laser engraving machine offerings from Algolaser
Wrap Up
While I had a little trouble getting the wifi rolling I got great support from Algolaser.  Again, I don't really intend to use the wifi and was just testing it.
Other than that, there is plenty to love with this laser.  Speed, power, accuracy, stability, and pass through access for larger items.   Stability is top notch.  Many laser manufacturers slap big, heavy laser modules on their old frames and stability suffers.    The Alpha was DESIGNED for this large module and it shows.
Pricing is on par with other lasers in this power range, so no issues there.   The only reason you might not want an Algolaser Alpha is because you want an Algolaser Delta.