xTool F1 Jig For Wine Corks
I saw on the xTool F1 forum where someone had been engraving these cool wine stoppers  made of cork.   I ordered a boat load of them and then manufactured a jig that fits in the removable bottom plate area of the xTool F1 laser.
While I made this on a CNC machine it could just as easily be made with either a 3D printer (if you possess those skills) or with a laser.  I have included (later in the post) a Vectric CRV file for making the jig.  (Vectric is a CNC file). Also included in the zip file is an SVG vector image with the proper dimensions for cutting out with a laser, and finally an XCS file for engraving the tops.  
Bear in mind that if you use the XCS file you MUST manufacture the jig from either the Vectric CRV file or the SVG image file. 
The downloadable SVG file which contains the perimeter is a 109mm x 109mm rectangle with a 6 degree radius in the corners.
The 9 pockets are 19.3mm in diameter and are spaced 36mm apart. (All designed in Lightburn).
The wood thickness I had was 3/4″ pine and the pocket depths are 12mm deep.  This fits the wine stoppers perfectly.
Make It With A Laser
If you just take the SVG file you could cut out several rectangles with the 9 holes, then glue stack them to whatever thickness you desire.  Even though mine are 12mm's deep it could be a lesser depth and they would still fit perfectly.
When you go to engrave the wine stopper tops remember that they are 30mm in diameter.  The downloadable XCS file is set up with 30mm circles which are set to "Ignore".
You simply add text inside the circles and fire when ready, Gridley.
Settings
For Settings I use:
Blue Laser
70% power
200 mm/sec
200 lines per inch
YOUR MILEAGE MAY VARY.  Test, test, test…….don't blame me if it's too light or too dark. 
XTool F1 Zip File For Download
Just click to download.
Wrap Up
I hope this helps someone.  I enjoy sharing with the community and always encourage others to SHARE and not SELL your templates.  Nothing wrong with selling templates, I reckon, but most of the time if you just look at something, turn your head slightly, scratch your head…….then you can figure out your own FREE solution to creating a template or jig.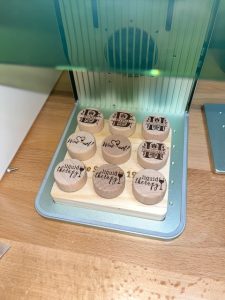 Here's a quick vidcap of it in action.
I probably shouldn't say this, but if you take my files and put them on your Etsy store for sale, then you are not a nice person.