I have a Whistler TRX-1 Police Scanner and live in New Bern, NC.  There are two systems that I track in New Bern.

The New Bern Public Safety (NBPS) and North Carolina VIPER system.   VIPER works great however the New Bern Public Safety……..not so much. It only rarely grabs a transmission and then if it does it is very broken up or robotic. Not good.
Some suggested a new antenna, a Remtronix 800 which I got and that didn't help a bit.   And by that I mean pulling in NBPS……the Remtronix added some serious range to other analog systems from the next town over.
So I contacted Whistler to see if I could resolve this issue.  My other scanner (Uniden SDS100) works perfectly on this system and using a Linux computer and running software scanners such as OP25 or SDRTrunk works perfectly as well.
Whistler Support recommended adjusting the threshold values.  That is done by opening EZScan software and going to the "Trunked Radio System" tab.  However the threshold settings are grayed out.
What you do is click on the system at the top of the page, and in the lower pane of the Trunked Systems Site Information box you make a New system and then lock it out (clicking the L/O box).  Then the Threshold adjustment unlocks.
Default is 88 for low and 95 for high.  I can't tell you what to set it at because every system and every reception area will be different.  By setting the low box to 72 really improved things to my satisfaction.  (I started with 65…..you'll have to play around).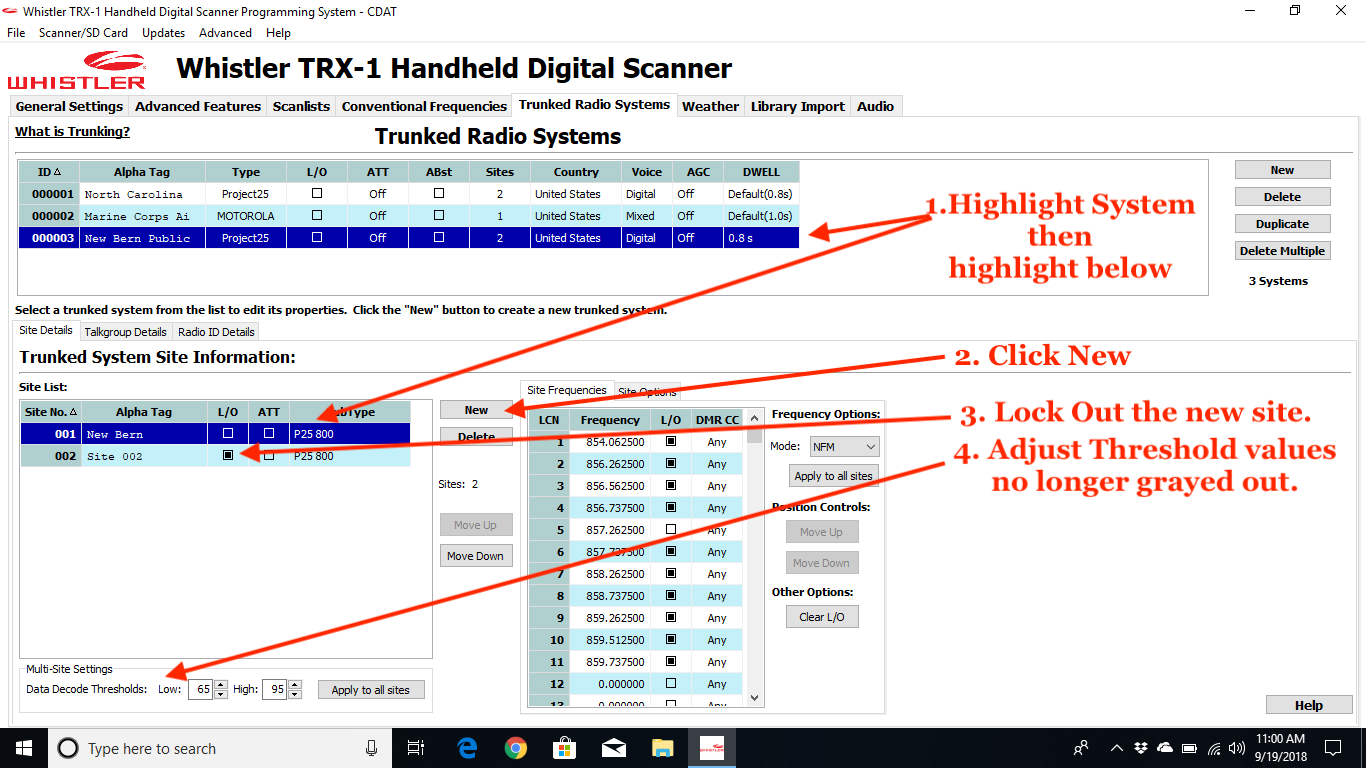 It's kind of an unusual hack but that's how you do it.  Also it is worth noting that in the picture above on my New Bern Public Safety system that I have to lock out all of the channels but the active control channel otherwise it seems to miss most everything.  It kind of sucks because they change the control channel on this system pretty frequently.  It isn't the end of the world but something to be aware of.