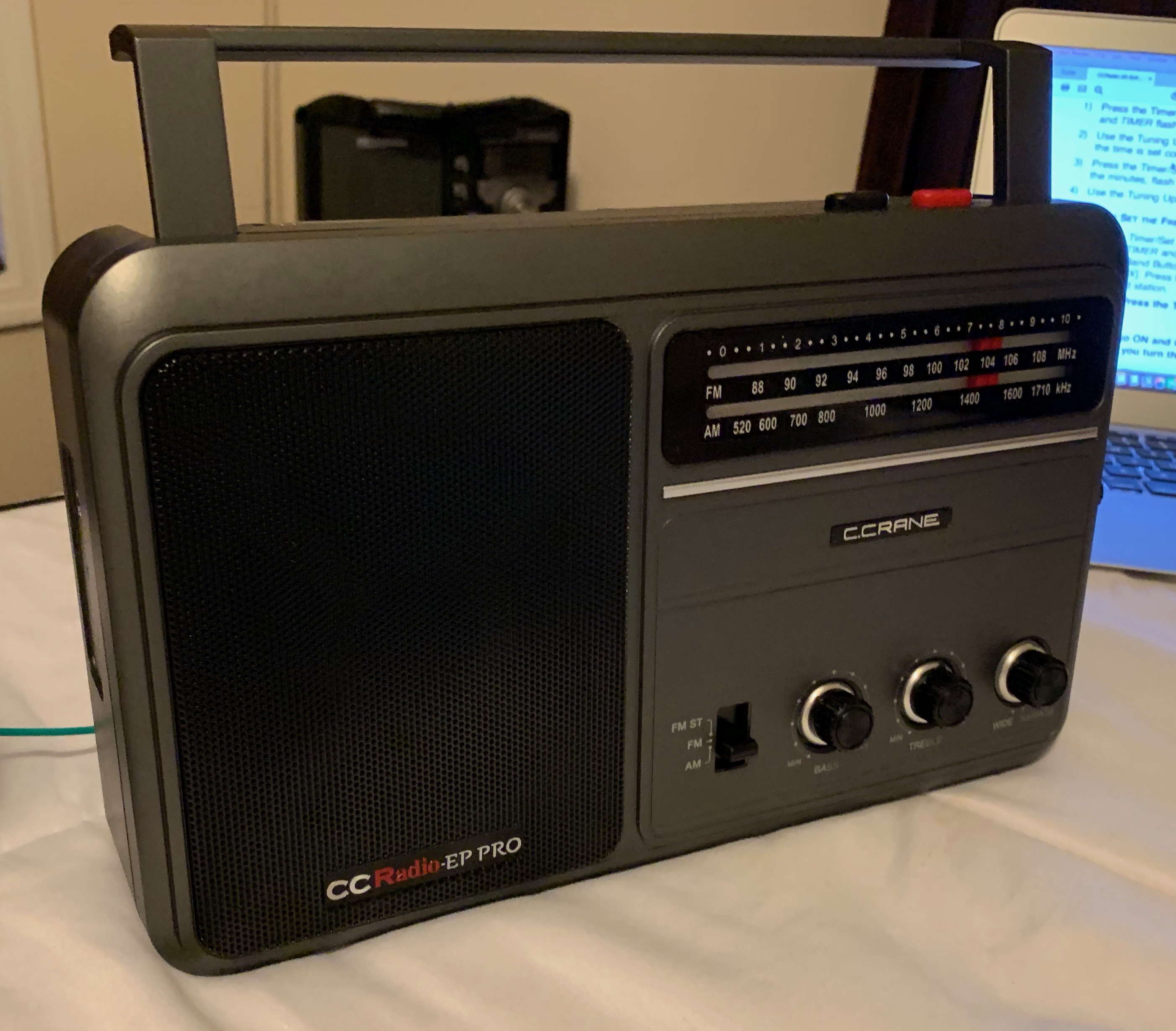 Recently picked up a new CCrane CCRadio EP Pro and have the difficult task of shaking it down.  Why?  Because I also own the CCrane CCRadio 2E which is a FANTASTIC RADIO.
So why did I get an EP Pro?  Because I can.  It's true, I don't need it but I'm a radio buff.  And I own enough radios that I can form an opinion FAST on whether or not I think a particular radio is viable or not.   So what do I think about the EP Pro?
First impression.  Nice looking, attractive radio.  Not too heavy.  Good placement of controls. Also it has one of my favorite features for a radio……….a Line Out.  It does not have a jack labelled Line Out, however, the manual says it can be hooked to "an optional recording device" also known as "a computer with Audacity" on it.
Okay, let's get on with this.  Lets plug it in and get started.  First of all let me state that where I live has exactly ONE AM radio station during the day and at night I get all the East Coast Clear Channels (50,000 watt) and local stations from towns further away.  So I power up and get a loud "POP".
I knew that was coming because every review I ever read said it was coming.  Okay, that is annoying but "pop" and then it is over.  I can live with it.  FM reception is pretty good on antenna and the sound is okay but not as rich as the CCrane 2E which has a bigger speaker.  And then…….yep, I'm getting my one AM station.   There's not much else to observe during the day except that I really like that it has a toggle switch to turn the dial light on and off.  The backlight is very uniform and lights up the red tuner very nicely.  Very esthetic.
Cut to night time.  Soon as the sun starts setting I break out the EP Pro and get down to some more serious DX-ing.  To my surprise this is a little DX monster.  I set it up next to my CCrane 2E and to my surprise it is holding its own pretty well.  I have to give a slight nod to reception to the 2E but not by much.  And while I'm talking about antennas the EP Pro has an Internal Antenna and External Antenna switch……….the 2E does NOT.  Anyway, I should say that my comparison to the 2E was done with an external antenna, a dipole tuned to around 5 MHz.
Also right next to the Antenna switch is an AM stepping switch for 9 and 10 KHz steps which means I have the latest iteration of this radio.  The original release of this radio did not have that and supposedly popped a lot louder.
Okay now here's what I REALLY LIKE about this radio.   My local AM station is 1450.  It's close, and it's strong.  I really like listening to AM 1500 which is WFED in Washington, D.C.  Hey, I'm a government employee and it is kind of relative to me.  Anyway some of my radios get the front end overload which means if I am on AM 1500 I can barely hear AM 1450 in the background.   The CCRadio EP Pro has an AM Fine Tuning knob on the side which allows me to tune to AM 1500 then turn the dial towards myself and it really makes the radio become selective and kills the overload from the local station.  IT JUST WORKS.
So roughly here are the pros and cons
PROS
 AM Fine Tuning WORKS
Back Light attractive and can turn it off saving battery
Precise feel to tuning controls
Nice sound but not as good as 2E
A DX MACHINE!
Red LED light lets you know you are on channel, even on AM
Attractive
Not as heavy as some radios also with a good handle
Antenna switch for INT and EXT
Can hook to a computer and record
CONS
Loud pop on start up
Manual tuning not LED.  Harder to tell what channel you are on
This one may be a little silly.  As I am DX-ing the tuning knob is towards the top of the radio and volume control is towards the bottom.  If it were switched it would be SO comfortable to rest your arm to work the AM DX band.  (Hey, this is my blog, I can complain about whatever I want).
Expensive.  CCrane radios are expensive.  But they are also good.
That's about it for the Cons and I had to dig deep.  This is a GOOD little radio.  Yeah I still love the 2E because it does NOAA weather alerts and I love the NOAA weather channels (during periods of extreme weather) and I love that the 2E has a ham band on it.  In a SHTF scenario being able to monitor local repeaters and people using walkie talkies nearby is a GREAT feature.
The EP Pro is just an AM / FM radio but what a radio it is.   Get it if you need a small radio to drag out on the porch to drink coffee and listen to the news.  Get it if you are an AM DX-er.  It surprises.  Get it if you need a small attractive table top radio or kitchen radio that sounds good and looks attractive.
And finally………..a poorly shot video.