I've never really done flashlights before.  About a year or so ago I realized I had one crap flashlight at home.  Bought some inexpensive but good flashlights on Amazon and kind of caught the flashlight fever.   Also I started going camping and without a doubt you need a good flashlight walking around in the woods or for when the campsite power goes off (It will).
I'm not a Prepper, but I'm not unprepared by a long shot either.  I like quality, and I like quantity.  When it gets dark is not the time to ask "where's the last place I had the flashlight?"  A good quality flashlight should be within reach basically in just about every room of the house.  Seriously.  You may think that is a bit much but it's really quite practical.
Also, as a typical person in America I have a job that requires me to be there early, and since my dog can't walk himself and since dog walks typically occur in the dark in the morning I also carry a light with me to keep from getting hit.  I also jog early in the morning, in the dark and wear dark clothes.  A high quality flashlight is a must.  Those are other smaller flashlights that I carry (from the same company) but this blog is about the Olight Seeker 2 Pro.
I have several Olights.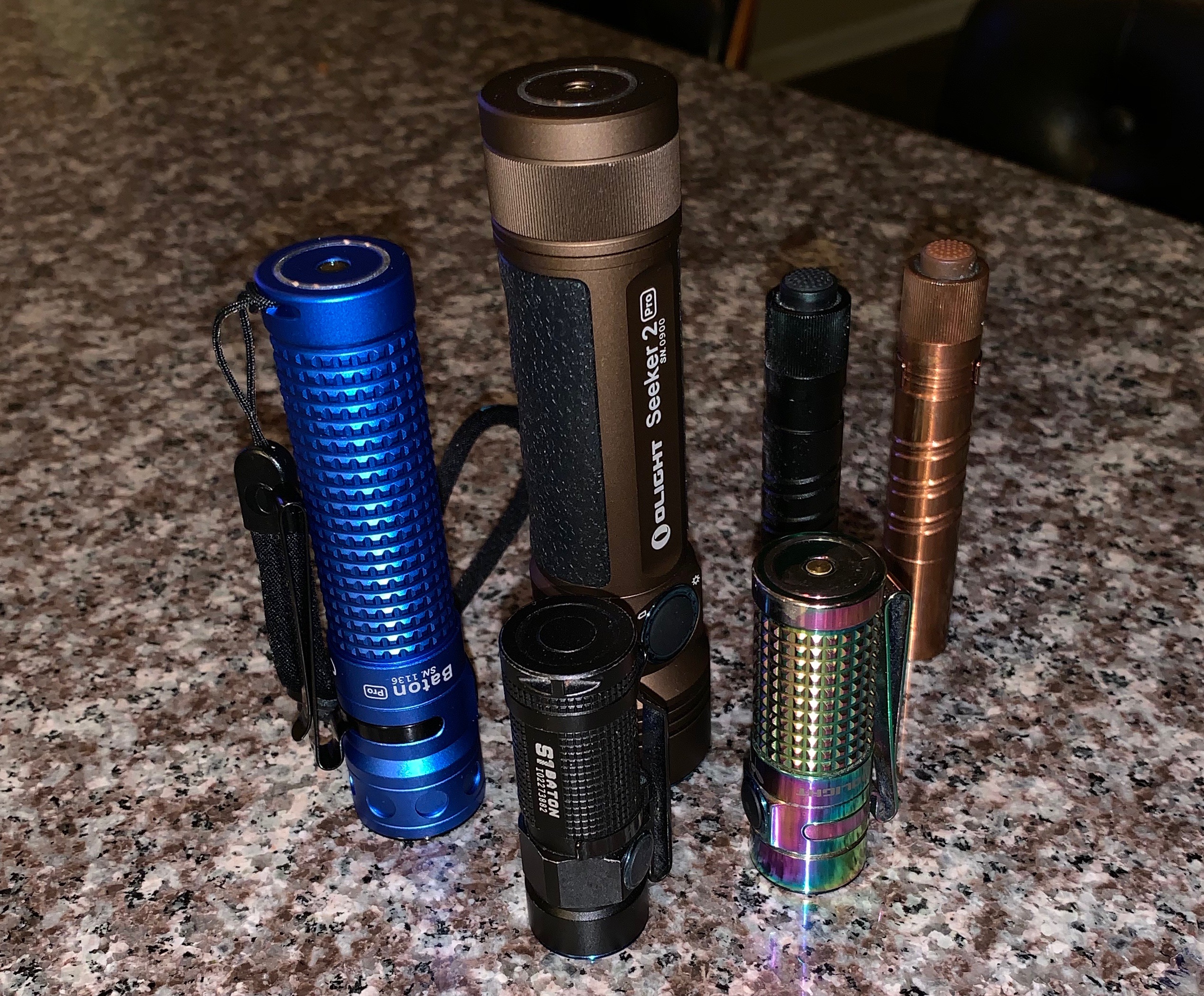 See.  I wasn't kidding.  And that doesn't count the cheaper Amazon flashlights I place in my laptop bag and tool bag and truck console, etc.   The Seeker 2 Pro is the tallest of the bunch.
First of all, let's talk common sense.  Flashlights are used for maybe a few reasons but first and foremost is to see stuff in the dark.  The Seeker 2 Pro EXCELS at this with its maximum lumen output of 3200 lumens.   I work on aircraft visual landing aids and know a thing or two about lumens but you may not.  In the most simplistic sense, THAT'S A LOT OF LIGHT.  Olights specs say that you can shed light on stuff about 820 feet away at 3200 lumens.  That's almost the length of 3 football fields.
Now here's the bad news.  The run time for the light at 3200 lumens is about 2 minutes until the battery is exhausted.   You might use that setting for a signaling event in an emergency.  Or you can use it to surprise people.  Hitting someone with 3200 lumens while they are creeping around in the dark will let them know their cover is blown big time.
Here's one of the reasons I love this light so much.  Instantaneous status reports on intensity and battery levels.
Olight Button (click to enlarge)
The lights on the left show what intensity you are on (there are four intensity settings), and the 4 lights on the right show battery health.  For years I have just used flashlights until the lights go dim.  Then you smack them and hope that helps.  It doesn't.   None of that with this light.
The grip on this flashlight is AWESOME.  The grip contacts your palm and your fingers in the most logical way that you'd hold the light.   Sweat and rain essentially make it more grippy in my opinion.  I love how it feels in my hand.  When you really really need a flashlight you could be holding it for a while.  Comfort is king.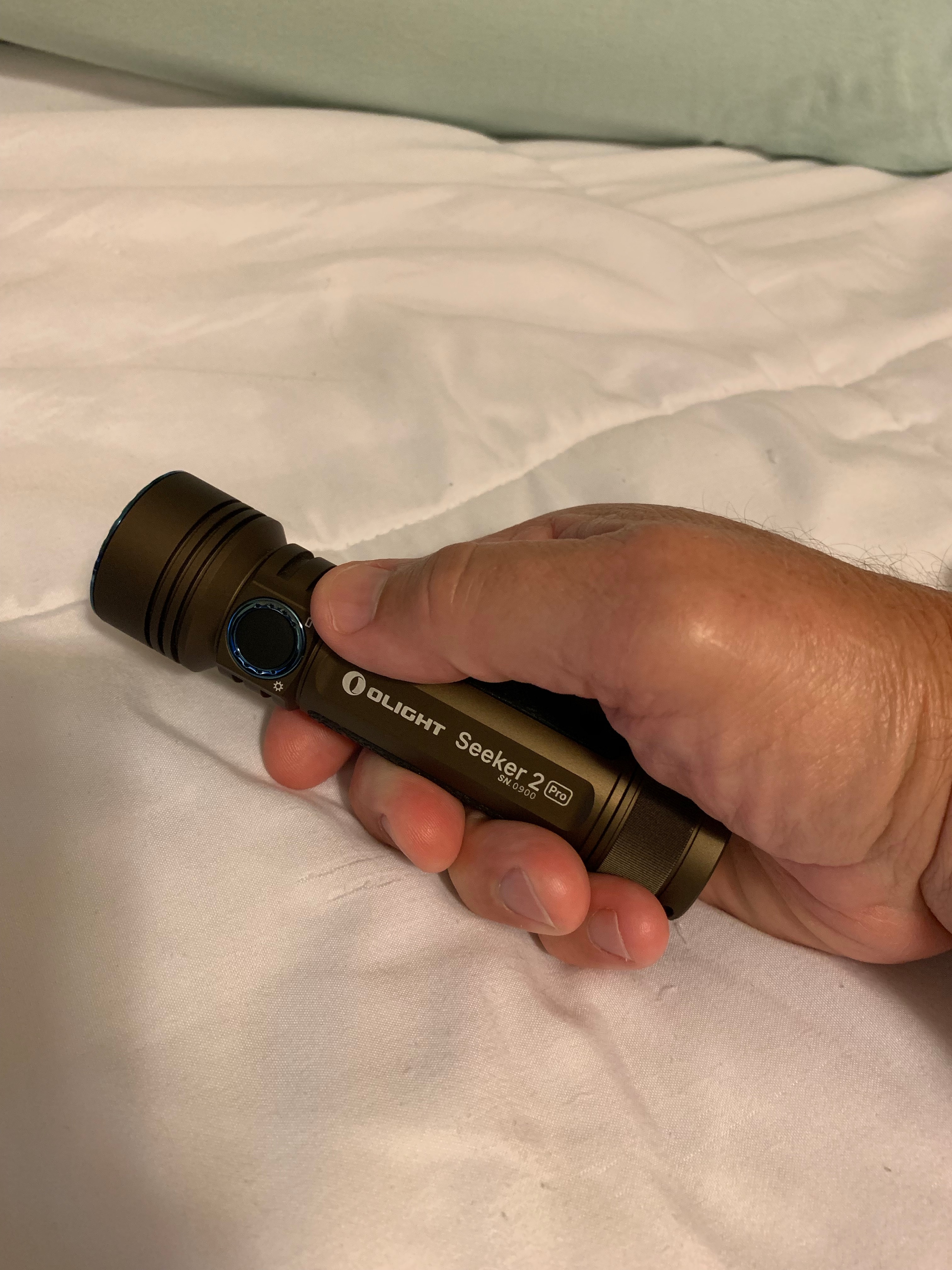 Lastly this torch has a magnetic charging port. The Seeker 2 Pro comes with a USB charger that snaps right on the magnetic end.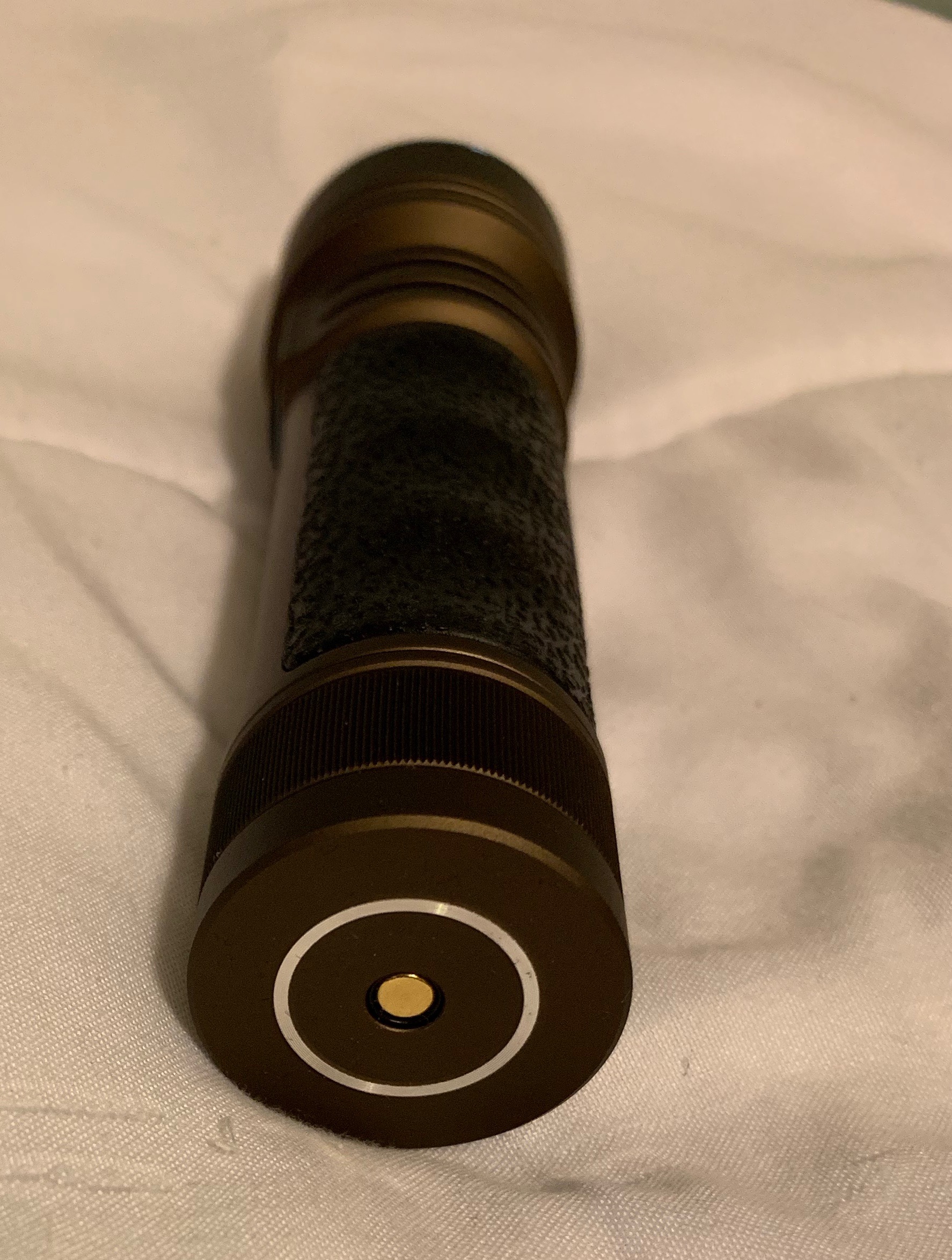 Yeah, this light is pricey but it throws wicked light, is water resistant, has real time status indicators that are easy to discern and it is super comfortable in your hand, and it has a rechargeable battery that can be charged via a USB connector.  Olight really perfected the flashlight with this model in my opinion.
Can't go wrong here although I would advise that you wait until these lights go on sale. Olight frequently has flash sales where the lights are 30 and even sometimes 40% off. Don't pay retail. Also check those coupon code websites.  I bought a new light this morning (Olight Warrior X) and found a coupon code for 10% off that worked.