MIL-PRF-46374G WATCH, WRIST: GENERAL PURPOSE
The modern wristwatch evolved from military usage. Without getting into a history lesson, basically it goes like this.  First there was the pocket watch and then came the wrist watch which was not largely accepted by men for quite some time.  The wrist watch became popular during wartime, specifically WW I and WW II when men needed to know what time it was and needed maximum alertness and both hands free during the rigors of combat. So it stands to reason that the Government had a military specification written for a combat capable wrist watch. Today's current spec is MIL-PRF-46374G
This specification was first published in 1964 as MIL-W-46374, and is now a Performance Specification on Revision G which is from Nov 1999.   The spec is interesting reading.  You probably never thought how many requirements there were for a military combat wristwatch.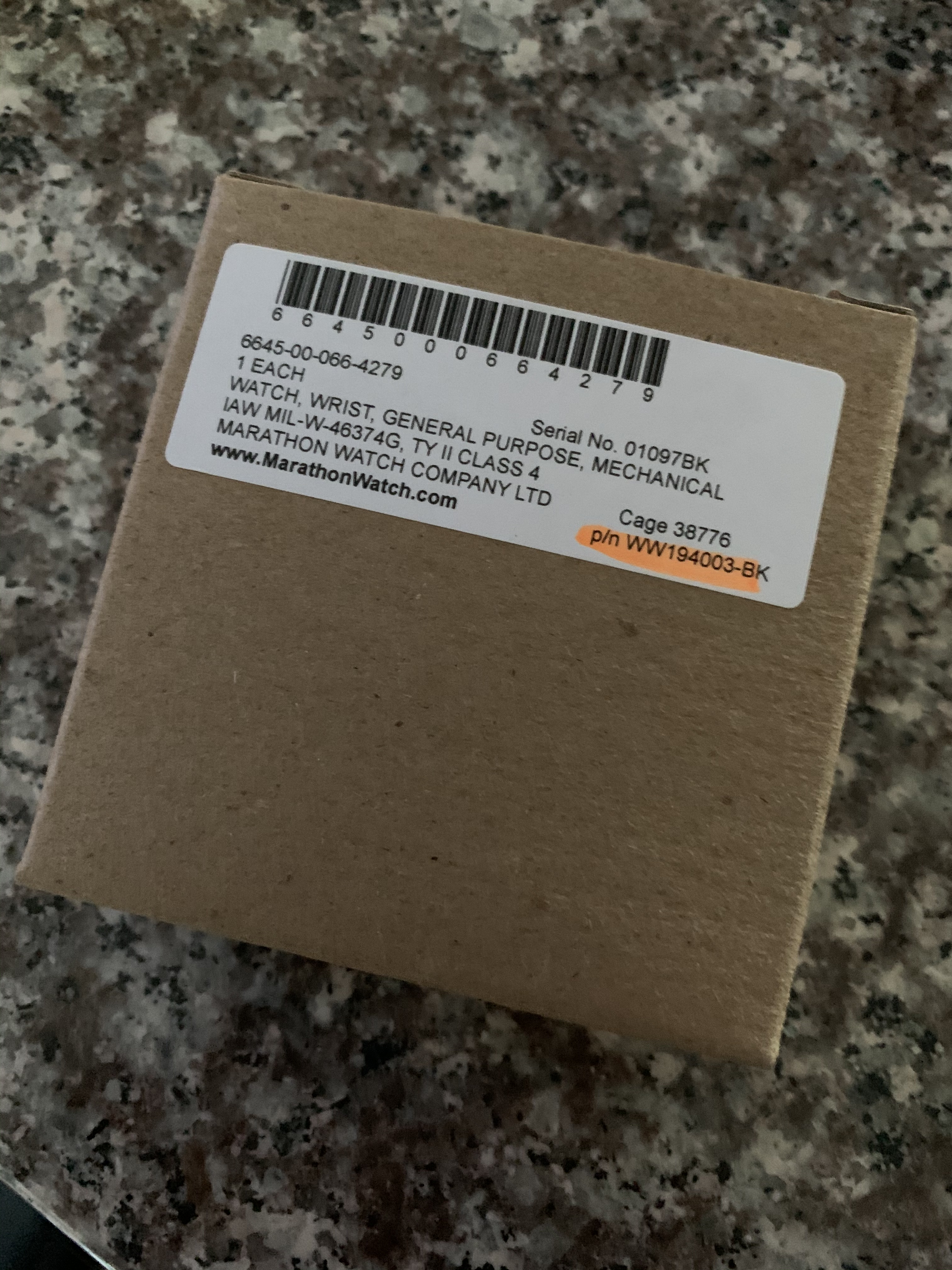 Marathon Watch Company
The company Marathon has been providing watches to the government since 1941, and again the variant of the watch I have is written from the Nov 1999 specification.  I have a Type 2, Class 4 watch
Type II – Analog, long life (5-10 years), maintainable, antimagnetic, water-resistant, high altitude, corrosion-resistant
Class 4 – Mechanical movement, battery not required
So the watch is antimagnetic (when's the last time you saw a watch advertised as that?) water resistant, can be used at high altitudes, and won't corrode, and it never needs a battery.
The specification also requires that the watch be able to be legible in the dark AFTER BEING IN THE DARK for 8 hours.  They do this by using tubes of Tritium gas (H3) which is radioactive.  The effect is quite legible in complete darkness.
This picture was taken with a Nikon manual focus lens (105mm) at a 10 second exposure in complete darkness.
Currently the only company that qualifies under that Mil Spec in the government Qualified Products Database (QPD) is Marathon Watch Company LTD.
QPD (click picture to enlarge)
If a company is not in the QPD that means they did not submit a sample for testing or that they did and it did not meet the Specification.  If you see any other company claim to be a military watch provider for the government that is technically an incorrect statement.   Or maybe they supply watches to the Jamaican Military or something.  One company that comes to mind is MWC (Military Watch Company).  This statement is on their "About Us" page.
MWC is now one of the worlds leading suppliers of robust military specification timepieces, not just to individual buyers and the military but also to police forces, anti-terrorist units, airlines, mining companies, shipping and salvage companies and a diverse variety of government agencies and departments.
Sounds good but they aren't on the United States DOD QPD.
Can You Wear Another Watch In The Military?
In a twist on that though,  in the military you are allowed to wear any watch you choose.  The only exception would be when ordered otherwise for whatever tactical reason.   It wouldn't pay to go out in the field and be tactical with a big shiny, reflective wrist watch that plays music loudly at the top of every hour.  Special operators have been known to wear specific watches such as Casio and Luminox.  I have been to Iraq and Afghanistan several times and I've seen a TON of Casio G-Shocks.  It seems to be a favorite.   So if some Commanding Officer bought a bunch of MWC watches, or Luminox watches for his operators then there really isn't a problem with that other than buying expensive gear with taxpayer money when there is a suitable watch available.  Hey if the SEALs want to wear Luminox's, this taxpayer don't care.
So here's the watch below.  Did you ever notice that in every ad for a watch you ever saw the watch time is set at 10:10.  John don't play that shit.
Marathon Watch (click pictures to enlarge)
This watch is so impressive to me. It has the classic military field watch look, it is relatively small but somewhat tall making it very compact.  The vibration and shock tests are quite stringent as are the accuracy requirements.  And as a US Government employee and veteran I particularly like the dial displaying the words "US Government".
Is the watch suitable for a night at the opera?  I dunno, but it's suitable for darn near everything else.   With the stock band it is lightweight and very unobtrusive.  I probably own 6 or 8 other watches and this is the only watch I've ever worn where I barely know I'm wearing it.  That's for sure a plus.
I don't generally love watches but, I love this watch.   It's just the right size and I feel confident knowing it conforms to a requirement that is among the most harsh in the world.   Combat.
And it looks good with your other gear.  If you like watches and fancy yourself a hiker or a camper you NEED one of these.