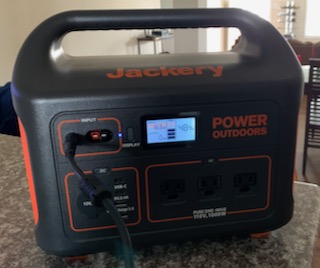 Jackery has released a new Portable Power Station, the Jackery Explorer 1000.  I'm very familiar with the line as I own the 160, the Honda by Jackery 290, and the 500 already.
I've obtained much satisfaction and value from the Power Stations and I keep one on my desk at work and I travel almost nowhere without one in the truck.
I work in places that don't typically have power such as on the side of military runways and Landing Zones (LZ's).
I also love to camp and I wouldn't dream of going out without a Portable Power Station these days.   The 500 was darn near perfect for me and I even found some low wattage AC devices that worked with it such as a 600 watt coffee pot (that works on the 500 watt Jackery) and a low wattage hair dryer among other normal devices that consume way less power.
The 1000 is pretty similar in appearance and usage with a couple of minor exceptions.  Number 1 is that it is considerably larger than the 500 but still quite portable and easy to carry.  The next exception noted is the inclusion of an Anderson connector for the input.
I find the inclusion of the Anderson connector interesting and I believe its inclusion is so that you'll buy the Jackery 1000 with two SolarSage 100watt solar panels as a kit. The cable that comes with the kit is basically a splitter and from the pics on their website it seems to use the DC input on the Jackery panel anyway.  That's a real head scratcher to me.
The Jackery with two SolarSaga panels (200 watts combined) costs a whopping $1300.  That means the panels which normally cost $299 each are discounted $100 if you buy the kit.  Still that is FIVE HUNDRED DOLLARS for 200 watts of solar panels and a cable.
One of the great secrets is that you can connect just about ANY panel to Jackery with an inexpensive cable you can buy off Amazon.  That cable is less than $25 and you can get two 100 watt panels for less than $200.
Also the generic solar panels are waterproof and the SolarSaga panels are not supposed to get wet according to Jackery.  On the other hand the SolarSaga folds up nicely, is easy to transport, sets up easily, has a couple of USB ports on it, etc, etc, etc.  SolarSaga panels are cool, lightweight, and easy to move around. Regular panels are bulky, hard to move but they are waterproof.  I guess it just depends on what you need.  NOTE:  I have a SolarSaga 100 and I like it.  I like it a lot.  But it is expensive.
Still I wonder why their cable doesn't terminate to the Anderson connector.   The Anderson connector seems useless unless you buy your own cables or have existing Anderson connectors on your non-Jackery solar system.  Is it possible something new is coming around the bend?  A new solar panel maybe?
Here's another thing I noticed.  The inverter on the Jackery 1000 spews RF like it is cool.  If you have a radio nearby it will flat out mess up the reception.  Here's a video of it interfering with my CCrane AM FM radio.  To be fair I noticed all the other Jackery's I have do this too.  To be even more fair I have noticed that my home solar system inverter does the same thing.
I'll mess around later and find out how far you need to move the Jackery away from the radio to knock out the interference.  Could be that if you were in the field camping and the Jackery is 20 or so feet away (a made up number based on a short extension cord length) that there will be minimal to no interference.  I just don't know yet.  We'll see and then I'll update this.  Ham Radio guys on Field Day may want to hold up a bit before automatically buying one of these things.
Included with the Jackery 1000 is a heck of a power brick and a 12vdc cigarette lighter type cable to the input DC connector on the Jackery.  You could charge the Jackery from your car (provided the car is running or it will kill your battery). I added 12vdc ports inside my camper recently and can charge this while I'm camping provided I'm hooked up to AC via my 30 amp connection on my camper.   Awesome!
Adding the 3rd party cable I mentioned earlier really increases the solar charging usability of your Jackery 1000.
On a positive note the Explorer 1000 has two USB-C ports and boy does that make me happy.  I can easily charge my MacBook now.  More and more devices are USB-C these days.  Also they put a cover on the 12vdc output.  I never understood why the other Jackery had a wide open electrical port especially since all the pics you see of a Jackery being used are outside.
My take on the Jackery 1000 is that it is AWESOME.  Having 1000 watts means you can make coffee, run hair dryers, heat guns (on lower settings) and basically anything else you can think of.  I can run my Portable refrigerator for DAYS off this thing.  Heck my 500 ran my mini fridge for 2 days.
If you want one of these things you should buy it now while it is $800 and not $1000 after the early bird discount wears out.  NOTE:  The first run of these things SOLD OUT QUICKLY. I got my order in minutes after it was available for sale.
There are just first impressions, my opinions, and nothing here should be taken negatively. I would like to see the inverters be less noisy to radio though.  Although being an Electronics guy I can tell you that would almost certainly add some additional price to the Power Station.