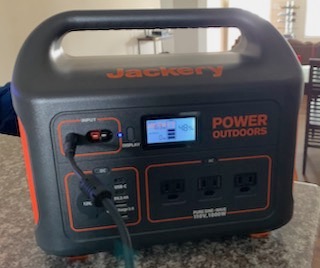 I'm a huge fan of Jackery Portable Power Stations.  In fact I'm not sure how I ever lived without them.
The pic on the left is the Jackery Explorer 1000 and does it ever pack a punch.  You can look up the specs and how many things it can charge and how many times.   That's not what this blog is about.
It's about improving the experience and maybe saving a few dollars along the way.
A device like this lends itself to being used in an outdoor, camping type environment.  There's not a real need to use one in a home or office that has plenty of outlets unless you are frugal and like to charge your items for free to reduce the electricity bill.  To be frankly honest though, charging your cell phone by portable power station won't save you that much money but of course every little bit helps.

Also to realize that savings you'd need to make sure you aren't charging the power station by AC input power because to charge it by your own outlets would be counter productive.
But to charge the device they recommend their own solar panels which they call the SolarSaga.
The SolarSaga is cool, it really is.  It is stylish, attractive, folds easily, transports and stores easily, is a snap to set up, has a storage pocket for the cable and even has USB charging ports.   The downside is that the SolarSaga100 costs $300.
However, one of the GREAT attributes of the Jackery devices is they accept 12v – 30v input power.  All you need is an adapter cable that is an MC4 to 8mm cable.
Then you can hook it up to standard 12v panels without a charge controller.  The 2 panels below are 200 watt when wired in parallel and cost way less than a single Jackery SolarSaga, much less two of them which is what they recommend.  You can save a ton by using regular solar panels instead of the SolarSaga.
Also the new Jackery Explorer 1000 has an Anderson input connector.  The supplied cable on the SolarSaga is an Anderson on the end that connects to the SolarSaga and an 8mm that connects to the power station.   You can utilize the Anderson Input if you buy an additional cable.
Unfortunately you can't seem to use both inputs at the same time BUT USING THE ANDERSON CABLE ALLOWS SLIGHTLY MORE INPUT CHARGING.  Translation:  You'll get a faster charge with the Anderson to Anderson Cable on the SolarSaga.
Another way to improve the experience is to make sure your Jackery is away from anything that is susceptible to RF emissions.  When any of my Jackery power stations are on (AC turned on) and near an AM or Shortwave radio it just wreaks havoc with the reception.  Keep the Jackery away from your radios.  Inverters are typically noisy.  The Jackery is no exception.
It's not as bad as my Solar Inverter but its still pretty bad.  Very few inverters have proper filtering on them.
The Jackery are very powerful but very simple devices.  Just adding a couple of cables to your repertoire will greatly improve your experience and usability.