LG 43UQ7590PUB Piece Of Fucking Shit Award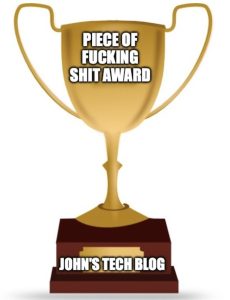 I recently bought a new smart TV from  BestBuy.  The LG 43UQ7590PUB
It's a Piece Of Fucking Shit and earns John's Tech Blog's coveted Piece Of Fucking Shit Award.
I bought it in January 2023 and it has been nothing but trouble.  My wife and I frequently watch TV in separate rooms and just about the time I get comfortable and engaged in some program here comes the call from the other room.
"Honey, the TV sound disappeared", or "Honey, the TV just rebooted and now XXXX app doesn't work".
I've reached the point where mild annoyances that this TV produces has now expanded into full blown rage.   Two days ago I told my sweet wife……."Fuck this fucking TV.  It is driving me crazy.  I'm buying a new TV".  Normally, there might be a little back and forth discussion coming from the mouth of a reasonable and loving partner.  Option exploring.  My wife is good and real sweet in this department.
No discussion this time.  She was 100% in agreement that this TV needed replaced.  To her credit she didn't use my US Navy vernacular sentence enhancers.
Continue reading →