For years I had a SiliconDust HDHomerun Connect Duo HDHR4-2US.  The HDHomerun devices are network TV Tuners that can turn any device on the network into a television.
In short you can install an antenna, hook it to the HDHomerun, then plug in the ethernet cord to your home router or switch.
Rather than run wires all through the house you can then watch on just about any smart TV device (Firestick, Kodi on Raspberry Pi, or Roku, but only on Apple TV with 3rd party media servers).  Or you can watch on your iPhone, Android, or Tablet.
In short, it is an amazing device that any cord cutter should have.  Yep you can install an antenna directly to your TV without a $100 box in the middle but then that TV is the only place you can see it.  A network tuner really expands your ability to connect. Not only that but I can VPN into my network and watch local TV from ANYWHERE.  It isn't something I do a lot but every once in a while I might want to see the weather or local news.
So why upgrade from a Connect DUO (2 tuners) to a Connect Quatro (4 tuners)?  I dunno, but for one reason the tuner in the Quatro is superior to that of the previous generation DUO.  Adding the Quatro improved my signal reception about 10% or more just by itself.
Some tuners are more sensitive, selective, and have better discrimination than others.  In my case this was definitely the case. Obvious improvements were made in this generation of tuner.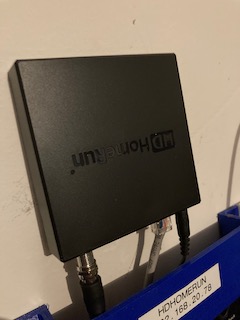 Hookup is a snap.  Connect the Antenna to the Female F connector, plug in your ethernet cable and power the box from an electrical outlet.
Installation is clean and simple.
Before you can actually use the device you need to perform a scan of channels.  It is as simple as typing in myhdhomerun.com into your browser.  This will open a page which will detect your device, upgrade the firmware if needed (mine was needed) and then provide you a button to "Detect Channels".
I get 28 channels which is all that is really possible to receive here.  With much tweaking I can actually pull in 32 but those channels are PBS and identical to what I already receive at a more nearby transmitter.  So I get all I can expect to get and with great signal quality and reliability.  Note that some of the received channels are in HD as well.
Downloads for HDHomerun Apps can be found here.  There are apps for Windows, Mac, Linux, iPhone, and Android.   There is also a Tech app which allows you to see the signal strength which greatly aids in antenna positioning.  The Tech app only works on Windows currently.  It works on older Mac versions but not on the newer 10.15 MacOS.  Hopefully they'll fix that in the future.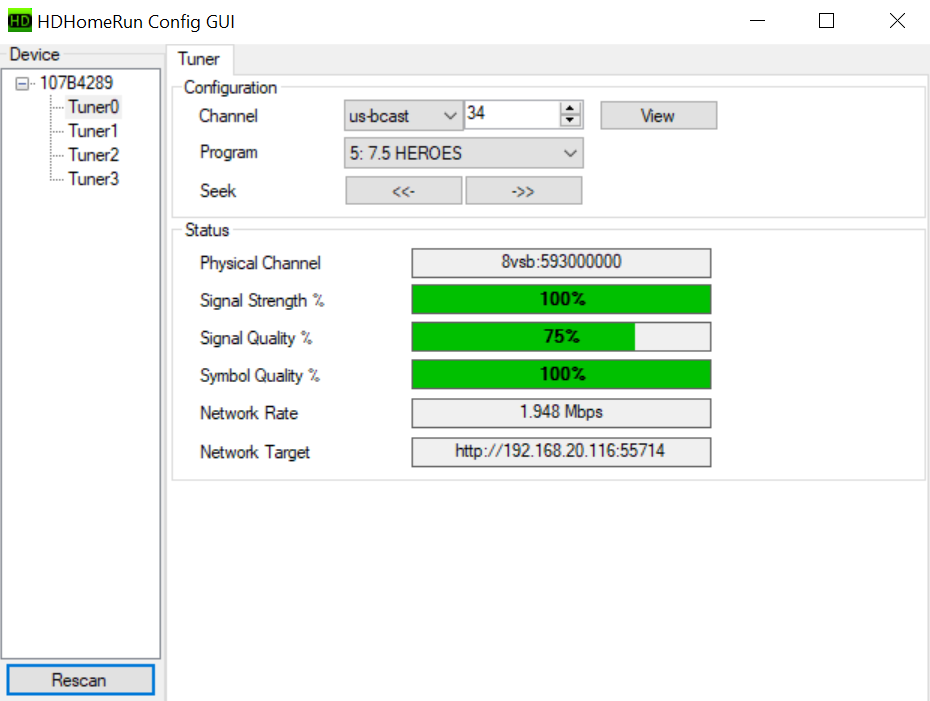 Also you can click the "View" button to immediately see the stream itself.  There is almost nothing that I don't like about the HDHomerun and it's apps.
For anyone serious about cutting the cord, this is a solid device to use for over the air (OTA) television.   Invest in a good antenna and if you live in a bad reception area (like me) it may be advantageous to invest in a preamplifier.  The Channel Master CM-7778HD Amplify+ is a great choice.  The one I'm currently using is a RadioShack High Gain Amplifier.   One thing I really LOVE about the RadioShack High Gain Amp is the fact that it has two outputs built in.   One output feeds my HDHomerun and the other feeds the Television set in my Den.   Hey, if you have the output, why not use it?  A direct, wired connection is always better than a wireless app.  That being said my Roku's and Firestick RARELY choke or pixelate.
In conclusion, what you need for great OTA reception:
HDHomerun Quatro
Good antenna
Good preamplifier (optional)
Good RG6 cable between the devices
Free TV is gonna cost you a little but, but no monthly bill.